By Paul Robicheau
The Rolling Stones were still up there, sounding vital, and that alone delivered satisfaction.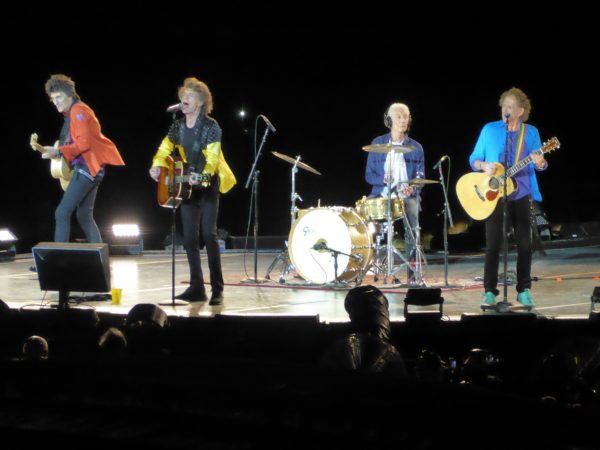 "Ladies and gentlemen, the Rolling Stones!" The announcer's voice boomed over the speakers — and there they were, in the flesh, the so-called World's Greatest Rock 'n' Roll Band. Or might it be tempting to throw in the adjective Oldest? Even though the legendary British group hasn't labeled this a farewell tour, the 50,000 fans who forked out big money to pack Gillette Stadium on Sunday likely figured this could be the last time, given that band members span the ages 72 to 78. The tour was even postponed a month for Mick Jagger to undergo heart surgery.
You'd never know that fact from the way that Jagger commandeered the stage at 75, moving like a much younger man with his trademark shimmy and jerky finger flicks. "Well now, what can a poor boy do, except to sing for a rock 'n' roll band," Jagger sang in a resonant bark in opener "Street Fighting Man," and while the Stones have long been the polar opposite of poor boys, that swagger remained.
By contrast, guitar foil Keith Richards looked more the Connecticut grandfather than the grizzled pirate of yore, but his first chords rang true on the show opener. And as Richards lapsed into chicken licks in "It's Only Rock 'n' Roll (But I Like It)," Jagger threw a few head cocks toward his old mate with a grin. Richards wasn't entirely stationary either, jogging back from a stage wing during "Tumbling Dice."
Yes, the Stones were loose and feisty, with Jagger throwing shade on President Trump's July 4 gaffe by piping "If only the British had held on to the airports, the whole thing might have gone differently." But, at the root, as Richards passed scant chords and leads with guitarist Ronnie Wood (the youngest Stone since 1975) and elder jazz-touch drummer Charlie Watts, their sound remained oh-so identifiable as it wafted to the stadium's upper reaches via satellite towers.
The main disappointment with the group's current No Filter tour was its largely static 20-song setlist, spread across a two-hour-plus concert that was otherwise generous at any age. The Stones do fulfill an audience request each night, culled from four online choices, serving up "She's So Cold" pretty much by the numbers on Sunday (I'd have voted for "Live with Me" or preferred "Monkey Man," which Chicago got two weeks earlier). And Boston enjoyed an extra treat when opening act Gary Clark Jr. traded guitar rips with Richards and Ronnie Wood plus a vocal turn on the Eddie Taylor electric blues "Ride 'Em on Down," which the Stones recorded on their last album, the 2016 covers set Blue and Lonesome.
The four core Stones then took a demonstrative group march to the lollypop stage at the end of a center ramp for a pair of acoustic songs, the part of the program that lends the most leeway this tour. For Boston, it meant welcome nuggets "Play with Fire" (the stripped-down setting putting more focus on Jagger's vocal) and the countrified, somewhat breezy "Dead Flowers."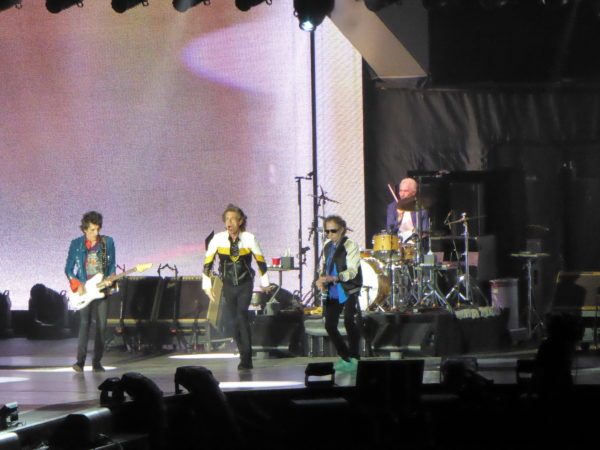 But that was it for surprises, as the rest of the show was devoted to the must-do hits, a tough requirement for a band that began churning out classics in the mid-60s. The foursome hadn't fully made it back to the main stage when "Sympathy to the Devil" started up in ominous fashion, stretching too long with its "Woo-woo" backgrounds before Jagger donned a sparkly long suit-jacket and hat to twirl into place. The guitars entered at harsh volume and the skyscraper screens went wild with murky red imagery – and the woos again went on and on. As the next song noted, "You Can't Always Get What You Want," but at least that sing-along got what it needs with a sensitive start appropriately iced by a live French horn.
The show unfortunately lost momentum when Jagger ceded the stage to Richards for his traditional two-song feature, which found his voice indeed "Slipping Away" for a rough, subdued start before rebounding with "Before They Make Me Run." Jagger locked the set back into place with the disco-tinged "Miss You," the singer striking crisp chords on an electric guitar against the slippery lines of longtime bassist Darryl Jones and defying age and gravity with a super-slinky hip sway.
Jagger's voice flashed a confessional edge in oldie "Paint it Black" (with Wood on sitar guitar), but an at-times lumbering "Midnight Rambler" lived up to its name, despite its nifty showcase for Jagger's harp-blowing stroll out the ramp for its breakdown. And while "Start Me Up" made a statement for the Stones' longevity with its "Never stop" refrain, how did it belong near the end of the set, especially when so many of the band's classics went unheard? "Jumpin' Jack Flash" and "Brown Sugar" (goosed by Karl Denson's tenor sax solo) offered a more fitting finale to the set, yet both seemed to be milked for extra gas and sugar.
As an encore opener, "Gimme Shelter" provided a late thrill where onetime "The Voice" contestant Sasha Allen left her backup spot with Bernard Fowler to hit the high notes toe-to-toe with Jagger on the catwalk. And. of course "(I Can't Get No) Satisfaction" rode its historic riff and energy as one last rave-up packed with flashing lights and a crowning blast of fireworks over the stage.
Compared to the Stones' inflatable props of old, the No Filter tour proved quite stark in its staging beyond four towering LED screens that followed the onstage action well for fans with faraway eyes for the figures dwarfed onstage. But the Stones were still up there, sounding vital, and that alone delivered satisfaction.
---
Paul Robicheau served as the contributing editor for music in The Improper Bostonian in addition to writing and photography for The Boston Globe, Rolling Stone and other publications.