UPDATE: Either/Orchestra's 25th anniversary concert comes to New York—an unforgettable confluence of talent revisiting more than two decades of memorable compositions and arrangements.
By J. R. Carroll.
Photography by Joe Harrington.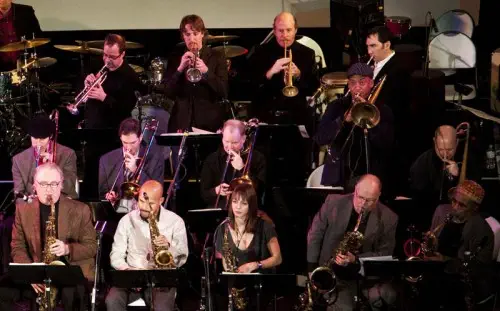 Boston, perhaps more than any other city (including, arguably, New York), is home to an amazing number of durable large jazz ensembles (Kendrick Oliver's New Life Jazz Orchestra has been around for 15 years, the Jazz Composers Alliance Orchestra just turned 25, the Aardvark Jazz Orchestra is an astounding 38, and this doesn't even include academically affiliated ensembles at New England Conservatory (NEC), Berklee College of Music, Massachusetts Institute of Techology (MIT), Harvard University, Tufts University, and others).
Even in this distinguished company, the Either/Orchestra (E/O) occupies a special place as a self-sufficient, working band (with occasional tours—as far as Ethiopia!) and as the singular vision of one remarkable individual, Russ Gershon. (Was it sheer karma that Mosaic Records' superb, new compilation of Duke Ellington's recordings from the 1930s arrived on my doorstep two days before the E/O concert?) Gershon has been Either/Orchestra's music director, principal composer and arranger, publicist, tour organizer, record executive (the whimsically named Accurate Records, a success story of its own) and, not coincidentally, a font of good humor and an intellectual curiosity that embraces the full history and diversity of jazz (and, occasionally, other genres).
Either/Orchestra has shifted personnel several times over its quarter-century of existence, so both the opportunity and the challenge of reuniting these diverse alumni were formidable. The mere fact that more than two dozen former and current E/O members made it to the stage of Arlington's Regent Theatre on Thursday, December 16 was an impressive accomplishment in itself. The music-making that resulted was much more than that: an unforgettable confluence of talent revisiting more than two decades of memorable compositions and arrangements, some of them updated by Gershon to take advantage of the availability of five saxophonists, four trumpeters, five trombonists, four keyboard players, three bassists, three percussionists, two drummers, and a guitar player (onstage, not in a pear tree).
With a honk from his baritone sax, Charlie Kohlhase, whose involvement with Either/Orchestra  goes back to its early days, led a convocational procession from the stage wings, up one aisle and back down the other. One by one, most of the evening's participants joined the parade until the band filled the stage, and the emerging groove revealed itself as a straight-eight version of Thelonious Monk's "Nutty." Longtime followers of the orchestra knew what was coming next: alumni John Carlson and Josh Roseman soloed, on trumpet and trombone respectively, and then E/O's newest member, Hailey Niswanger, picked up her alto sax and, over the percolating rhythm, floated the familiar melody of, yes, Bobbie Gentry's "Ode to Bille Joe," bringing to a conclusion what Gershon sometimes refers to as keyboardist "Kenny Freundlich's infamous medley" (first recorded on their Radium album).
After a few opening remarks, Gershon reached back to the orchestra's first disc, Dial "E", for the tune "17 December." Trumpeter Carlson intoned the main theme over a relentless ostinato that, just when it threatened to become monotonous, evaporated over an emergent tangle of polyrhythms that buoyed solos by Gershon on tenor sax, newcomer Dan Rosenthal on trumpet, and trombonist Roseman once again. As Niswanger took up the theme, the entire orchestra built a roiling crescendo beyond fortissimo that reminded you what a physical wallop the acoustic experience of a big, big band can pack.
With the updated "17 December" still ringing in our ears, the ensemble stripped down to E/O's more familiar dimensions and introduced bassist Bob Nieske and his composition "Consenting Adults," originally recorded on The Calculus of Pleasure. The piece's complex form provided solo space for Nieske himself, as well as trombonist Dan Fox and pianist Chris Taylor, before rewinding to a mysterious finish with the tiptoeing first theme.
The stage again filled with musicians for another visit to Dial "E." A rendition, at once wild-eyed and reverent, of Monk's "Brilliant Corners" was highlighted by a duet improvisation by E/O's original and current drummers, Jerome Deupree and Pablo Bencid.
If Charlie Kohlhase ever needed a reason to stay with Either/Orchestra, Russ Gershon gave him an unforgettable one in the form of the exquisite title track of E/O's The Half-Life of Desire. Explicitly and lovingly reminiscent of the gorgeous ballads Duke Ellington and especially Billy Strayhorn created for Johnny Hodges (think of, say, "The Star-Crossed Lovers" or "Isfahan"), "The Half-Life of Desire" liberated Kohlhase from his usual role holding down the bottom of the ensemble and gave him a solo vehicle for his alto sax that most performers can only dream of, and that, channeling Hodges, he thoroughly poured himself into.
Next to Gershon himself, trombonist Curtis Hasselbring has probably been the largest contributor to the band's book. His composition, "The Door," was recorded in the same sessions as their album The Brunt but was released as part of the sprawling, follow-up compilation, Across the Omniverse. Here it provided a vehicle for the twining trombones of Hasselbring and Roseman (who play together in a Brooklyn-based trombone ensemble called the Water Surgeons).
In my scribbled notes for "Willow Weep for Me," which closed the first half, I found the cryptic annotation "Ascension goes to Vegas." Certainly Gershon's arrangement of the Ann Ronell standard took it to some unlikely locales while affording E/O's longest-serving member, trumpeter Tom Halter, the opportunity for some nice work with the plunger mute. A stretch of near-collective improvisation gave way to the theme, leaving it to guitarist John Dirac to wrap it up with some serious blues guitar.
If the evening's first portion celebrated Either/Orchestra's early years, the second leaped up to the minute with a new, unrecorded composition by Gershon, "1509" (or is that "Uno-Cinco-Cero-Nueve?"). Percussionists Vicente Lebron, Manolo Mairena, and Jesus Andujar took the stage first, all playing shekerés and chanting what sounded like a traditional santeria invocation of the orishas. As the trio shifted over to congas, drummer Bencid and the rest of the orchestra came onstage and settled into place atop the interlocking rhythmic patterns. Pianist Rafael Alcalá's solo eventually coalesced into a montuno that propelled Miguel Zenon's alto sax and a final descarga among the percussionists and drummer.
Ethiopian music has loomed large in E/O's repertoire since the late 90s, culminating in the orchestra's triumphant 2004 visit to Addis Adaba and the Ethiopiques 20: Live in Addis recording that documented it. Gershon chose the quietest of these arrangements, Afèwèrq Yohannes's "Altchalkoum," whose chorale-like setting framed his tenor sax solo.
Gershon's "Number 3" (recorded on E/O's millenial More Beautiful Than Death) is many things and not the least of them is a sly evocation of late-60's Miles Davis: Bencid's flawlessly executed high-hat ostinato and the overlapping phrases of Alcalá's organ and Leo Blanco's electric piano were straight out of "Shhh/Peaceful." Following the opening theme, Nieske and Rick McLaughlin's bass duet eventually settled into its own repeated pattern underlying the second theme (and a transitional nod to Wayne Shorter's "Speak No Evil") and led the way to solos by trombonist Joel Yennior and alto saxophonist Zenon before riding off into the sunset on a reprise of the introduction.
Next up was an earlier Hasselbring composition, "He Who Hesitates" (from The Half-Life of Desire). The uptempo opening section led into solos by bassist John Turner and pianist Taylor, while Hasselbring himself was featured in the contrasting slow blues that followed and eventually merged with the first theme as the pace picked up again, only to cut off abruptly, leaving a single chord on the piano to fade out by itself.
Gershon's "Soul Song" (recorded on E/O's Afro-Cubism) is a Latin number whose melody bears more than a touch of Ethiopian influence. The first section's genial groove showcased some lovely Harmon mute work from trumpeter Colin Fisher before bursting into a descarga highlighted by Blanco's piano solo and Lebron's explosive timbale break. (To be accurate, Vicente was actually playing bongos with timbale sticks.)
The full orchestra returned to set loose Gershon's inner Sun Ra with his own "Heavily Amplified Hairpiece" (from Neo-Modernism), Dirac's guitar synth eruptions punctuated Carlson's trumpet solo and the entire stew coming to a boil as Gershon cued group improvisation by one section of the orchestra after another.
Cycling back to where the evening began, the concert closed with another composition from Radium, Gershon's "Born in a Suitcase" (to which one might append "with the 12-bar blues"). This supplied solo opportunities aplenty, for Kurtis Rivers on tenor sax, Carlson on trumpet, Taylor on piano, Russell Jewell on trombone and, with a shift from blues shuffle to high-velocity funk, Niswanger on alto sax.
Thus ended the concert, to a totally deserved standing ovation, but the story doesn't end there. Many of the same musicians, plus a few who couldn't make the Arlington gig (including keyboardist John Medeski and drummer Matt Wilson), are scheduled to reconvene on February 11, 2011, at New York's Le Poisson Rouge for an encore performance. For those who missed the concert at the Regent (and for the many who will want to experience it again), there may be a DVD in the works, as I spotted two videographers at work throughout the evening. One can only hope so.
Details have firmed up concerning the encore of the 25th anniversary concert at 7 p.m. (doors open at 6 p.m.) on Friday, February 11, at Le Poisson Rouge (which inhabits the one-time home of the Village Gate), and it's clear that anyone who makes the journey to New York will experience more than just a repeat of the Boston concert (not that there would have been anything wrong with that). A number of the first concert's musicians won't be making the trip (trumpeter Colin Fisher, saxophonists Miguel Zenon and Kurtis Rivers, keyboardists Kenny Freundlich, Chris Taylor, and Leo Blanco, bassist John Turner, and percussionists Manolo Mairena and Jesus Andujar), but, on the other hand, quite a few E/O alumni who couldn't make it to Boston will be on board in New York: reedmen Douglas Yates, Jeremy Udden, Henry Cook and Godwin Louis, keyboardists John Medeski and Dan Kaufman, bassist Mike Rivard, and drummers Matt Wilson and Harvey Wirht. In addition, they'll be joined by Ethiopian-born vocalist Teshome Mitiku, whose composition "Yezemed Yebada" was recorded on E/O's Afro-Cubism CD.
As the alumni who performed in Boston were to a considerable extent associated with Either/Orchestra's early years, it was no surprise that the first concert drew generously on compositions and arrangements from E/O's first three CDs (Dial "E", Radium, and The Half-Life of Desire). While a substantial chunk of the repertoire from the Boston concert will likely carry over to the New York performance, the shift in the guest roster suggests that Gershon and the E/O will devote some portion of the evening to freshly-revived pieces from the middle-period CDs (The Calculus of Pleasure, The Brunt, and much of the compilation Across the Omniverse) and the E/O's Ethiopian period (More Beautiful Than Death, Afro-Cubism, Neo-Modernism, and Ethiopiques 20: Live in Addis).
Were it logistically feasible for me to attend, I would be there, but if your hard-boiled New York friends won't take my word for it, maybe they'll respond to the very favorable endorsement from the Village Voice.