Vasily Petrenko's Elgar disappoints, Edward Gardner's Mendelssohn excites, and Alain Lefévre's Paris delights.
By Jonathan Blumhofer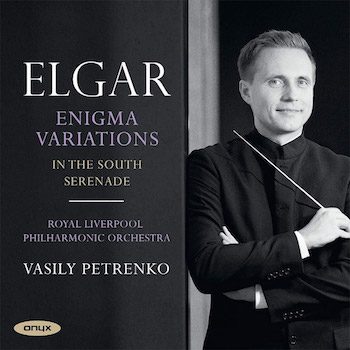 Vasily Petrenko's new recording of Edward Elgar's In the South, Serenade, and Enigma Variations with the Royal Liverpool Philharmonic Orchestra (RLPO) is well-played, tonally warm, and nicely recorded. It's also programmatically redundant and interpretively unsatisfying.
The bottom line: all three of these pieces have been amply documented, sometimes very well. And that's a problem, given what we've got here.
Take In the South, Elgar's sweeping homage to his 1903-04 Italian winter holiday.
In Petrenko's hands, the piece lacks all of the irresistible schwung of Georg Solti's benchmark recording. But even if one shouldn't expect it to rise to that exalted level (few conductor's accounts do, after all), this is a fundamentally flawed reading. Tempos are sluggish (the performance clocks in at a turgid twenty-four minutes) and Petrenko's approach to phrasing is so floppy and moment-to-moment that the sprawling score comes over as a structurally formless void. It's a waste of some particularly fine brass playing from the RLPO, who, as a section, never fail to speak grandly and potently – just to no appreciable musico-expressive end.
The Enigma Variations plod in a similar vein: broad, a bit stuffy, lacking in mystery. Textures are, by and large, clean and crisp, so the music's details – the snappy string articulations in "H.D.S-P.," the burbling woodwinds in "R.B.T.," the clarinet/timpani/viola textures in the "Romanza," among others – come across in sharp relief.
But even these qualities can't redeem a reading that's, essentially, heavy-handed and charmless. Too often (as in "Ysobel"), the thematic material is underlined plainly. The brasher movements (like "W.M.B." and "Troyte") are emotionally antiseptic – as, remarkably, is the expressive climax in "Nimrod." Given the enduring excellence of Barbirolli, Barenboim, and Colin Davis (among many others) in this piece, that's simply unacceptable.
Petrenko's strongest work here is in the Serenade, whose gorgeous, central "Larghetto" is played with rapt intensity by the RLPO strings. But that's about all this disc's got to offer – a meager helping, considering the (potential) musical riches being presented.
---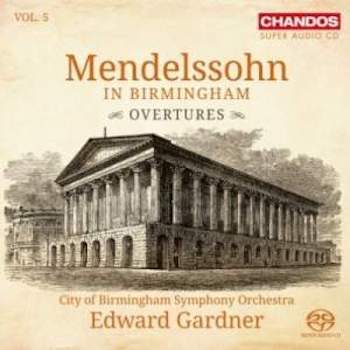 Despite the excellence of the music, Mendelssohn's concert overtures have, generally, languished. How many times, for instance, have you heard Die schöne Melusine or Meeresstille und glückliche fahrt in concert? Thankfully, there's no shortage of recordings of these pieces, including a new cycle featuring the City of Birmingham Symphony Orchestra (CBSO) and Edward Gardner.
This album is the latest installment in the CBSO's "Mendelssohn in Birmingham" series (it's no. 5), and several of these recordings have already appeared as filler material on earlier discs. No matter: it's good to get these eight scores together in one place.
As a general rule, Gardner is an energetic Mendelssohn conductor. His tempos snap. Textures are lean. The CBSO plays with spiffy tone. Suffice it to say, you won't be falling asleep to these overtures.
Gardner makes particularly lively work of both the "Trumpet" Overture and Ruy Blas. The latter seems too often to be the victim of dragging tempos (see Claudio Abbado's effort) but here it really kicks a la Bernstein (but with better recorded sound and woodwind/brass intonation throughout the introduction).
There's never been a shortage of good performances of either the Midsummer Night's Dream Overture or Hebrides; Gardner's simply adds to the surplus. And his accounts of Paulus and Athalie are most welcome: they might not be among Mendelssohn's finest creations, but the CBSO plays them both with might and intensity.
Throughout, Chandos' engineering is excellent: bright-toned and naturally balanced. For Mendelssohn fans – and lovers of good, 19th-century overtures – this is a welcome disc.
---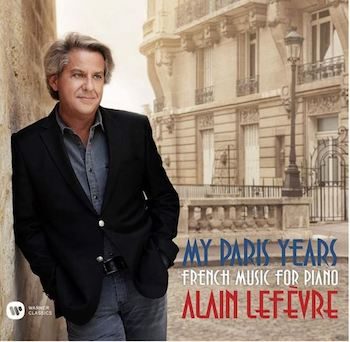 There's more than a little in Alain Lefévre's My Paris Years that charms the ear. A collection of elegant, French keyboard music by Debussy, Ravel, Satie, and Franck, this is fare that's putty in Lefévre's hand: he's a pianist with an elegant touch, after all, and a sure sense of style.
Throughout, Lefévre's playing is unfailingly lyrical. Whether navigating the dappled textures of Debussy's Arabesque no. 1 or the more forcefully virtuosic episodes of Ravel's L'isle Joyeuse, the melodic line always rises to the fore.
There's also never the sense that Lefévre's rushing from one bit of technical derring-do to the next. True, that's sometimes because his tempos are on the broad side – Satie's Trois gymnopédies don't quite dawdle but neither is there much sense of forward movement in them. But it's also a result of Lefévre almost downplaying his technical gifts: this is an album where the soloist is clearly serving the music, not the other way around.
That's readily apparent in the collection's biggest number, César Franck's Prélude, Choral et Fugue. Lefévre's performance of this twenty-plus-minute-long score is perhaps dreamier and more poetic than tempestuous and rhapsodic. But his delicately-balanced, beautifully-articulated account of the Prélude's 32nd-note filigrees; his take on the stately treading chorale; and his pacing of the richly-colored fugal finale combine into an inexorably moving whole.
The same can be said of Lefévre's readings of Ravel's Sonatine and Pavane pour une infante défunte, as well as Debussy's "Claire de lune," which fill out the album: it's the work of a fine pianist – and a finer musician – in his prime.
---
Jonathan Blumhofer is a composer and violist who has been active in the greater Boston area since 2004. His music has received numerous awards and been performed by various ensembles, including the American Composers Orchestra, Kiev Philharmonic, Camerata Chicago, Xanthos Ensemble, and Juventas New Music Group. Since receiving his doctorate from Boston University in 2010, Jon has taught at Clark University, Worcester Polytechnic Institute, and online for the University of Phoenix, in addition to writing music criticism for the Worcester Telegram & Gazette.