By Glenn Rifkin
This fantasy musical is unexpectedly moving, a driven and musically satisfying experience for serious Elton John fans.
Rocketman, directed by Dexter Fletcher. Screening at Somerville Theater, AMC Assembly Row, Coolidge Corner Theare, and other screens throughout New England.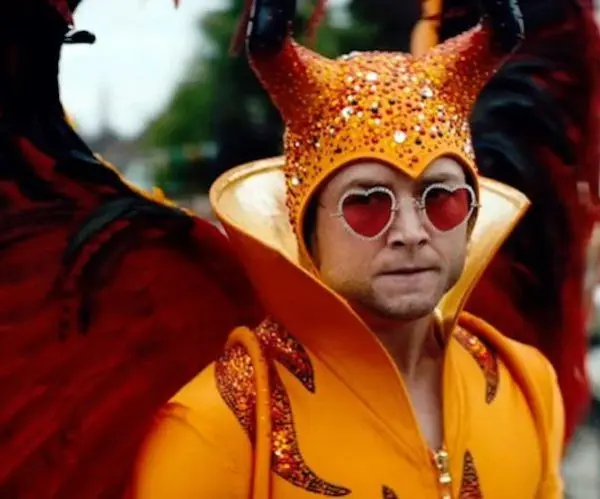 Las Vegas gambling books are generally averse to laying odds on sure things. So you won't find many who will bet against Rocketman, the mesmerizing new Elton John fantasy/biopic inevitably ending up on Broadway and London's West End as some future season's hot new jukebox musical.
In fact, as far back as 2015, "Rocketman the Musical" was being touted as a possible Broadway show well before the film version got underway.  For now, audiences will be able to get a full taste of this British icon's tortured life and musical genius in Dexter Fletcher's new film, with a screenplay by Lee Hall,  that blows out the tried and true biopic tropes. Instead, we are treated to a fantasy musical, Baz Luhrmann-style,  that is an unexpectedly  moving and musically satisfying experience for serious Elton John fans. This strangely miserable journey through Sir Elton's tormented childhood — he is abused by both of his soul-crushing parents —  somehow still makes you want to get up and dance in the aisles. I
Fletcher, who was called in to rescue the recent Freddie Mercury biopic Bohemian Rhapsody (after original director Bryan Singer was fired), makes a major shift in strategy. While the amazing Rami Malek did none of the singing in his Oscar-winning performance as Mercury, Taron Egerton, the 29-year old British TV actor who plays John, does all his own vocals.  He's nowhere near the actor Malek is but, in this unique bio style film, his voice and performance inspires just enough to bring Sir Elton's journey to life.
And what a journey it is. You can't make this stuff up. Most Elton fans know at least some of the details. Born Reginald Dwight in post-war London, he was a shy, insecure musical prodigy whose serendipitous meeting with a young, searching poet named Bernie Taupin led to a lifelong songwriting relationship that produced an endless string of Top 40 hits, including the movie's title song, which not only sold 300 million records worldwide but formed a significant piece of the Baby Boom generation's musical soundtrack.
Taupin is played in a perfectly understated performance by Jamie Bell (Billy Elliott), whose love for Elton serves as a foundational element in the singer's making it through several suicidal episodes. Theirs was the love of brothers, complicated but steel-cable strong,  a backdrop to Elton's painful and mostly unrequited search for love throughout his life — from his emotionally unavailable parents to a string of partners who inevitably inflicted more pain than solace. The film focuses specifically on a tempestuous long-term love affair with his manager, John Reid (Richard Madden, of Game of Thrones), whose early unbridled support morphs into villainous betrayal as Elton sinks deeper and deeper into a morass of drugs and alcohol.
The film opens with an agitated Elton, circa early '90s, in full stage regalia of red jumpsuit, devil's horns, and angels wings, storming into an Alcoholics Anonymous meeting, then baring his soul to a roomful of strangers who are nonplussed at the presence of this costumed superstar rocker.  This is an initial taste of the film's magical realism, which features three ages of Elton, a scene of levitating audiences, and a strange underwater duet between child Elton and adult Elton, all the while providing a storyline propelled by the singer's desperate search for the substantial love absent from his childhood.
It is difficult to believe that Elton's mother, Sheila (Bryce Dallas Howard), was so cruel to her sensitive and needy only child, but, in an interview, Howard recounted that her own skepticism about Sheila's alleged behavior led her to speak to several people who knew the family. She was told that Sheila was actually nastier than the script portrays.
Fortunately for young Elton, his grandmother Ivy (Gemma Jones), embraces the young Reg and makes sure his musical talents are allowed to flourish when she enrolls him in piano lessons at the Royal Academy of Music.
The film suffers from a tad too much of the morose, overdoing Elton's travails by at least a scene or two. When it soars, Rocketman is about the music, tapping into the fascination we have witnessing the birth of musical genius. What John and Taupin wrought was nothing short of remarkable.  Across Elton's career, the pair wrote 57 top 40 hits in the U.S. (69 in the UK) with nine of those hitting number one. (Sir Elton's Farewell Tour is still going on, after 194 shows around the world, grossing $125 million. His superstardom abides).
To his credit, Egerton doesn't attempt to imitate John's singular voice; instead, he recreates the flamboyance and joyous irreverence Elton brought to his stage performance. Elton's initial reluctance to acknowledge his homosexuality is tossed aside as, relatively early on, he decided to flaunt rather than hide his sexual preferences.
As with all biopics, a fact check feels in order when you get home. Taupin apparently objected to the original screenplay, but eventually suggested some changes and signed on to the project. Elton John and his husband David Furnish are among the film's producers, making clear that Sir Elton feels the story is accurately conveyed.
Given that Sir Elton is no stranger to Broadway — he won a Tony for best original musical score for Aida in 2000 and earned Tony nominations for both The Lion King and Billy Elliott — it won't be a surprise to anyone if a version of this film is headed to the Great White Way. If there's a place for Carole King, The Four Seasons, The Temptations, and ABBA, there's surely a theater audience ready to embrace Elton John. Rocketman has the distinct feel of a Broadway musical on film.
---
Glenn Rifkin is a veteran journalist and author who has covered business for many publications including The New York Times for nearly 30 years. He has written about music, film, theater, food and books for The Arts Fuse. His new book Future Forward: Leadership Lessons from Patrick McGovern, the Visionary Who Circled the Globe and Built a Technology Media Empire was recently published by McGraw-Hill.