By Steve Feeney
It is enormous fun to hear how this group of veterans try to think in new ways — as they do throughout this engaging release.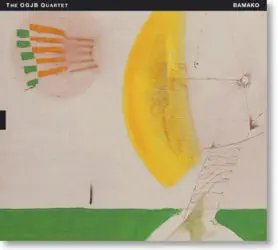 Four veteran exponents of free jazz have come together to release an impressive album that looks backward and forward in time while staying in the vital present moment.
The OGJB quartet, the letters stand for the first initial of each band member, unites veterans Oliver Lake and Barry Altschul (both age 76) with relative youngsters Joe Fonda (64) and Graham Haynes (58) for Bamako (TUM Records), a set of original compositions and improvisations enlivened by plenty of fresh inspiration.
Fans may remember alto-saxophonist Lake from his years with the World Saxophone Quartet. That group went a long way toward serving as an admirable corrective to a conservative trend that had become powerful in jazz at the end of the 20th century.  As with Ornette Coleman and Eric Dolphy before him, Lake trafficked in 'free' tonal and harmonic concepts that allowed him to stay, fascinatingly, just a touch removed from his aural surroundings on the bandstand or in the studio.  His idiosyncratic playing required and rewarded close listening.
Drummer Altschul has a notable resume, highlighted by his seminal work with the redoubtable Anthony Braxton. High-energy and (apparently) infinite rhythmic variations have distinguished his work, to the point that over the years his name has become synonymous with edgy jazz at its best.
Bassist Fonda also boasts time with Braxton on his imposing resume. Lately, he's generated some new fans through his superb work with the indefatigable pianist/composer Satoko Fujii.  His 'take charge' approach is buoyed by a rich tone that can both prod and lead, often simultaneously.
Finally, Haynes (son of the great drummer Roy Haynes) is a cornetist who chose to move away from the incredibly intense jazz/funk of Steve Coleman's Five Elements band; he has gone on to develop a sterling reputation as a player who can establish a powerful presence in any musical context.
Bamako kicks off with a 14-plus minute rabblerouser, a Fonda composition called "Listen to Dr. Cornel West."  It's full tilt improv with the bassist's pulsing drone more or less holding it all together. Altschul creates a percussive whirlwind; Lake and Haynes chat, argue, and chase each other around a fragmented melodic figure.  A long and intense solo from Fonda  ensues.  You can hear him trying to catch his breath as he doubles and triples the pulse before bringing in the others on the back of an ostinato.  A Haynes solo sings a declarative song that would seem to fit with the instructive title of the piece.
Haynes' "Bamako" includes Lake reciting one of his poems after a heady intro which finds all four musicians cruising in world music mode.  Dousn' gouri (Haynes) and mbira (Altschul) are brought in to suggest a quest for ancestral connections.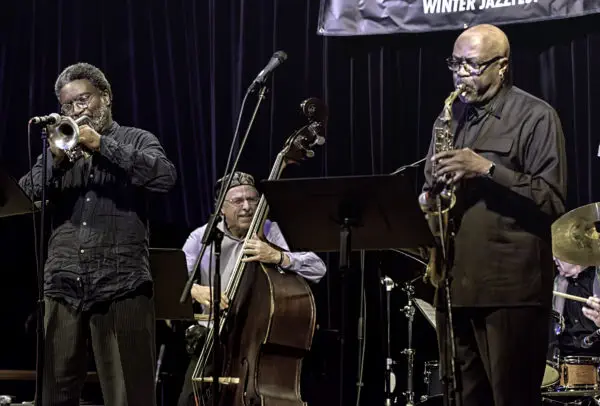 Lake infuses lots of texture into his sax work on his "Is It Alright?" while Haynes plays straight man. The pair's unison work recalls the aforementioned Coleman/Dolphy axis.  Another Lake piece, called "3 Phase 09," follows a somewhat tortuous path: long tones from the horn men are accented by cymbal crashes from Altschul.  Another solo from Fonda brings the proceedings to a close.
Altschul's "Just a Simple Song" has Lake reaching into his bag of  'avant-garde' tricks for semitones and unsettling squeaks designed to accent a dirge-like pace.  The drummer's "Be Out S'Cool" finds Haynes in a reflective mood, while Lake pushes the musical doings to their limits.  Throughout, the roll, tumble, and rumble from the bottom of the band is unrelenting.
The disc finishes with two collective improvisations that double down on the band's search for fresh, fruitful connections.  "OGJB #2" and "OGJB #1" appear in that order. Both excursions confirm just how much fun it is to hear how these veterans try to think in new ways — as they do throughout this engaging release.
---
Steve Feeney is a Maine native and attended schools in Maine, New Hampshire and Massachusetts. He has a Master of Arts Degree in American and New England Studies from the University of Southern Maine. He began reviewing music on a freelance basis for the Portland Press Herald/Maine Sunday Telegram in 1995. He was later asked to also review theater and dance. Recently, he has added BroadwayWorld.com as an outlet and is pleased to now contribute to Arts Fuse.