By Blake Maddux
Dino Cattaneo saw an opportunity to mark another ruby anniversary with the help of "killer" – his word of choice – local artists.
40 Years of Elvis Costello and Joe Jackson in Boston – A Tribute. Featuring Dee Zaster & The Designated Drivers with special guest Corin Ashely and John Powhida & Friends. Friday, March 29, 8:00 p.m. Regent Theatre, 7 Medford Street, Arlington, MA.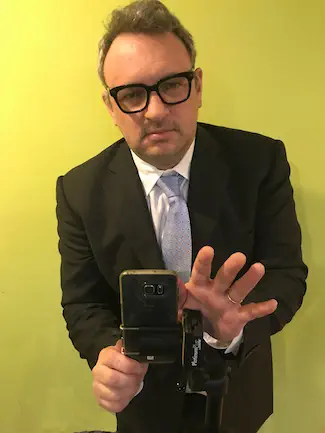 Dino Cattaneo has been commendably active in the Boston music scene for many years as a musician and promoter of shows. As the former, he currently fronts his own band, Dee Zaster & The Designated Drivers, and plays bass guitar for The Rationales. As the latter, he manages the career of his wife, singer-songwriter and Berklee professor Susan Cattaneo (click for my 2015 Arts Fuse interview), has run the Daniel Pearl World Music Days for seven years, and has brought together Boston-area musicians to play tribute shows to artists as diverse as Linda Ronstadt, Alex Chilton, and The Clash, The Sex Pistols, and The Ramones together in one show called Spirit of '77.
Having celebrated the 40th anniversary of what he calls "sort of the holy trinity of the first wave of punk" in 2017, it makes sense that his latest tribute will salute the new wave that followed on the heels of the first wave.
"I have always grouped Elvis Costello in a generation of singer-songwriters who combined great writing with a rockier approach and killer bands, who were somehow lumped in with punk and new wave but had a broader palette," Cattaneo said via email. "People like Joe Jackson, Graham Parker & The Rumour, Garland Jeffrey, Mink De Ville, Ian Dury & The Blockheads, Nick Lowe, Dave Edmunds, etc."
Several of these artists released their debut albums in or before 1977, including Elvis Costello, while others, like Joe Jackson, did not do so until subsequent years, when new wave had more fully taken hold. Since 1979 was the first year that both Costello and Jackson played Boston, the latter for the first time in his career, Cattaneo saw an opportunity to mark another ruby anniversary with the help of "killer" – his word of choice – local artists. On March 29, he will present 40 Years of Elvis Costello and Joe Jackson in Boston – A Tribute at Arlington's Regent Theatre. In what is surely not a complete coincidence, Elvis Costello & The Attractions performed at the Orpheum Theatre on that same date in 1979. (Costello and Jackson are also the two among the aforementioned artists who had the most commercial success in the United States,)
This will not be the first time that Cattaneo has showcased his love of Elvis Costello, which began when he was a young man in his native Italy.
"My first Costello album was This Year's Model and I have been a crazy fan ever since," he said. "Last year was its 40th anniversary, and I organized a Tribute Tuesday at the Lizard Lounge with this house band and a lot of guest singers, including John Powhida. A great moment of the show was when we started the second set, and someone I didn't know was fronting and sang a killer version of 'Welcome to the Working Week.' I found out it was Corin Ashley. He had come to the show, and since he really loves Elvis Costello, [keyboardist] Peter Moore very kindly let him sing that song."
As Corin Ashley (click for my 2017 Arts Fuse interview) tells it, his appearance on stage was not as innocent as Cattaneo perceived it.
"I ended up foisting myself on them and singing with them," Ashley said in a phone interview. "Sometimes I'm very likely to just appear next to you on stage if I know the songs. I can't control myself. I get excited. It's all done with best of intentions and love in my heart."
Whatever the case, Ashley says that he was "happy to join in" when he was formally invited to participate in the show at the Regent Theatre, a venue that he, despite more than two decades as a Boston musician, has never played before.
(Corin Ashley's video for his version of Elvis Costello's "London's Brilliant Parade")
In addition to Cattaneo and Ashley, Dee Zaster & The Designated Drivers will be tackling Elvis Costello's catalog with a band that includes Tony Savarino (guitar), Sean McLaughlin (bass), Mike Levesque (drums), and Peter Moore (keyboards). All of these musicians were part of the This Year's Model Tribute Tuesday.
Like Cattaneo, Powhida has experience publicly honoring his artist of choice. He played a Lizard Lounge Tribute Tuesday in 2017 that was devoted to Joe Jackson's 1980 album, Beat Crazy.
"That record hit me so hard as a whole statement," Powhida said via Skype from a hotel room in Scotland. "And it was so different from his first two records. Peter Moore was a big fan, too, so we really did our best to honor it. I think Dino was there."
Powhida has a very specific goal for his time on the Regent stage on Friday.
"I am personally looking at this as Elvis versus Joe," he stated. "And I want to prove to that crowd that Joe's material can stand side-by-side with Elvis's, and maybe is, for the audience, more enjoyable." In his effort to do so, Powhida will be backed by Charles Hansen (guitar), Jim Haggerty (bass), Andy Plaisted (drums), and the twice aforementioned Peter Moore, who will be pulling double duty on keyboards.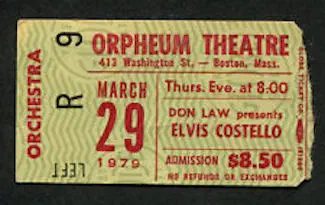 How did the participants select which songs to perform from artists who have four decades of material to choose from? For starters, the temporal focus of the show will be each artist's early material so as to better capture the spirit of the 40th anniversary that it is commemorating.
That, however, makes it only so much easier, as each artist released some of his best and most memorable songs during that portion of his career, be they singles or album tracks.
Therefore, they decided that it would not be a feast for music snobs, but rather an honest effort to satisfy those whom the die-hards may have dragged along with them.
"We were thinking with this show, in general, to try to not be too obscure," Ashley explained. "You can go pretty obscure with Elvis's catalog, but this is more of a general audience, so we thought we'd do his hits but also a couple of deep cuts that really big Elvis Costello fans will really like."
Powhida agreed, saying, "I didn't want it to be a really obscure set. I wanted it to be pretty crowd-pleasing, but I wanted to get in enough of the stuff that meant a lot to me personally."
---
Blake Maddux is a freelance journalist who regularly contributes to the Arts Fuse, the Somerville Times, and the Beverly Citizen. He has also written for DigBoston, the ARTery, Lynn Happens, the Providence Journal, The Onion's A.V. Club, and the Columbus Dispatch. A native Ohioan, he moved to Boston in 2002 and currently lives with his wife and one-year-old twins–Elliot Samuel and Xander Jackson–in Salem, Massachusetts.