By Lucas Dean
Maya Erskine and Anna Konkle turn in frequently hilarious but vulnerable performances as their adolescent counterparts.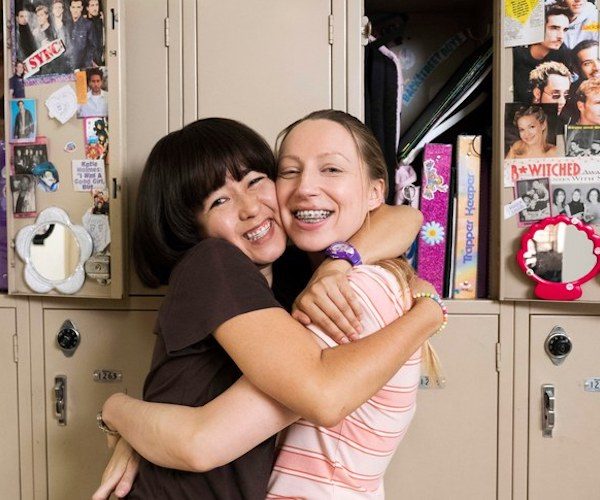 When Eighth Grade came out last year, I was caught off guard -– even after reading all of the glowing reviews — by how accurately it depicted the discomforting, anxiety-laden growing pains of middle school. As Kayla (Elsie Fisher) navigated insecurities, crushes, and longings to be part of the crowd — without changing who she was — it was hard not reflect on my own similar memories from those years. The reason Eighth Grade worked on so many levels and struck a chord was because of its clear-eyed yet empathetic treatment of Kayla. The show never served up the kind of one-dimensional characterizations of middle schoolers that delegitimize their experiences and emotions. Hulu's series PEN15 (don't be deterred by the name) charts a similar course, mining comedic and dramatic gold in the process.
PEN15 was created by and stars 31-year-olds Maya Erskine (Man Seeking Woman, Insecure) and Anna Konkle as seventh grade versions of themselves in the year 2000, complete with landlines, dial-up, and AIM messenger. The 10-episode season follows the pair as they face a myriad of familiar, and often cringe-worthy, situations. The duo of longtime friends are eager to grow up, but their friendship is challenged by family problems as well as the lure of popularity. This may sound like a lot to cover in a coming-of-age series, with plenty of opportunities for meandering among the episodes, but there is a consistent  (and compelling) trajectory in the development of the plot and characters.
Erskine and Konkle turn in frequently hilarious but vulnerable performances as their adolescent counterparts. The rest of the cast of middle schoolers are the appropriate age, so for the get-go it is funny to watch them attempt to blend in with the crowd. That adult-in-adolescent-land concept sounds as if it could only work well as a sketch, but Erskine and Konkle infuse their characters with enough genuine emotion to prevent superficiality. Their performances are grounded: they achieve a rare sense of lived-in authenticity which may be partially credited to the fact that the series is semi-autobiographical. Erskine's actual mother plays herself!
The comedy Erskine and Konkle come up with for the show is firmly rooted in (and driven by) the setting and period. Perhaps that means that some of the jokes and/or storylines aren't working for non-Millennials. But, for me, many of the details in PEN15 are amusing and nostalgic. Characters draw that pointy 'S' that has been lingering in middle schoolers' collective subconscious for decades, join inappropriate chat rooms on AOL. Even the title reflects the time period. To its credit, the show doesn't pigeonhole itself by putting too much weight on this 'you were there' strategy: much of the humor is broad enough to be enjoyed by all ages. Some of the overarching themes include racism, bullying, and general feelings of otherness — which are all handled without earnestness, but delicately, at times with sharp wit.
Only time will tell just how sustainable PEN15's high spirits will be in the long-run. The concept may become stale over time; the clock is ticking as the characters grow older. Still, regardless of its longevity, it's wonderful to see how the talented Erskine and Konkle treat the turbulent period of seventh grade with such enthusiastic gusto and loving sentimentality.
---
Luke Dean is a journalist whose focus ranges from the arts to LGBTQ issues and religion. He loves hanging out with dogs and watching horror movies.