By Jonathan Blumhofer
Michael Gordon's score for The Unchanging Sea works better as soundtrack than a concert work; Harmonia mundi releases a DVD of William Kentridge's powerful staging of Alban Berg's Wozzeck.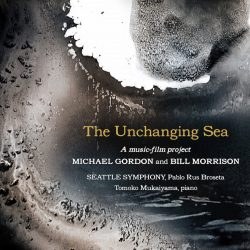 Michael Gordon's collaboration with filmmaker Bill Morrison, The Unchanging Sea, is a piece you can experience two ways in Cantaloupe's recent release: both as a soundtrack on a DVD of the film and as an independent orchestral score.
For the former, you've got a fascinating compilation of early 20th-century films that draw on nautical imagery spanning just over thirty years (the earliest is from 1897, the most recent from 1928). The narrative, such as it is, is a bit choppy, but involves a girl falling asleep on some rocks by the seashore and dreaming both of her own experiences by the ocean and of a great shipwreck. At the end, she wakes up as the tide rises around her, only to be saved in the nick of time by a fisherman who gallantly rows her to shore.
Gordon's music, with its ominously thudding pulses and hazy dissonances provides an apt accompaniment to this feature. For my money, the piece works rather better as soundtrack than a concert work, given the relative stasis of Gordon's musical language and its relatively long (near thirty-minute) duration.
That said, there are several striking moments in Gordon's score to The Unchanging Sea that come across effectively in the audio recording, including the powerful keyboard writing, percussion scoring (there are some, frankly, gripping episodes for flexatone), and the vigorous coda.
Filling out the CD of The Unchanging Sea is a performance of Gordon's Beijing Harmony. The relationship between title and piece is a bit vague: a commission from that city's National Centre for the Performing Arts, it draws on the Minimalist techniques that Gordon's worked with for a while now. Shaped rather like a wedge, the score builds to a series of transcendent climaxes before suddenly fading away.
In both works, the Seattle Symphony is conducted by Pablo Rus Broseta. You'd be hard-pressed to ask for more colorful or engaged performances than the ensemble delivers, though that doesn't mean that either piece breaks new (or necessary) ground.
---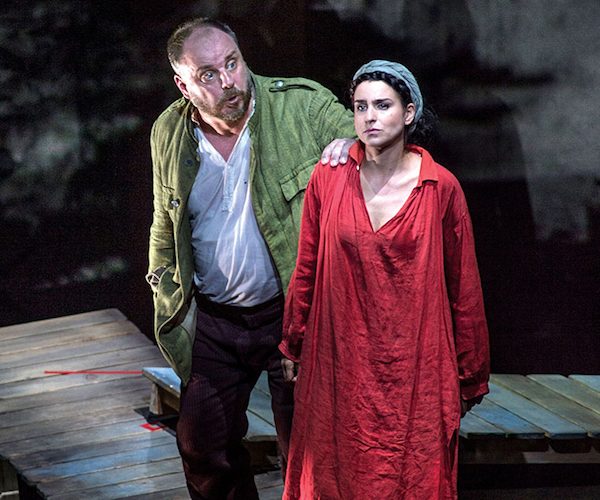 Matthias Goerne is fast becoming the preeminent baritone of his generation. His Ring Cycle with Jaap van Zweden cemented his status as one of the great Wagner singers (Wotans, particularly) of the day. Now comes his performance in the title role of Alban Berg's Wozzeck.
A harrowing opera (after Georg Büchner's incomplete play) about a mentally-disturbed man who's badly misunderstood and maltreated by those around him, Berg's first opera retains a disturbing timeliness. It offers no easy answers: everybody in it and the world the story depicts is badly flawed. But its honest reflection of human failings is powerful, especially when staged and sung as thoughtfully as in Harmonia mundi's DVD from the 2017 Salzburg Festival.
Much of the success for this is due to Goerne's Wozzeck, who is profoundly sympathetic. This is a result as much of Goerne's singing – which is robust, clear, and deeply melancholy – as it is of his conception of the role, which is never or out of control, even in Wozzeck's several disturbing visions. Rather, Goerne portrays him as a man who's both a victim of his circumstances and one whose actions are understandable responses to the various betrayals of those Wozzeck trusts: his commanding officer; doctor; and, most importantly, girlfriend, Marie. Goerne's is a shattering performance, but, ultimately, a compassionate one.
He's aided by an excellent supporting cast.
Asmik Grigorian's Marie is nothing short of magnificent. She has Berg's angular lyric style perfectly in hand, singing with flawless intonation, melting tone, and stirring dramatic conviction.
Gerhard Siegel sings the part of the Hauptmann with clarion voice and stellar diction. Siegel's a singer who can be simply a delight in lascivious and wicked roles (I adored his Herod and Aegisth in concerts in Boston in recent years), and he's brilliant here as the aloof, cocksure military man.
So are Jens Larsen – who takes the role of the quack Doktor – and John Daszak as Marie's lover, the Drum Major.
William Kentridge's production traffics in lots of references to World War 1 – scenes out of trench life, gas masks, projected images of zeppelins and biplanes, and the like – as well as puppetry (most notably, Wozzeck and Marie's son is cast as one). It's an unconventional approach, perhaps, but powerful all the same. The closing scene, with the puppet child supported by a pair of nurses, is simply devastating.
Vladimir Jurowski presides over it all, leading the Vienna Philharmonic in a luminous account of Berg's spellbinding, churning orchestral writing.
---
Jonathan Blumhofer is a composer and violist who has been active in the greater Boston area since 2004. His music has received numerous awards and been performed by various ensembles, including the American Composers Orchestra, Kiev Philharmonic, Camerata Chicago, Xanthos Ensemble, and Juventas New Music Group. Since receiving his doctorate from Boston University in 2010, Jon has taught at Clark University, Worcester Polytechnic Institute, and online for the University of Phoenix, in addition to writing music criticism for the Worcester Telegram & Gazette.