By Peg Aloi
This season of True Detective explores the figure of the cop as a permanently haunted man.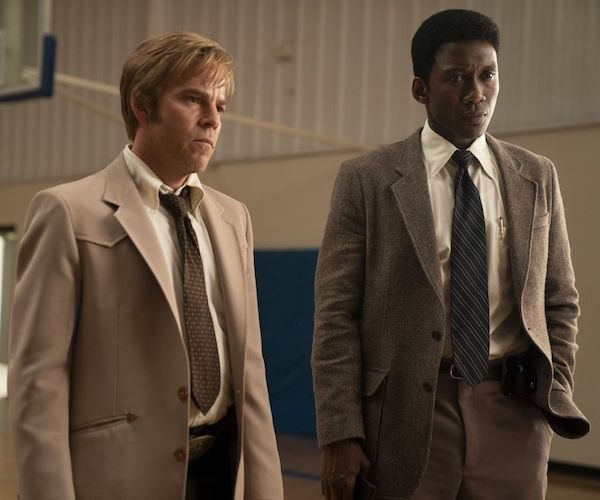 The first season of True Detective premiered on HBO in 2014, helmed by writer-creator Nic Pizzolatto. Starring Matthew McConaughey and Woody Harrelson in mid-career-jolting performances, the show inspired passionate fandom as well as plenty of critical praise. Certainly a huge part of the series' appeal was its sharp, intricate direction: all eight episodes were directed by Cary Fukunaga, whose previous work was marked by two very different feature films (Sin Nombre and Jane Eyre). The story, of a bungled investigation of a serial killer in rural Louisiana, was part crime thriller and part a character-driven psychological drama that spanned over a decade.
That formula seemed underserved by the second season's more decadent setting (Los Angeles) and tighter focus (events only covering a few months). Despite another excellent cast and powerful performances by Colin Farrell and Rachel McAdams, the upending of the previous season's structure, which focused on two detectives and their professional relationship and private lives, disappointed fans. Fukunaga only stayed on as a producer; episodes were directed by a variety of people, including Pizzolatto himself, as well as HBO veterans Danial Attias and Jeremy Podeswa. Part of the first season's power also lay in the narrative's time-jumping timeline, which moved between past and present in fluid and unusual ways; the second season moved forward only, for the most part, although lots of suspense and surprise was generated.
The fluid timeline formula returns with True Detective's third season, which centers on two partners whose work solving a crime reunites them more than once over the course of thirty five years, beginning in 1980. In Season One, the partners have a falling out; they only reunite when new evidence suggests the initial arrests and convictions let the real killer to go free. In Season Three, so much time goes by that the partners end up having no contact for almost a quarter century. The investigation that defined their careers remains mired in mystery; previous convictions are gradually exposed as dubious, and people connected to the case turn up dead under unexplained circumstances. Then a television documentary producer comes to town to ask new questions and reopen old wounds.
Mahershala Ali (Moonlight) is Wayne Hays, and Stephen Dorff (Somewhere) is Roland West. They're already partners in a small town near Fayetteville, Arkansas when the story begins in 1980. They're comfortable enough on the job to make jokes to each other about hoping to find suspects to beat up on if they have a slow night. When a local man (Scoot McNairy, seen recently in Destroyer) calls to report his two children missing, Wayne uses the tracker skills he learned in Vietnam to locate one of them, a ten year old boy found in a ritualized murder scene. Themes stemming from occult crime return from the first season, as do other issues, involving police corruption, rural racism, and wrongful incarceration.
He is the figure of the 'true detective' as a permanently haunted man.
Click To Tweet
True crime buffs may note narrative elements reminiscent of the real life story of the 1993 child murders in West Memphis, made famous in the HBO documentary Paradise Lost: The Child Murders at Robin Hood Hills. There are also plot nods to subsequent sequels, which focused on three young men, known as the West Memphis Three, who were wrongfully incarcerated (one on Death Row) and were eventually released. To this day, the killer or killers remain unapprehended. The similarities to this case in True Detective are by design; the series addresses issues that plagued that investigation. When Wayne and Roland interrogate one teenage suspect, they so terrorize him he is still angry and bitter a decade later. Likewise in Season One, Detective Rust Cohle (McConaughey) tells an informant: "I'm a cop; I can do terrible things to people, with impunity." From its beginning, the show has persistently portrayed the corruption and brutality to be found in police work.
In Season Two, the three main detectives have dysfunctional personal lives; in Season One, Marty Hart (Harrelson) engages in narcissistic self-sabotage that affects his marriage, and Cohle is willfully monastic. There's an elusive idea alluded to throughout all three seasons that a strong marriage is necessary if a cop is going to cope with the horrors of the job. Similarly, most of these troubled cops have a history of traumatic experiences, from military service or abuse. Wayne meets future wife Amelia (Carmen Ejogo) while investigating the missing children; the case defines their marriage and future lives. Amelia leaves her job as a schoolteacher to focus full time on writing a book about the case, published just as revelations ten years after the fact cast doubts on the original conviction.
The framing device that arches over this recent season is the fact that Wayne, now close to 70 years old, is experiencing memory loss, confusion, and mild but worsening dementia. When a television crew comes to his house to interview him about the old case, which has left a trail of mysterious deaths in its wake, his memories of those days return to haunt him. But they also catalyze a sense of purpose that mitigates his growing fear and confusion. The transitions between 1980, 1990, and 2015 (the present) are facilitated by obvious changes in protagonists' hair, cars, and taste in music. Eventually, the events make it clear where and when we are — without obvious signifiers. One intriguing conceit is that Wayne's uncertain memories not only confuse present with past, but past with future; it is as if his entire life has been endlessly plagued with specters of crimes left unsolved, defining his existence as an endless round of speculation and regret. He is the figure of the "true detective" as a permanently haunted man.
---
Peg Aloi is a former film critic for The Boston Phoenix. She taught film and TV studies for ten years at Emerson College. Her reviews also appear regularly online for The Orlando Weekly, Crooked Marquee, and Diabolique. Her long-running media blog "The Witching Hour" can be found at at themediawitch.com.