By Marcia B. Siegel
Mark Morris and Ethan Iverson chose songs from the famous album for reflection and extrapolation. What they made is an entertainment, a romp for the company's terrific dancers.
Pepperland. Mark Morris Dance Group, at Boch Center Shubert Theater, Boston. Presented and co-commissioned by Celebrity Series of Boston, February 8 through 10.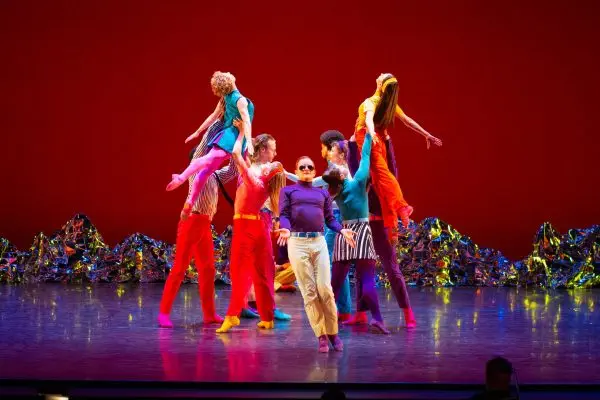 When you're almost sixty-four and you've been choreographing for four decades, what do you do for new ideas? Mark Morris had an important request for the Beatles, and, in collaboration with his musical muse Ethan Iverson, he made Pepperland, based on Sgt. Pepper's Lonely Hearts Club Band.  It premiered in Liverpool for the 2017 Sgt. Pepper at 50 Festival. It's been touring ever since. The hourlong dance came to Boston last week, and it wasn't quite the nostalgia trip Beatles fans might have expected.
Morris and Iverson chose songs from the famous album for reflection and extrapolation. What they made is an entertainment, a romp for the company's terrific dancers. And if the Fab Four were staging an escape from mean times, we could use a break too.
I thought Pepperland was most interesting musically. Iverson created a small ensemble as arcane as the Beatles lyrics: in addition to piano (Iverson) and keyboard (George Shevtsov), a trombone (Jacob Garchik), soprano sax (Sam Newsome), theremin (Rob Schwimmer), percussion (Vincent Sperrazza), and a baritone (Clinton Curtis). This made for a mix of sustained and spiky sounds, surrounded Friday night by a buzz of high amplification. Sometimes it takes a while to unearth the Beatlish icons buried in Iverson's embellishment. Interludes with classical titles like "Adagio" and "Scherzo" refer to the Beatles source distantly, if at all, but allow the musicians to venture into the grander virtuosities of the past.
Morris's dance has its own eclecticisms. An ever-changing array of solos, duets, and groups inhabit the music; hints of bygone social dances, stunts, and signifying poses flash through his familiar modern dance movement. The dancers wear Elizabeth Kurtzman's party-colored clothes.They walk softly in matching soft shoes. They occasionally don dark glasses or Groucho mustaches.
After a musical introduction, the dance begins with a voice intoning famous names, personalities from the crowd on the original Sgt. Pepper album cover. Folks like Sonny Liston, Shirley Temple, Albert Einstein. Each is represented by a dancer who struts on and assumes a parodistic, often contra-gender pose. Much of what follows is writ in Morris's none-too-subtle humor. To "Penny Lane" they mime the lyrics, as if driving a car, combing their hair. They skip-hop in girlish lineups. They don't seem to be mocking their models but honoring them, enjoying them.
Morris takes the opportunity, in Iverson's "Adagio," to pair up same-sex couples. But this isn't new. What is, is the introduction of the theramin's high, whoopy sound paired with the trombone, to begin a romantic number that visits several keys at once. With his great musical acumen, Morris takes up the music-hall bounciness of "When I'm Sixty-Four." A shoulder-to-shoulder trio starts out with minstrel struts. They gradually attract other dancers and incorporate steps of miscellaneous popular dances like the Charleston, the frug. When Iverson's arrangement lays on metres of four, five and six, the accumulated dancers in the lineup fall into counterpoint.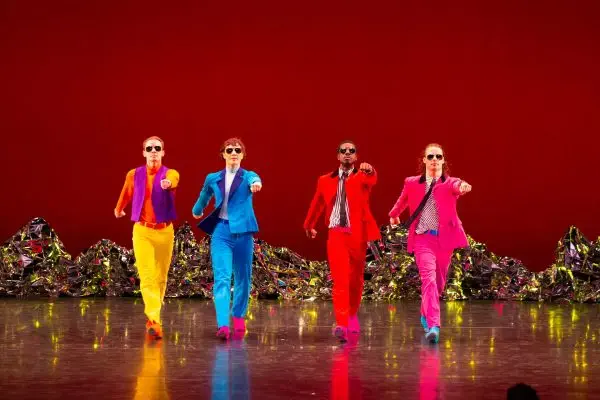 Morris seems to have reinforced the company for Pepperland; it now totals 19 dancers, including four apprentices. At least half the 17 who appeared on Friday night have joined the Group since 2017. This makes for large group arrangements that can fill the stage, but curiously, Morris usually choreographs them en masse in clusters and spread-out individual phrases. In "Within You Without You," while Dallas McMurray writhes and falls upstage, Noah Vinson is seated crosslegged in meditation. They eventually trade places, as the other dancers swirl around them, and all settle into their own poses of calm.
Much of the dance is made for quartets, echoing the Beatles' own combine. "Wilbur Scoville" starts with a lowdown blues, and chain gangs of four dancers thud across glumly. One member breaks away from each chain to do a tiny, funky solo, then gets linked back onto his or her chain as it exits. This might have referred to the way the Beatles' unity would periodically fracture as one or another of them pursued his own adventures.
"Allegro" has two quartets pitted against each other in fast counterpoint. These charging machines come together every now and then in two-footed stomps, as the music unexpectedly jolts to a stop. Then both music and dance are off again on a new theme.
Toward the end of the dance, Morris sends the dancers running and soaring across the stage. To rising crescendos, the movement reprises earlier themes. The dancers join in the recorded chorus singing the title song, and the audience does too. Anyway, I did. When "it's time to go," the dancers leave and after a second or third false ending, the music comes to a close. We're left with a bare stage, backed by John Henckens's set, a ground-row of big crinkled tinfoil, like some clouds that have mysteriously fallen from the sky.
---
Internationally known writer, lecturer, and teacher Marcia B. Siegel covered dance for 16 years at The Boston Phoenix. She is a contributing editor for The Hudson Review. The fourth collection of Siegel's reviews and essays, Mirrors and Scrims—The Life and Afterlife of Ballet, won the 2010 Selma Jeanne Cohen prize from the American Society for Aesthetics. Her other books include studies of Twyla Tharp, Doris Humphrey, and American choreography. From 1983 to 1996, Siegel was a member of the resident faculty of the Department of Performance Studies, Tisch School of the Arts, New York University. She has contributed two selections to Dance in America, the latest edition in the Library of America's "Reader's Anthology" series.