By Steve Provizer
The success or failure of this show rests primarily on the physical presence, voice and acting of the actor playing the celebrated lyric tenor Roland Hayes.
Breath & Imagination by Daniel Beaty. Directed by Maurice Emmanuel Parent. Music Director, Asher Denburg. Additional Music Direction, Doug Gerber. Original Music and tradtional spirituals arranged by Mike Ruckles. A co-production between the Lyric Stage Company of Boston and The Front Porch Arts Collective at 140 Clarendon Street, 2nd Floor, Boston, MA, through December 23.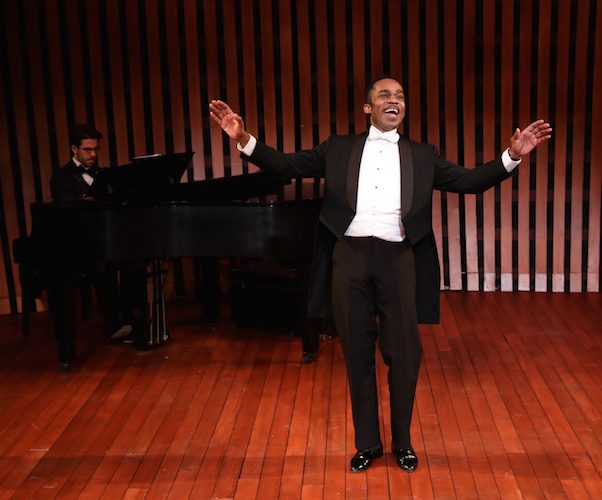 In an interview about its co-production (with Lyric Stage) of Daniel Beaty's musical play, Dawn Simmons, the artistic director of the new company Front Porch Arts Collective, says that "Roland Hayes epitomizes Black People magic . . . fighting against odds, carried by his resilience, determination and absolute talent. . . . I'm glad we can illuminate that story." Illuminate it, they did.
The success or failure of this show rests primarily on the physical presence, voice and acting of the actor playing Hayes (1887-1977), a celebrated American lyric tenor and composer. Here the role is played by Davron S. Monroe, who is called upon to portray Hayes as a child, an adolescent, and a man — no simple charge. He is also called upon to sing spirituals, gospel-like tunes, and classical art songs — another challenge. Bravo to Monroe. He carries it off. His pitch as a singer is accurate and his pitch as an actor is spot on, whether he is shirking his chores as a child, pushing back against his mother as an adolescent or bemoaning his second-class treatment as an adult performer. His voice is strong and supple, ranging from near whispers to fortissimo final notes.
His counterpart here is his mother, played with facility by Yewande Odetoyinbo. The performer conveys the character's religious convictions powerfully. Whether or not one believes in the afterlife, there is never a doubt about Odetoyinbo's conviction. Hayes's deeply religious mother believes that his voice should lead him to serve the Lord as a preacher; his refusal to do so provokes a deep rift between them. It takes years for them to repair their broken relationship.
The performer plays with the character of his mother — Angel Mo', as Hayes calls her. She is unsophisticated in certain ways, but displays a great deal of mother wit. She also has an intuitive grasp of music. For example, after Hayes's self-financed and self-promoted recital at Symphony Hall, she tells Hayes she didn't understand the songs he was singing. He replies that they're written in foreign languages. Her savvy response: she knew that, he needs to work harder to make the emotional resonances of the songs clearer.
The supporting cast of actors and musicians is strong. Doug Gerber plays Hayes's first vocal teacher. Nile Scott Hawver plays six different roles with aplomb, including a preacher, a racist cop, a female school matron, a Frenchman, and King George V.
The stage set is well-conceived and serviceable, but the action takes place in several areas offstage and in the aisles. This is theatrically exciting: it opens up the space and helps us to imagine the presence of other locations.
The music is a combination of spirituals, songs from the classical repertoire, and original music. There is a piano onstage, which is well integrated into the staging of the action. The piano playing is excellent, performed by music director Asher Denburg and Gerber. Because there is no chorus that can sing the songs as they may have originally been performed, Mike Ruckles has adapted the spirituals to be sung with piano accompaniment or solo a cappella. In the process, he has done some reharmonization — which sounds quite good. Some of the harmony was fairly modern, but it's my impression that the performance of spirituals is not locked in time and is subject to new approaches and interpretations. His segue music was also effective.
The script's major thematic drive is that this son of slaves is blessed with a superior voice. Given the time and place, he was highly unlikely to become known outside his small rural community of "Negroes." His mother's religiosity complicates his choice to become a professional singer. Hayes himself is initially ambivalent about making the choice, but his first white vocal teacher encourages him to follow his dream. Breath & Imagination portrays the white people in Hayes's life in starkly contrasting ways. On the one hand, his first teacher and other future mentors who are white support him and assist him on his path to artistry. On the other hand, there is a repeated segment in which a Southern white policeman and Hayes square off about a racist incident concerning Hayes's wife and child. When these  — and other racist incidents occur — there is an immediate emotional reaction. Hayes clasps his side in agony, a heavy-handed cue to the man's pain that is not really necessary.
In the script, Hayes remains ambivalent about the quality of his voice throughout his career. His love for classical music is sparked by hearing a recording of the great lyric tenor Enrico Caruso, whose voice was lighter than that of Hayes. After Hayes rises to eminence, a positive comment about the "color" of his voice inspires a defensive and aggressive reaction on his part. His mother's illuminating response: "You carry the pain and promise of your people in your voice." At first, he sees the wisdom of that idea. Yet he continues to have terrifying visions of his past, suggesting how ambivalent he is about the rarefied world he now inhabits. Hayes is haunted from within; to some degree, he will always be trapped between two worlds.
Breath & Imagination is framed by scenes of Hayes addressing students in a music school he proposes to open on the site of the plantation on which his mother was a slave. In the opening scene, he tells the students he will not open the school because of the continuing racism he and his family have experienced in the area. However, in the closing scene, he has changed his mind — despite the racial climate, he will establish the institute. This growth serves as an apt demonstration of the pragmatic aspect of Hayes's indomitable spirit, which is so well delineated in Breath & Imagination.
---
Steve Provizer is a brass player and bandleader who has been blogging about jazz for 15 years and written about the music for many publications.