By Jonathan Blumhofer
American String Quartet's disc features the premiere recording of Robert Sirota's String Quartet no. 2, American Pilgrimage.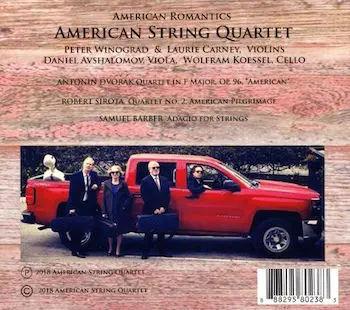 What says American classical music better than a string quartet posing for a picture in front of a red Chevy Silverado? Frankly, I'm not entirely sure. Maybe a recording that's as good as the album's back cover picture is whimsical?
The American String Quartet's (ASQ) new album, American Romantics, doesn't leave much to be desired on that last count. True, more than half of the disc consists of new recordings of very familiar fare.
But when you're faced with an account of Dvorak's American String Quartet that's played with such obvious love, spirit, character, and panache, what can you do but get swept up by it? The same goes for the ASQ's take on Barber's Adagio for Strings that closes the CD (though it would have been nice to get a full performance of Barber's too-neglected String Quartet, from which the Adagio is drawn).
What really makes this disc stand out, though, is the premiere recording of Robert Sirota's String Quartet no. 2, American Pilgrimage. A 2016 homage to the "beauty, pathos, and variety" of American geography and culture, its four movements allude to specific times of day and locales: "Morning: Waldo County, Maine" is the first; "Mid-day: Mother Emmanuel Church, Charleston, SC" is the second; "Sunset: High Desert, Santa Fe, NM" the third; and "Evening: Manhattan" the last.
Each features a corresponding musical points of reference, too: the hymn "Come, Thou Fount of Every Blessing" crops up in the first; the gospel hymn "Leaning on the Everlasting Arms" figures prominently in the second; the third evokes Native American songs; and the finale channels a diversity of styles that run from jazz licks to Minimalism – even a figure that might have been cribbed from Dvorak's American Quartet. It's all a heady mix, but a compelling and invigorating one.
The ASQ, for whom the piece was written, plays it with silken clarity and a stunning sense of stylistic order. There's nothing about their reading of it, in fact, that suggests they've got the music any less in their fingers or hearts than they do the Dvorak – which is a mighty accomplishment, indeed.
---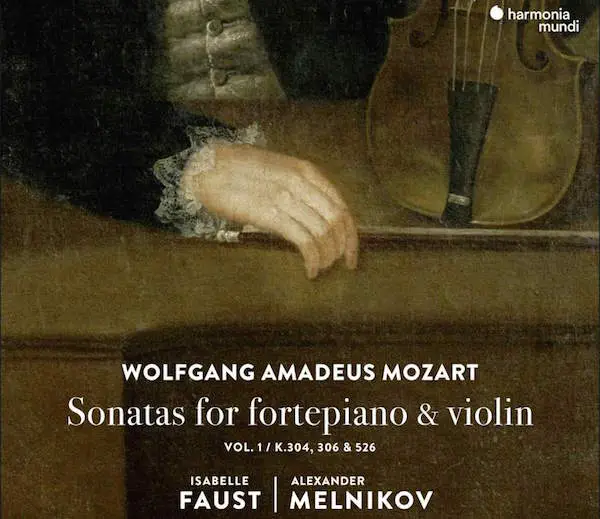 Violinist Isabelle Faust and pianist Alexander Melnikov have recorded wide swaths of Baroque, Classical, and Romantic repertoire together. Now their focus turns towards Mozart, particularly the sonatas for fortepiano and violin; the first volume of a projected full set (harmonia mundi) is out now.
As anyone who heard Faust's revelatory account of the complete Mozart concertos knows, she is not a violinist who has any trepidation about leaving her own mark on canonical favorites. Accordingly, her accounts of these violin parts lack nothing for rhythmic bite and propulsive energy. Her attacks – as in the arpeggiated figure that opens the D-major Sonata's (K. 306) first movement or the syncopations of the A-major Sonata's (K. 526) finale – are forceful, sometimes even a bit startling.
But that's not a bad thing, especially given the thoughtfulness of her dialogues with Melnikov in each of these three sonatas (the E-minor, K. 304, is the other one). Indeed, it's the conversational aspect of these performances that's most gripping: in the E-minor Sonata's minuet, for instance, the exchange of melodic lines between the two players is handled with breathtaking unanimity. And the way the duo articulates the A-major Sonata's opening theme – holding back the climax of the first phrase just a hair before running forward, perfectly in sync – is but one example of the inspired ensemble demonstrated by these two.
Through it all, there's a strong sense of melodic shape present in these readings. Everything is cleanly balanced, with Melnikov drawing an impressive range of color from the fortepiano and Faust doing the same from her gut-stringed fiddle. In her riskiest moments, too, she stays just this side of the scraggy tone that's occasionally marred her forays into historically-informed performance practice (HIPP).
Surely Mozart doesn't require the HIPP approach for his music to speak, but, if you want to go that route, Melnikov and Faust show how it can be done while keeping everything fresh and lively. A delightful, invigorating release, theirs; I can't wait for the next installment.
---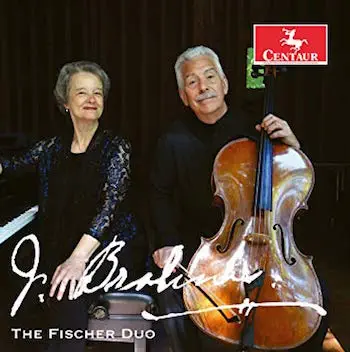 There's something inherently no-nonsense about Johannes Brahms that some recordings capture more potently than others. Take the Fischer Duo's new album (Centaur) featuring both of the composer's cello sonatas.
The ensemble – cellist Norman Fischer, pianist Jeanne Kierman – take the E-minor Sonata (no. 1) at a decidedly broad clip. It's one that fits a certain mood, one that (admittedly) is not entirely to my taste. Yet the conviction of the pair's interpretation is a hard one with which to argue.
Tension and intensity, impressively drawn out over a full quarter-of-an-hour, mark their account of the big first movement. The middle one dances with stern humor, but it's subtly shaped and brimming with character. So, too, the finale, which is taken none too fast but never wants for a sense of purpose, especially as it drives towards its denouement. A youthful interpretation of a young-man's sonata (Brahms was in his early 30s when he finished it) this one may not be; but, then again, it's a score that's expressively wise beyond its years.
The F-major Sonata (no. 2) is similarly leisurely in tempo, but not sleepy in execution. Its opening movement sings rosily while the lovely second is noble-toned. Fischer and Kierman ably draw out the third's stormy impulses and let loose as much as they dare (not too much, but just enough) in the finale's romping, sunny textures.
Rounding out the album are Brahms's "Two Songs," op. 91, in a transcription for voice, cello, and piano.
In both sonatas, Fischer's cello playing is robust and fervent; Kierman's rendition of the involved piano parts are beautifully balanced and shaded. They're a pair of musicians who obviously have terrific rapport, not to mention the technical command to pull off, interpretively, whatever they might desire
Mezzo-soprano Abigail Fischer joins them in the vocal selections, singing both with a light-cream tone, rhythmic energy, and excellent diction.
---
Jonathan Blumhofer is a composer and violist who has been active in the greater Boston area since 2004. His music has received numerous awards and been performed by various ensembles, including the American Composers Orchestra, Kiev Philharmonic, Camerata Chicago, Xanthos Ensemble, and Juventas New Music Group. Since receiving his doctorate from Boston University in 2010, Jon has taught at Clark University, Worcester Polytechnic Institute, and online for the University of Phoenix, in addition to writing music criticism for the Worcester Telegram & Gazette.