By Susan Miron
When it comes to raising high spirits, the BEMF's delightful Alcina was an inspired choice.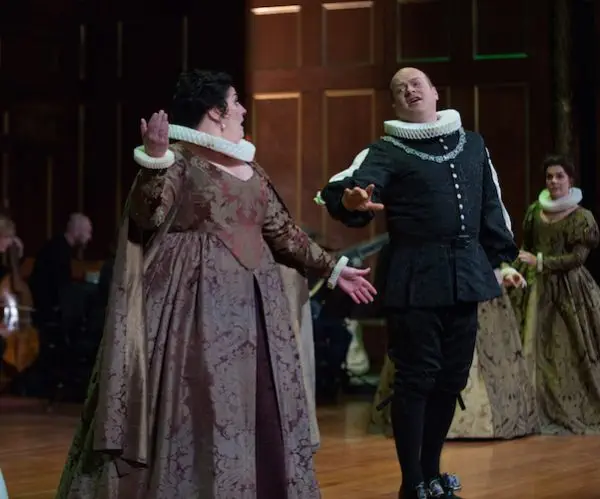 For the last ten Thanksgiving weekends I done my best to attend the annual Boston Early Music Festival chamber opera, small-scale outings that feature the company's troupe of excellent singers, gorgeous costumes and elegant dancing, and a dozen or so of the country's best early music instrumentalists. This Saturday (and Sunday) featured a number of new singers along with some familiar voices beloved by Boston audiences.
And when it comes to raising high spirits, the BEMF's delightful Alcina was an inspired choice of co-artistic directors, Paul O'Dette and Stephen Stubbs. Each of the group's always-admirable artistic personnel outdid themselves this time around.The glamorous costumes were the inspired work of Anna Watkins; Melinda Sullivan choreographed the expert dancing and elaborate hand gestures. Interestingly, the opera's composer, Francesca Caccini (1587- after 1641), considered the work to be a ballet.
Gilbert Blin was the skilled stage director and Robert Mealy, as always, made for a polished concertmaster. Sitting on one side of the stage, the chamber ensemble consisted of an exceptionally gifted continuo section: Paul O'Dette on a large lute, Stephen Stubbs, lute and Baroque guitar, Michael Sponseller, harpsichord and organ, Laura Jeppesen, viola da gamba, Erin Headly, viola da gamba and lire, and the brilliant Baroque harpist Maxine Eilander, whose playing was, throughout, one of the evening's highlights. On the other side of the stage were 3 violins, a viola, and viola da gamba, with three recorders, and concertmaster Robert Mealy, who prepared the new performing edition. Bravi to all of these fine instrumentalists.
The evening's success (the program was repeated at Morgan Library in N.Y.C.) was due largely to the cast of superb singers serving up the charming music of Caccini, the first bona fide woman opera composer. The opera's full title, La liberazione di Ruggiero dall'isola d'Alcina, pretty much sums up its convoluted plot. Briefly, Alcina (about whom Handel also wrote an opera) is a sorceress who seduces all of the knights who visit her island, turning them into plants or trees. As Stubbs explained in the program notes: "By creating this substantial female heroine she sets the pattern for this powerful and slightly dangerous central female character. And that has a really long shadow in operatic history, one that perhaps reaches as far as the mad scene in Lucia di Lammermoor." Of course, Caccini would also have been familiar with Monteverdi's iconic lament from Arianna, his lost opera. First performed in Florence in 1625, on the occasion of a state visit from a Polish prince, Alcina is really, as mentioned earlier, a "balletto rappresento in music" Its original production featured a sequence of elaborate formal dances that involved battling horses. Jordan Hall is, as yet, not fully equipped for that kind of animalistic showdown.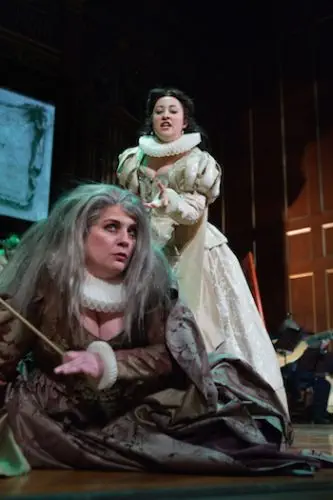 Caccini was a musical renaissance woman: a gifted singer, lutenist, harpist, harpsichordist, lutenist, theorbo player and guitarist, music teacher, composer, linguist, and poet. She was the daughter of the early Baroque composer Giulio Caccini, famed for his famous Italian art song "Amarillo mia bella" and for serving as his daughter's mentor. Having launched her career as an opera singer at the age of 13 in Peri's Euridice, Caccini wrote the role of the sorceress Alcina for himself. Her librettist, Ferdinando Saracinelli, based his tale on Ariosto's famed poem, Orlando Furioso. In the BEMF production Ruggiero was portrayed and sung beautifully by Colin Balzer. The piece's prologue featured two of Boston's most admired singers, David McFerrin as Neptune and Jason McStoots as Vistola Fiume. A terrific start.
But Caccini gave those playing her two female protagonists, and the other women in the cast, the juiciest music. Shannon Mercer made for a spellbinding Alcina; Teresa Wakim, a BEMF favorite, beautifully sang the role of a siren; Melissa, who fights to free Ruggiero from Alcina's nefarious spell, was portrayed by the marvelous Kelsey Lauritano. Three accomplished sopranos, Sophie Michaux, Margot Rood, and Teresa Wakim, were the damigelli or damsels of Alcina. The many chorus numbers — enchanted plants, internal monsters, freed knights — were a pleasure to behold and to hear. Bass-baritone Ian Pomerantz and tenor Thomas Albanese, substituting on less than a week's notice for an ill Brian Giebler, were more than up to the challenge. Once again, the BEMF proved itself to be a company that knows how to spread holiday cheer.
---
Susan Miron, a harpist, has been a book reviewer for over 20 years for a large variety of literary publications and newspapers. Her fields of expertise were East and Central European, Irish, and Israeli literature. Susan covers classical music for The Arts Fuse and The Boston Musical Intelligencer.