Producers are tapping into a specific demographic: predominantly white audiences that are flush and who crave the thrill of hearing — and seeing — their favorite tunes performed live.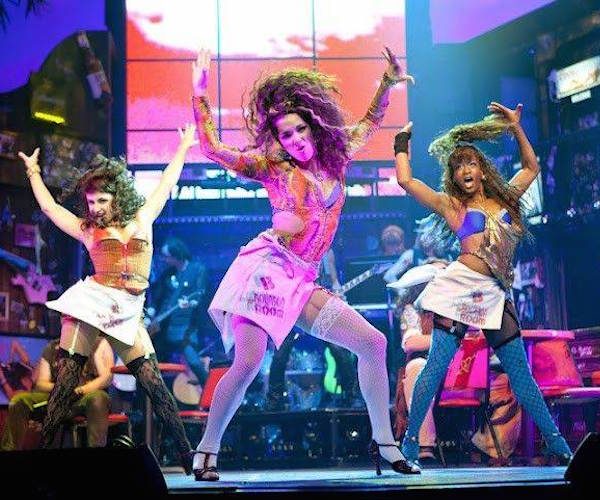 By Robert Israel
Jukeboxes — those clunky machines with robotic arms that plunked 45-rpm vinyl disks from stacks and spun them on turntables — have all but vanished. But the craving for the product they delivered lives on.
That's what theatrical producers of jukebox musicals hope for, and their gamble continues to pay off. Truth be told, the jukebox experience can be easily replicated by accessing tunes for free via the Internet, downloading personal choices for chump change and storing them in digital libraries. But producers are tapping into a specific market, namely predominantly white audiences that are flush and who crave the thrill of hearing — and seeing — their favorite tunes performed live.
Since 2001, when Mama Mia! premiered on Broadway (grossing a reported $600 million in profits), audiences can't get enough of these shows. Over two-dozen productions have been bus and trucked into the Boston-area over the years. More are on the way. They share one thing in common: a desire to be boffo at the box office. One needs only to look at the first run of Jersey Boys at Boston's Emerson Colonial Theatre: the box office take each week during that run exceeded a million dollars.
But many of these shows, such as the "tenth anniversary tour" of the rock musical Rock of Ages (the jukebox musical I attended last month at Boston's Boch Center) are pretty much a ripoff because they are downright awful. The trouble is not with the songs, performed with aplomb by a cast of capable, energetic, talented young artists. The trouble lies with the imposition of an artificial, totally insipid story.
You know the script is inane when you hear Rock of Ages narrator Lonny (played by John Michael Breen), declare: "Rock stars are undeniable, just like herpes. You ought to know that, Boston." Or when Stacee Jaxx (Sam Harvey), the lead singer of a fictional rock band, emerges from an onstage toilet, bare chested, having just consummated (unseen, behind the stall door) "cosmic sex" with waitress Sherrie (Katie LaMark). He informs us, "She just shit on my soul."
It gets worse. Lonny frequently reminds us there really is a book to the show: "We're coming to the end of Act One, so get ready for the big emotional climax," he declares. Variations of this line are repeated throughout both acts, until final curtain. If peddling the vacuous, why not just do without a story entirely? Give people what they paid for and just perform the music. Why compound pleasure with injury?
According to Broadway producer Ken Davenport there are two kinds of jukebox musicals which he defines as follows: "a musical with a brand new story unrelated to the music," (like Rock of Ages), and "a musical based on the life of the songwriters, or a 'Bio Musical.'"
Beautiful: The Carole King Musical, an example of the "Bio Musical," was reviewed in The Arts Fuse when it toured three years ago. Critic Evelyn Rosenthal noted that the book was paltry: "We never get more than a sketchy look at what it took for King to reinvent herself as a 1970s singer-songwriter, in the company of the likes of Joni Mitchell and James Taylor." Yet, even with an anemic script, producers have booked the show to return to Boston in 2019. And waiting in the wings is another jukebox musical, The Simon and Garfunkel Story, set to open in Lowell on November 18.
A jukebox musical currently trying out in Toronto, Ain't Too Proud: The Life and Time of the Temptations, features an all-black cast and is set to open in New York in spring, 2019. A critic for the trade publication Variety thinks the show has promise. But, as would be predicted, the thin-gruel of a script is a major problem. "This show feels like a glorified PowerPoint presentation," critic Peter Debruge wrote, adding: "A rotating disc and horizontal treadmill allow for some creative staging, but it would've taken a more creative script to match the energy of the music itself."
To be fair, the genre is evolving, with exceptions (though rare) to the formulaic. Take, for example, the much-ballyhooed musical Moulin Rouge! During its April try out in Boston, jukebox selections were cleverly tucked into the show. During an opening segment, a motley round-up of tunes were sung by the cast (songs by Elton John, Lady Gaga, Cab Calloway, Richard Rodgers, Beyonce, Fleetwood Mac, and Tina Turner were among those I recognized). They were designed to be teasers and were included, not at the expense of the the script, but to enhance it. Audience members were challenged by a "Name that Tune" game. It made for a more sprightly — and intelligent — use of the jukebox concept.
New Yorker critic Sarah Larson argues that "the jukebox musical can be an embarrassing phenomenon: a living, breathing pop-music wax museum…Its dominance seems especially painful in light of the worthy composers doing terrific original work now." Don't expect that pain to diminish any time soon. More half-baked or even no-baked scripts are in the pipeline. In the theater, there is no end of embarrassment — as long as it pays.
---
Robert Israel writes about theater, travel, and the arts, and is a member of Independent Reviewers of New England (IRNE). He can be reached at risrael_97@yahoo.com.