Skylark performed an inventive and highly enjoyable program of music and tales from Norse Mythology and the land of the Vikings.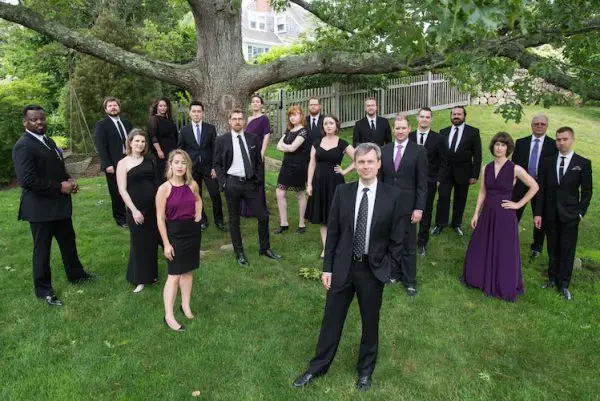 By Susan Miron
Late in life, I unexpectedly have found myself falling in love with choral music. More specifically, a few small choral groups. One of which, Skylark Vocal Ensemble, gave a fabulous concert Saturday evening at the Nordic Hall at West Newton's Scandinavian Cultural Center. It was a perfect location for Saga, their inventive and highly enjoyable program of music and tales from Norse Mythology and the land of the Vikings.
I have only heard this marvelous ensemble live three times in concert, although I often listen, with pleasure, to its recordings. Originally based both in Boston and in Atlanta, they have become increasingly comfortable in the outskirts of Boston — Newburyport, Falmouth, and Wellesley. I plan, if possible, on never missing a Skylark concert again. They are that extraordinary.
Led by Artistic Director Matthew Guard, the group's core members are sought-after soloists and music educators who have the experience and skill to prepare five to six programs a year with minimal preparation — usually just a few days. Guard's thoughtful programs are thematically based.
The past fifteen or twenty years have been a golden age for both small vocal ensembles and storytellers, perhaps the first time either could make a living doing what they love. This hour and twenty minute program, in the words of Guard, "aims to be a feast of fantastical imagery and vivid emotions." And it surely was. The singing acted, for me, as a healing balm after the catastrophic events in Pittsburgh earlier in the day.
Saturday's concert (repeated in Wellesley College's Houghton Chapel on Sunday) was the third time the ensemble has performed with the terrific storyteller Sarah Walker, who cast a spell as soon as she began narrating passages from Norse mythology. Skylark made haunting vocal contributions, arriving at moments that fit the mood or added to the the sound-world of the tales. As if this were not compelling enough, Peter Walker (a bass) chimed in with four historically-inspired Scandinavian instruments — an overtone flute, a Baltic psaltery with metal strings, Swedish pipes (they sound like a bagpipe), and a medieval lyre, several of which he made himself. Walker performed on them before the concert.
The narrative material took us through the birth of the universe, the children of Loki, the land of the giants, the end of the world and its rebirth. Think of hearing Wagner's  convoluted plot for the Ring cycle reduced to an hour of singing in Norwegian, 13th century Danish, Icelandic (a text from c. 1208), and Swedish. The capper was Edvard Grieg's (1843-1907) beautiful "Last Spring" (Varen), originally composed for string orchestra, here arranged for voices. A wedding march encore, with bagpipes, added to the delight.
The aural variety here astonished: the sounds and moods created by the singers (each of whom can and did perform solos with aplomb and grace), enhanced by the contributions of the instruments and storyteller. The singers, all of whom deserve mention, were sopranos Madeline Apple Healy, Fiona Gillespie Jackson, the powerhouse soprano Sarah Moyer, and Alissa Ruth Suver. The stunning altos were Carrie Cheron, Doug Dodson, and Clare McNamara. Tenors included Paul D'Arcy, Nathan Hodgson, Robbie Jacobs, and the basses were Christopher Jackson, Enrico Lagasca, and Peter Walker.
---
Susan Miron, a harpist, has been a book reviewer for over 20 years for a large variety of literary publications and newspapers. Her fields of expertise were East and Central European, Irish, and Israeli literature. Susan covers classical music for The Arts Fuse and The Boston Musical Intelligencer.