Andris Nelsons presided over an interpretation of Mahler's Symphony #2 that was both tightly controlled and emotionally cathartic.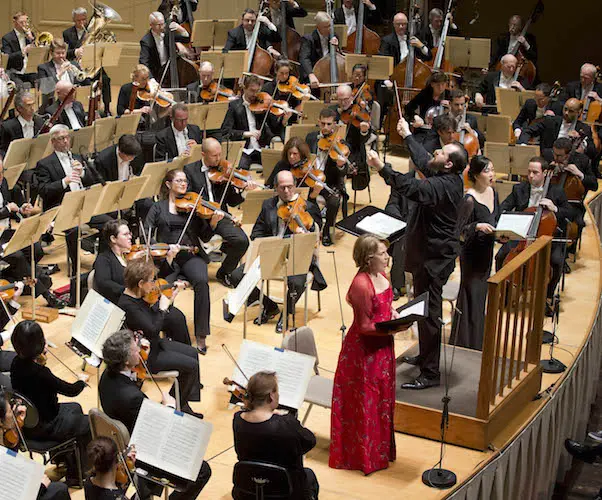 By Jonathan Blumhofer
"Long live Mahler!"
Such was one patron's verdict I overheard exiting Symphony Hall Thursday night, after the Boston Symphony Orchestra's (BSO) dynamic performance of that composer's Symphony no. 2 (Resurrection). (There will also be performances on October 27 and 30.) And it's a hard one with which to argue.
This near-ninety-minute-long score is among Mahler's most weighty and epic. Its first movement was originally a tone poem called "Funeral Rites." The second is a delicate, Schubert-ian dance. Songs from Mahler's song cycle Des Knaben Wunderhorn form the basis of both the brilliant, caustic third movement and the devotional fourth. The finale ties everything together with a vision of Armageddon obliterating all that's come before – only to culminate in a stirring resurrection hymn in which all of humanity arises, equal before God.
Andris Nelsons, kicking off his fall residency with the BSO, presided over an interpretation of the piece that was both tightly controlled and emotionally cathartic.
On the one hand, you could use the term micromanaged to describe Nelsons' grip on the proceedings: he carefully cued even the minutest of details (the big cadenza-like post-apocalyptic scene in the finale, for instance, was meticulously shaped from the podium). That said, nothing about his conception of the piece felt fussy or sounded contrived.
Quite the opposite: this Mahler Two was steeped in a sense of right-ness and it stands as a testament to the conductor's growth as a Mahler interpreter over his first four years at the BSO's helm.
Whereas Nelsons' earlier approach to Mahler (and Richard Strauss, for that matter) tended to over-emphasize small details at the expense of the bigger picture, Thursday's performance lacked nothing for a clear sense of structure and direction.
The funereal first movement was tautly played and richly colored (especially the woodwind solos), its wide dynamic range realized with the utmost intensity. Nelsons even observed the five-minute pause Mahler wrote into the score after the movement — though his unnecessary comments to the audience in the middle of them deflated any sort of sober meditation on the proceedings that Mahler likely intended.
Rhythmic textures in the second were cleanly articulated, while the music's lyrical passages blossomed naturally. Tempos in the Scherzo were brisk and each iteration of the main tune was executed with vigor and rhythmic bite.
Mezzo-soprano Bernarda Fink delivered a rich-toned account of the fourth-movement "Ulricht," which was further highlighted by glowing playing from the BSO's brass section.
The long finale, with its chorales, marches, battle scenes, and vision of the Last Judgement came over with visceral energy. Textures were remarkably clear, even when the music reached its loudest and thickest climaxes. Nelsons again drew out noble playing from the brass (firmly anchored by Gregg Henegar's terrific contrabassoon playing) and kept everything moving smartly: in the march around the movement's ten-minute mark, which nearly every conductor broadens, Nelsons didn't slacken the tempo but kept it up — a good sign in any reading and a crowning one here.
The Tanglewood Festival Chorus (TFC) brought gorgeous tone and spot-on intonation to their a capella entry, and powerfully led the way through to the score's mighty closing peroration.
Soprano Ying Fang floated her solos over the chorus; her duets with Fink displayed purity and clear diction. Admittedly, her account of her part was interpretively a bit less characterful than Fink's. But, technically, it was effulgent and she blended effortlessly with her massed colleagues.
Before the Resurrection Symphony came Maija Einfelde's six-minute-long Lux aeterna.
Scored for unaccompanied choir and optional percussion, the text is drawn from the Roman Catholic Requiem liturgy.
Einfelde's writing in Lux aeterna is often lush and thick-textured, sometimes calling to mind Eastern Orthodox and plainchant traditions, as well as certain choral works by Holst and Debussy.
The piece is cast, roughly, in two halves: the first, fairly dense with fragments of melodic lines popping out of cloud-like surfaces. In the second, things thin out and the facultative percussion writing (this weekend's concerts employ crotales) becomes more prominent.
In Thursday's performance, the TFC, led by conductor James Burton, sang with opulent tone and a keen attention to the score's dynamic profile.
Ethereal though Lux aeterna was, in hindsight it didn't quite fit with what came after: what might have best benefited this Mahler Two was something truly otherworldly — say, Ligeti's setting of those same words. The Einfelde, which is part of the BSO's celebration of the Republic of Latvia's centennial (the composer, and Nelsons, hail from that country), is evocative and moving, but not visionary.
Even so, the night's cumulative theme was a reminder that there are forces out there greater than those that seem to drive every news cycle and that the better angels of our nature can, actually, persevere and might even, ultimately, triumph. It was enough to give one a glimmer of hope for an hour or two — at least until you left the hall and glanced at the latest news updates on your iPhone.
Mahler's is, ultimately, a timeless vision and this weekend's account of it a perspective you can, and should, take in. Long may he live, indeed.
---
Jonathan Blumhofer is a composer and violist who has been active in the greater Boston area since 2004. His music has received numerous awards and been performed by various ensembles, including the American Composers Orchestra, Kiev Philharmonic, Camerata Chicago, Xanthos Ensemble, and Juventas New Music Group. Since receiving his doctorate from Boston University in 2010, Jon has taught at Clark University, Worcester Polytechnic Institute, and online for the University of Phoenix, in addition to writing music criticism for the Worcester Telegram & Gazette.