Chilling Adventures of Sabrina is not as artful as a lot of what's on offer now, but this pleasing series kicks off the Hallowe'en season with a bang.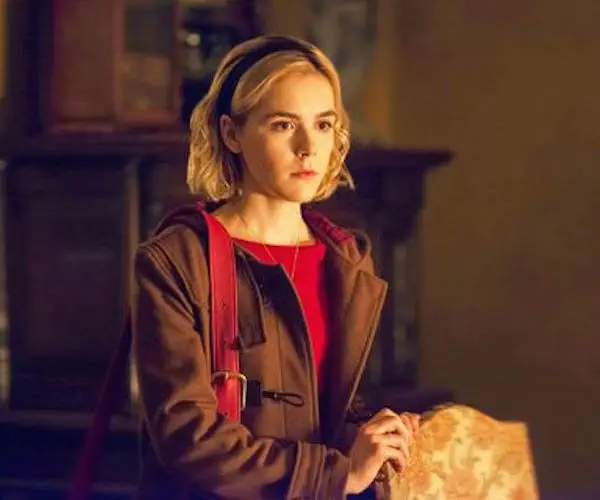 By Peg Aloi
Premiering today on Netflix, this spinoff from the CW series Riverdale (based on the beloved '60s era Archie comics with a modern Twin Peaks-ian twist) is a stylish horror series about a lovable teenage witch. It is only loosely based on Sabrina, The Teenage Witch (a popular sitcom that ran from 1996-2003 starring Melissa Joan Hart), which was fairly lighthearted and funny. Chilling Adventures of Sabrina, created by Roberto Aguirre-Sacasa (also the creator of Riverdale) is inspired by the narrative style and dynamic visuals of a graphic novel series. In addition to being a thrilling tale of witches, warlocks, and other assorted monsters in a small town, the series is also a coming-of-age story: the crossover between the worlds of teenagers and adults (not to mention witches and mortals) generates some interesting and entertaining subplots.
Sabrina Spellman (Mad Men's Kiernan Shipka) is about to celebrate her sweet 16, as well as a rather more serious celebration known as a dark baptism, where she will leave her mortal friends and activities behind to live life as a witch. Because she was born of both witch and human parents (referred to as "mortal" here, perhaps a nod to the series Bewitched; there are many allusions to other witchy narratives), Sabrina straddles two worlds. And that makes her initiation into witchcraft problematic. After her dark baptism, she will have to leave Baxter High School to attend the Academy of Unseen Arts. She also has to drop her sweet boyfriend Harvey (Ross Lynch) and her two best friends, Susie (Lachlan Watson) and Roz (Jaz Sinclair). Sabrina is conflicted and doesn't know how to tell her friends and boyfriend that she won't be seeing them again.
Three young witches and future classmates appear at odd moments, teasing Sabrina about being a "half-breed" (think Hermione Granger's status as a "mud-blood" or human-witch hybrid in the Harry Potter stories). They make it clear she won't be welcome at their witchy school. Dubbed the Weird Sisters, Prudence, Dorcas, and Agatha dress in Victorian style schoolgirl frocks, and their sexy teen witch style is sure to be as popular as the occult-tinged Catholic schoolgirl looks sported by The Craft's four teen witchcraft dabblers. Given witchcraft's popularity at the moment, we're very likely to see a resurgence of interest from teenage girls, just as we saw in the late '90s, and definitely fueled by The Craft's huge popularity.
The Craft is but one horror film directly or slyly referenced in the first few episodes of the series, along with Night of the Living Dead, Rosemary's Baby, The Little Girl Who Lives Down the Lane, and others. The look of the series is also full of delicious horror vibes, colorful and detailed visuals, including the aforementioned gorgeous costumes. Sabrina sports a red hooded coat that's a clear reference to her fairy tale archetype (babe in the woods), and plenty of earthy green clothes when she is hanging out in high school. Sabrina lives in a big Gothic mansion on the edge of town (Greendale is very close to Riverdale), with her two aunts Hilda (Lucy Davis of the UK version of The Office, hilarious) and Zelda (Miranda Otto, Return of the King), as well as her cousin Ambrose (Chance Perdomo), who for some reason has been on "house arrest" for decades (the area's witches age much more slowly then their 'mortal' neighbors). In the past, Greendale executed thirteen witches by hanging them in the forest: the town now seems to be a haunted place.
Oddly enough, most of the town doesn't seem aware of this ancient history, or at least its inhabitants don't talk about it much. Of course, the witches like it that way, because they've been practicing in secret all these years. As the day of her dark baptism, draws near Sabrina is stressed out and indecisive, mostly about leaving besties Suzie and Roz Susie and Roz her sweet boyfriend Harvey (who has dark struggles of his own) behind. Her aunts are concerned that she may reject her witch destiny. Father Blackwood, the high priest of the church of night (as the local witchcraft society is called), comes to visit in an effort to persuade Sabrina to accept her fate.
Played by Coupling's Richard Coyle, Blackwood is an imposing and enigmatic figure, who is also an emissary for the Dark Lord, or the Devil himself, who apparently has a special interest in having Sabrina sign her name in his book. After the visit, she engages in a bit of divination magic, encouraged by her familiar (a cat named Salem). She also visits the local apple orchard to help her choose the right (or lefthand?) path. I was surprised to see that the apple trees are covered in blossoms, even though it is the day before Halloween. Such a blatant physical flub  —  when the rest of the show's production design is so excellent. Timing, people!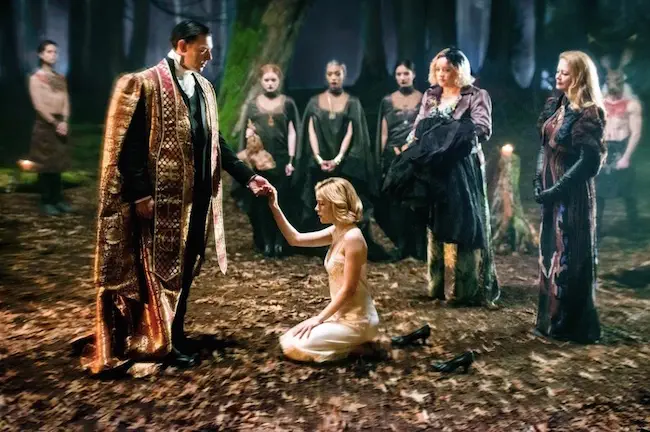 When it's decided, after a rather raucous dark baptism, that Sabrina will be allowed to train as a witch during the week and socialize (on the weekends) with her human friends, she feels a sense of relief. But Sabrina's new witchy cohorts don't shirk from testing her resolve; they try to bully her into submission. But they have their work cut out for them; Sabrina's super power is definitely standing up to bullies. After Susie is taunted into a fight by stupid jocks at school, Sabrina and Roz pressure the principal to take action. When he doesn't, they form a club for female empowerment called WICCA: Women's Intersectional Cultural and Creative Association. This fun sub-plot closely mirrors our turbulent times, and is just one example of the show's attempts to meet teenage viewers where they live.
The series portrays teenage girls, both human and mortal, as being more than willing (and in most cases, totally able) to strike back at the oppressive patriarchy. Of course, male domination is what caused the witchcraft persecutions in the first place. In Greendale it turns out there are just as many warlocks as there are witches — and gender politics are not absent from their ranks, either. Despite its timeless look and feel, generated by its vintage cars and old-fashioned costumes (add an eclectic soundtrack), Sabrina reflects contemporary social and political themes. Plenty of TV and movie narratives now place adolescent girls front and center, dealing with issues of autonomy, equality, and identity. Having at least some of them be witches feels like a powerful choice.
The cast is terrific, especially Doctor Who's Michelle Gomez as Miss Wardwell, a supportive teacher who is turned to the witchy side of things early on. I'm still on the fence about Shipka's performance as Sabrina; she can't seem to make her dialogue ring with authenticity, though she skillfully conveys the emotional turmoil the teen is going through. It may be the writing, but more rehearsal time (which is in short supply in the world of TV) might help. Chilling Adventures of Sabrina is not as artful as a lot of what's on offer now, but this pleasing series kicks off the Hallowe'en season with a bang. It has all the ingredients for a successful first season, full of thrills and chills, not to mention some bloody and violent kills. Please be aware this one is not for little witchlings.
---
Peg Aloi is a former film critic for The Boston Phoenix. She taught film and TV studies for ten years at Emerson College. Her reviews also appear regularly online for The Orlando Weekly, Crooked Marquee, and Diabolique. Her long-running media blog "The Witching Hour" can be found at at themediawitch.com.