Places Please! looks at the backstage life and trauma of performers.
Nicole Wolcott & Larry Keigwin's Places Please! Presented by World Music/CRASHarts at the Institute of Contemporary Art, Boston, MA on October 19 and 20.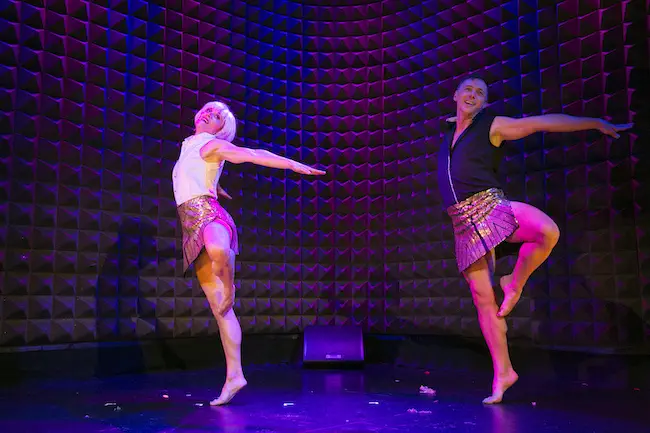 By Marcia B. Siegel
Places Please! by Larry Keigwin and Nicole Wolcott was commissioned by Joe's Pub in New York and it premiered there over a year ago. That venue would have been appropriate for what's essentially a cabaret performance, but the show doesn't quite fit the ICA's much larger and more formal theater. Space isn't the issue. Intimacy is. The repartee is meant to be spontaneous but it sounds a little forced and scripted, and the audience doesn't join in, except as satisfied spectators.
Places Please! looks at the backstage life and trauma of performers. The show opens as the audience is entering. Wolcott is onstage, conferring about light cues and sound levels with the stage manager (Randi Rivera), who's stationed in a little nest alongside the audience around Row M. Keigwin appears, and they run through a few steps they're about to do, correcting each other's timing and placement. The stage manager calls warnings, the dancers scurry around to find their costumes from an overstuffed coat rack, and pull the costumes on.
When it's time for Curtain Up, they're suddenly surrounded by a square of floor-lights and a blast of music. They try to perform the routine they've just been reviewing, goosed up by the recorded voice of the rehearsal director from A Chorus Line's audition scene, who shouts out steps at warp speed. Wolcott and Keigwin can't keep up, marking some of the steps with their hands.
After that, there's a string of numbers in ever-goofier costumes and wigs, mostly accompanied by old hit songs with bygone singers. The atmosphere goes from country to Balkan to sentimental to triumphal TV sound tracks. They do a crazed lindy to Barbra Streisand beckoning her man. Keigwin wears a fleecy jumpsuit for this, Wolcott a mini-dress with purple waistband. Both outfits are bright orange.
Three guesting local choreographers, Lynn Modell, Alexander Davis, and Lorraine Chapman play auditioners for roles in an anonymous production. As the Chorus Line guy barks out orders, all five of them line up and struggle with the instructions. Each guest gets a chance to solo and is told to expect a phone call later. According to CRASHarts introducer Debra Cash, the three were assigned in advance to make 5-minute solos. Keigwin and Wolcott looked at these on video and adapted the guest-made material. In performance we never got to see the original five minutes, because each auditioner was interrupted a few times and commanded to switch to a different mode.
Modell came on with flamenco flourishes and guitar music, but was ordered to show some ballet chops, which she did.
Chapman started with Steve Reich's "Clapping Music." She was so engrossed in her strenuous modern dance phrase that she barely altered it despite the directors' attempts to dress her up with a follow spotlight, a feather boa, and Édith Piaf. She did seem to get pushier against this competition.
Davis ran off after he was called, having forgotten his costume, which turned out to be the skirt to a pink bouffant evening gown. Though only the skirt, it didn't fit Davis and kept slipping off his waist. I think his music was Judy Garland singing "By Myself" in a lower-than-usual register.
Both of the instigators had dancing/monologue solos. Wolcott, in a navy blue dress that had a neckline slashed to the waist, murmured at length to the front rows. Since she wasn't using a mike, I couldn't hear enough to make sense of it. On the way home my friend explained that she was angsting over when she'd be too old to stop dancing. Wolcott later did a solo, to one of the solemn Satie "Gymnopédies," that consisted mostly of standing in place and gesturing with increasingly twisty resistance. In other parts of the performance, she danced full-out and didn't look a bit geriatric.
Keigwin related some of his own odd dance history. He snarled and clawed his way across the front of the audience in remembrance of a role in Cats that he auditioned for but didn't get. Then there was Josh's bar mitzvah, when he got to stick his head and hands through strategic holes cut in the tablecloth, to be part of the vegetable platter.
He concluded this memoir by assuring us that "I like it here." "Awwww," said the audience. The music said "Something Wonderful." The guest choreographers must have made the grade though, because they all returned as a backup chorus for the show's grand finale, in which the whole cast was reflected in the blinking glow of a mirror ball, and the music was the theme from The Love Boat.
---
Internationally known writer, lecturer, and teacher Marcia B. Siegel covered dance for 16 years at The Boston Phoenix. She is a contributing editor for The Hudson Review. The fourth collection of Siegel's reviews and essays, Mirrors and Scrims—The Life and Afterlife of Ballet, won the 2010 Selma Jeanne Cohen prize from the American Society for Aesthetics. Her other books include studies of Twyla Tharp, Doris Humphrey, and American choreography. From 1983 to 1996, Siegel was a member of the resident faculty of the Department of Performance Studies, Tisch School of the Arts, New York University.