Though Al Stewart can't hit the high notes like he used to, his distinctive, crisp voice is still strong and melodic at 72.
Al Stewart with the Empty Pockets at The Center for the Arts in Natick, MA, October 12. He will be at City Winery Boston tonight.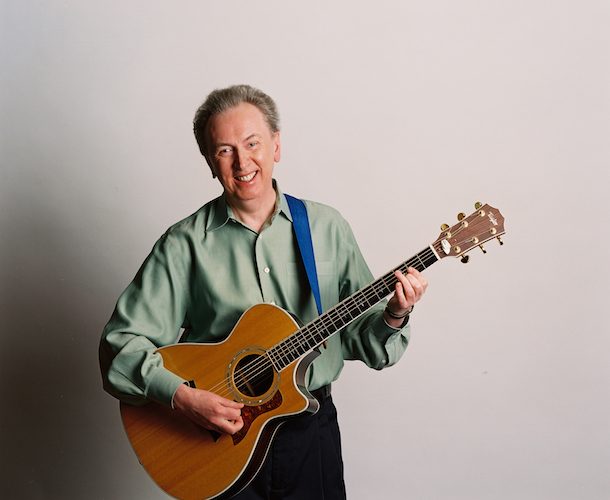 By Karen Schlosberg
Al Stewart brought his Classic Album Concert: Year of the Cat to The Center for the Arts in Natick (TCAN) on Friday, playing to a jam-packed, enthusiastic house. "So this is English Folk Rock," he announced self-deprecatingly, before launching into the album.
Yes and no. Stewart's take on that genre is deceptively smooth. Though one wag accused him of creating the bland Adult Contemporary movement ("How Al Stewart Became the Father of Elevator Rock," Paste Magazine), Stewart is more sophisticated than that, creating and re-creating whole worlds from bits of phrases, films, books, and, especially, history.
The TCAN show highlighted his seventh album, the platinum-selling Year of the Cat (1976), with several songs from the rest of the British singer-songwriter's 19-plus catalogue, 50-year career sprinkled in. He started with Modern Times' (1975) "Sirens of Titan," based on Kurt Vonnegut's book The Sirens of Titan, "Antarctica" from 1988's Last Days of the Century, and then "Time Passages," the title song from 1978's platinum follow-up to YOTC.
Before YOTC, Stewart said, he was seen as an "offbeat, cult, historical, uncommercial artist." His songs are filled with old presidents, nobility, doomed seamen, and bloody battles, all written from unusual and very human points of view, drawn from his long fascination with history. He was first heard in the United States on the nascent progressive rock radio with "Nostradamus," an exquisitely haunting song about the 16th-century seer, from 1974's Past, Present, and Future, arguably his best album. PPF's poignant "Roads to Moscow" was the show's encore.
He never totally left his passion for history behind, even when his record company exhorted him to write songs that could be hits. So he started his most commercial work with a song about a forgotten British naval captain from the 16th century who took on a fleet of Spanish ships in the Azores and was, of course, killed. That was "Lord Grenville," and, as Stewart noted, "For some reason, all the people I grew up with never wrote about him." (People he grew up with in music, as he noted in anecdotes throughout the concert, included Robert Fripp, Dylan, Paul Simon, and Police guitarist Andy Summer.) "What can I write that's more obscure?" he mused, and the second song, "On the Border," is about the Basque separatist movement. A song later in the set, "Flying Sorcery" (which Stewart says is his favorite) is about a female pilot in WWII England, Amy Johnson. And "Year of the Cat" was inspired very loosely by the film Casablanca.
Stewart's trip through Year of the Cat included many stories, all entertaining. Even though he undoubtedly has repeated them many times over the years, on stage they still seemed fresh and funny. Stewart has impeccable timing and does a mean Dylan imitation, brought out in his introduction to his Dylan-esque homage "Sand in Your Shoes." Though he can't hit the high notes like he used to, his distinctive, crisp voice is still strong and melodic at 72.
Stewart was backed solidly by the Chicago-based quartet Empty Pockets and multi-instrumentalist Marc Macisso. The players all seemed to have an affectionate camaraderie that enhanced the evening's amiable feel.
The Empty Pockets played an animated opening set of pleasant, mid-tempo bluesy rockers that highlighted Josh Solomon's strong guitar and Erika Brett's lovely, expressive vocals.
---
Karen Schlosberg is a veteran journalist and editor. Her work has appeared in such publications as The Boston Herald, The Boston Phoenix, Rolling Stone, Musician, Creem, and Trouser Press. She can be reached here or on Twitter @karen1055.