Jazz band Dirigo Rataplan explores what could be described as 'chamber expressionism.'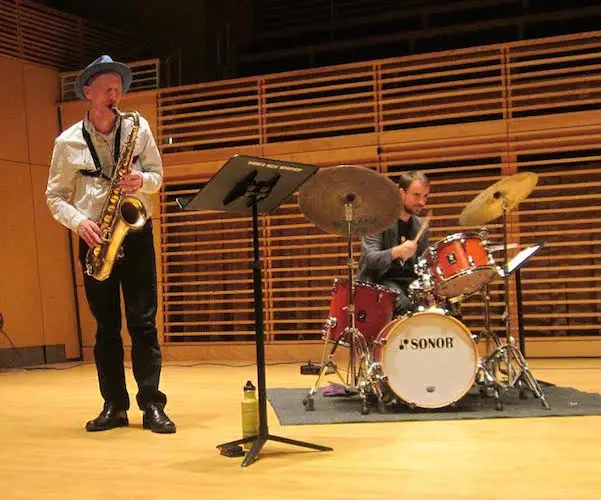 By Steve Feeney
Maine native Devin Gray brought one of his group projects to his home turf to kick off a tour celebrating the release of the quartet's second CD Dirigo Rataplan II, the first release on his own Rataplan Records label. The ensemble name translates loosely as "leading with the beat."
The 35-year-old Gray assembled an impressive group of veteran musicians to make up this foursome, among them his former teachers at the Maine Jazz Camp and the Peabody Conservatory. The somewhat formal — but acoustically rich — confines of the Kanbar Auditorium at Maine's Bowdoin College was the setting for an hour-plus concert of music from the band's new disc.
The group explores what could be described as  'chamber expressionism.' A malleable approach to compositional structure was shaped by controlled outbursts of sound. When performing Gray's pieces, the players balanced referencing the sheet music before them with taking cues directly from each other.
As the musicians' impressive resumes suggest, Ellery Eskelin, Dave Ballou, and Michael Formanek know the progressive terrain well, though they maintain a sense of established boundaries. One was left with a sense that these guys are always moving on, even as they show you where they've been.
"Rollin' thru town" gave an early glimpse of the way tenor sax man Ellery Eskelin and trumpeter Dave Ballou created a dialogue by moving in and out of synch, with Gray dropping the occasional percussive "bomb" to gather the piece back to its unison head.
A couple more tunes evoked urban settings. Gray explained that "The Wire" referenced the TV series that took place in Baltimore, where several of the players lived and/or were at school at one time or another. The piece surrounded a reflective interlude with hectic passages which included some of Eskelin's most untethered work as well as staccato assertions from Ballou.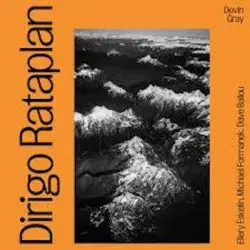 For "What we learn from cities," Formanek, with his upright bass slightly amplified, laid down a rhythmic hook that drew overlapping musical conversations from the horn men. Ballou seemed mostly to follow Eskelin's lead, but the two were only micro-seconds apart driving the piece's evolution from long tones to a tough-minded intensity.
"Quantum Complexity" featured a thoughtful duet passage that involved Eskelin and Formanek, as well as some lively interplay between Ballou and Gray, the latter employing various small rattles, shakers, and drum rim rubs to broaden his percussive palette. These players are interested in reaching with — and through  — their instruments, a reflection of the band's relatively young leader's still-growing strength and curiosity. It is also a byproduct of the experience of the other musicians.
Gray noted that his drum set once belonged to the late Steve Grover, a Maine-based musician/teacher who influenced him and many others. Playing at an institution of higher learning on those drums and with these musicians, who are also educators, Gray made a convincing case that jazz can't become free until it has learned the lessons of the past.
---
Steve Feeney is a Maine native and attended schools in Maine, New Hampshire and Massachusetts. He has a Master of Arts Degree in American and New England Studies from the University of Southern Maine. He began reviewing music on a freelance basis for the Portland Press Herald/Maine Sunday Telegram in 1995. He was later asked to also review theater and dance. Recently, he has added BroadwayWorld.com as an outlet and is pleased to now contribute to Arts Fuse.