A winning reminder of Sir Neville Marriner's impressive stylistic range as a conductor, a fine recording of a much-loved and -played Richard Strauss tone poem, and a striking, powerful presentation of the string quartets of James MacMillan.
By Jonathan Blumhofer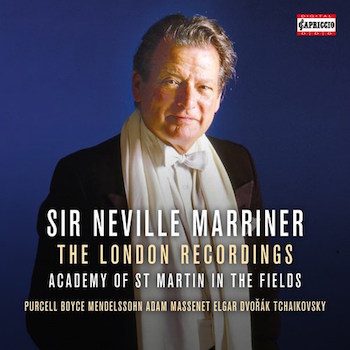 Capriccio's ongoing rerelease of its extensive recorded catalogue of Sir Neville Marriner recordings continues with a 14-disc set of Marriner leading his London-based Academy of St. Martin-in-the-Fields (ASMF) across roughly three centuries-worth of music.
Here you'll find, appropriately, a fair number of works from the pens of British composers: a handsome collection of suites from Henry Purcell operas (including The Fairy Queen and King Arthur) are played with driving purpose, as are eight relatively short symphonies by William Boyce. The ASMF turns in a warmly lyrical performance of Elgar's Enigma Variations and also plays that composer's two Wand of Youth suites with stylish charm.
Plenty of charm is to be found, as well, in Marriner's flexible, elegant account of Adolphe Adam's Giselle (though his version of the ballet is badly cut – maybe a full third of the score is absent) and a disc of ballet music from several Massenet operas (Le Cid, Cendrillon, and Thais).
A bit over half of the set is devoted to Romantic symphonic fare, and the best of these performances are excellent.
Marriner and the ASMF play a trio of Dvorak symphonies (nos. 7, 8, and 9) and a pair of overtures (Carnival and Othello) that sound marvelously characterful and vibrant: colors glow and rhythms snap. The Seventh's slow movement unfolds like a gorgeous song, while the Ninth's finale manages to be both scorching and playful at the same time.
And there's a cycle of the six Tchaikovsky symphonies plus the Manfred Symphony. The first three come off conspicuously well. Marriner blazes through the First, making it sound like the masterpiece it aspires to be. The Second is brilliantly earthy, while the Third comes over with breathtaking fluency – after Bernstein's 1970 recording with the New York Philharmonic, this is as convincing an account of the piece as I've heard. The readings of the Fourth, Sixth, and Manfred Symphonies are all fine, though the Fifth is sluggish and, for all of these final four, there are more competitive recordings already out there.
Filling out the collection are further Tchaikovsky orchestral works – Capriccio Italien, Marche slav, Francesca da Rimini, Romeo and Juliet, and the 1812 Overture – plus a disc of Mendelssohn overtures. Nearly all of the performances of the former brim with fire and drama (the climaxes of Francesca and Romeo are particularly frenzied), while the Mendelssohn set includes several lesser-known pieces (St. Paul and the earlier Heimkehr aus Fremde among them).
In all, then, this is a winning reminder of Marriner's technical versatility and the impressive (and sometimes surprising) breadth of his stylistic range as a conductor.
---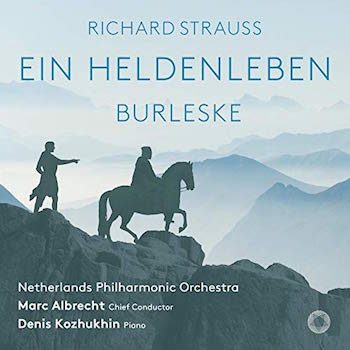 What makes a fine recording of Richard Strauss's much-loved and -played tone poem, Ein Heldenleben? Well, look no further than the Netherland Philharmonic Orchestra's (NPO) recording of the piece with conductor Marc Albrecht to find out.
The highlights here are a robust, burnished tone from the orchestra, which is gloriously blended across all four instrumental families; excellent realizations of the score's busy textures ("The Hero's Adversaries" is very nicely layered and Strauss's harp writing, of all things, nearly always comes through glowingly); and Albrecht exhibits a strong understanding of how to keep the music moving – but still dramatically tight – throughout the performance.
NPO concertmaster Vadim Tsibulevsky offers an involved, colorful account of the involved violin solos. Indeed, for a spot-on, emotionally-involved account of Strauss's solo violin writing, Tsibulevsky's quite impressive and one of the best things about this performance.
The overall interpretation is quite good – not the most exciting Heldenleben out there (that would probably be Karajan's or Reiner's) – but one with moments of real personality: "The Hero's Works of Peace" is nostalgic and tender, while the finale is lush and serene.
Filling out the disc is a live-wire performance of Strauss's early piano-and-orchestra Burleske. Denis Kozhukhin, a pianist whose keyboard technique knows no bounds, offers a glittering performance of the solo part. Albrecht leads the NPO in an accompaniment that's equally engaging: dynamic, lyrical, and spunky.
---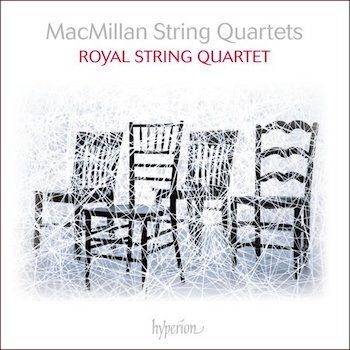 Perhaps because of the size and significance of his vocal and orchestral works, James MacMillan's chamber music output flies somewhat under the radar. As the Royal String Quartet's new recording of his three numbered string quartets reminds, though, MacMillan is a formidable composer in in pretty much every genre in which he works.
All three works date from between 1988 and 2007, and each reflects MacMillan's daunting technical command of the ensemble. Indeed, his string writing is at time staggeringly difficult: think of a cross between the wildest extremes of Bartók and Ligeti with a bit of the sonic character of Xenakis thrown in, and you've got some idea of what goes on during the wildest moments.
But it's not impenetrable stuff. Quite the contrary. Whether it's through the off-kilter dances of the first quartet, Visions of a November Spring, or the striking juxtapositions of ideas and textures in the second, Why is this night different?, or the keening laments that dot the String Quartet no. 3, MacMillan's language is one that might be capably grasped. That's not to say it's easy-listening – it isn't – but all of his music here is firmly engaging and rewards repeated listening.
That's especially true of these performances, which don't cover all of MacMillan's works for the ensemble: two pieces, the early Etwas zurückhaltend and For Sonny, are absent. But the three numbered quartets all receive performances that, for fervor and notational accuracy, may as well be described as definitive.
The Royal's dig into the frenzied gestures of Visions with an energy that that is electrifying, ably alternating between the gentle, microtonal shadings and explosive gestures of the obsessive (and short) introductory movement, and turning in a characterful account of the spastic (and much longer) second one.
And they mine MacMillan's inventive manipulation of motives in Why is this night different? with stirring, and often touching, expressive assurance.
In the Quartet no. 3, the ensemble never loses sight of MacMillan's beautiful lyrical writing – the opening violin/viola duet is nearly perfectly balanced, with the lower instrument slightly more present and the violin sounding like a kind of ethereal outline of its shadow a couple octaves higher – while also reveling with the composer's generous exploration of sonic effects (the second movement's sequence of extended techniques is rendered with marvelous confidence). And the finale, with its relentlessly rising melodic lines, is, expressively, simply devastating.
It all makes for a striking, powerful album on Hyperion. The competition – led by the Edinburgh Quartet's accounts of Visions and the Quartet no. 3 – is not slight. But, for sheer intensity and presence, the Royal's hold the crown in this repertoire.
---
Jonathan Blumhofer is a composer and violist who has been active in the greater Boston area since 2004. His music has received numerous awards and been performed by various ensembles, including the American Composers Orchestra, Kiev Philharmonic, Camerata Chicago, Xanthos Ensemble, and Juventas New Music Group. Since receiving his doctorate from Boston University in 2010, Jon has taught at Clark University, Worcester Polytechnic Institute, and online for the University of Phoenix, in addition to writing music criticism for the Worcester Telegram & Gazette.