Les Poules à Colin specializes in mix-and-match: their music channels old medieval ballads and sugar shack Quebecois dance tunes.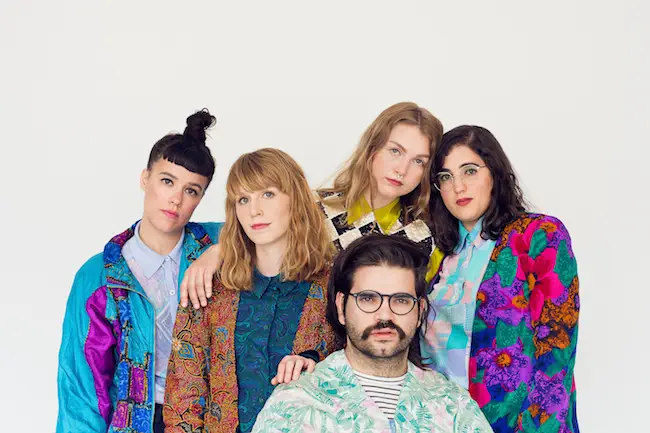 By Glenn Rifkin
For most 13-year olds, a garage band marks a rite of passage. After begging your parents, you get your first electric guitar, and you find a group of friends in the neighborhood: the kid with a bass, another with a keyboard, and still another who landed a drum kit. You concoct a cool name and before long, you're jamming in somebody's rec room, playing any song with a C, D, and G chord progression. Needless to say, the vast majority of these kid bands dissolve before high school.
But for Les Poules à Colin, a Quebecois folk band, the love of indie pop and traditional New France folk music — along with the support of musician parents — kept these kids together beyond expectations. The band of buddies, who lived on the same Quebec street, has been intact for nine years. Starting when she was 13, the band's lead singer and songwriter Béatrix Méthé is now a 22-year old veteran. The band, whose music channels old medieval ballads and sugar shack Quebecois dance tunes, has three albums and years of touring under its belt. The group is coming to Passim in Cambridge on Wednesday, August 29.
Her bandmates, Sarah Marchand, on keyboard and vocals, Éléonore Pitre on guitar, Marie Savoie-Levac on bass, and Marie's brother Colin Savoie-Levac, on banjo, mandolin, lap steel guitar and foot percussion, have all committed for the long haul. In so doing, they've created a unique, sometimes dark sound they call "folk trad" that has won over critics in Quebec and Europe.
According to Méthé, the band's roots are in traditional folk music from Quebec the result of the strong influence of her parents. Her father, fiddler Claude Méthé and her mother, guitarist and singer Dana Whittle, are a folk duo who have performed together since 1992. Whittle, born in Concord, Mass., comes from a New England folk music background and Beatrix, who was born in Vermont but raised in Quebec, says she got "an important aspect of our music, an American folk sound and vibe, from her."
Méthé and her buddy Colin Savoie-Levac were just 13, but her parents and his mother, also a musician, brought the kids along as part of their band when they went on tour. "We traveled with them, toured with them and recorded with them," Méthé recalled. The older members of the group, who were 17 at the time, started to go off to college, but by 2008 the group decided to get serious and started rehearsing as a real band.
After getting their feet wet by singing covers and learning to become comfortable performing, they began writing their own songs. They poured over old and traditional ballads, the kind of tunes whose lyrics were often dark and dire. "We want to rewrite the folk music and make it our own," Méthé said. "We all listen to pop music, indie, alternative. We don't define ourselves by where we come from. We take a lot of inspiration from that but we let our tastes change."
The band took its name from a popular traditional folk song about Colin's hens. The song was made popular by a band called La Bottine Souriante (The Smiling Boot); audiences loved its irreverent lyrics and call and response style. In this case, Colin's hens, with their ethereal voices, can really sing and play.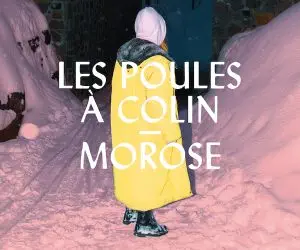 Their new album, Morose, spurred this summer's tour. The group has performed often in Europe and did a nine-week tour in Australia. This is their first stop at Passim, the venerable cradle of the Cambridge folk scene.
Méthé noted that, though most of their songs are in French, they do some English tunes, most of which she has written. Given the title of its latest album, it is clear these young singer/songwriters are searching for something beyond the rhythmic — and generally uplifting — Celtic genre.
"People think Celtic music is for dancing and entertaining," she said. "We don't see it that way. That's not where our passion for the music comes from. It comes from the content of these songs. A lot of them are very dark."
One song, she explained, is about a mother questioning her son after a date. When he tells his mother he was with his lover, she instructs him to go and kill his girlfriend in the woods. He kills the girlfriend and cuts out her heart, which he brings to his mother. Light Celtic reels these aren't.
Still, Méthé insists that the band's shows are anything but morose, however. "We make it very ironic and funny," she said. "It's definitely a show that can bring you up and down. We like that."
---
Glenn Rifkin is a veteran journalist and author who has covered business for many publications including The New York Times for nearly 30 years. He has written about music, film, theater, food and books for The Arts Fuse. His new book Future Forward: Leadership Lessons from Patrick McGovern, the Visionary Who Circled the Globe and Built a Technology Media Empire will be published by McGraw-Hill in September.