Commonwealth Shakespeare Company's Richard III is a deft, gripping version of Shakespeare's vision of malevolence, staged with verve and vision.
Richard III by William Shakespeare. Directed by Steven Maler. Staged by Commonwealth Shakespeare Company on the Parkman Bandstand, Boston Common, Boston MA, through August 5. (free)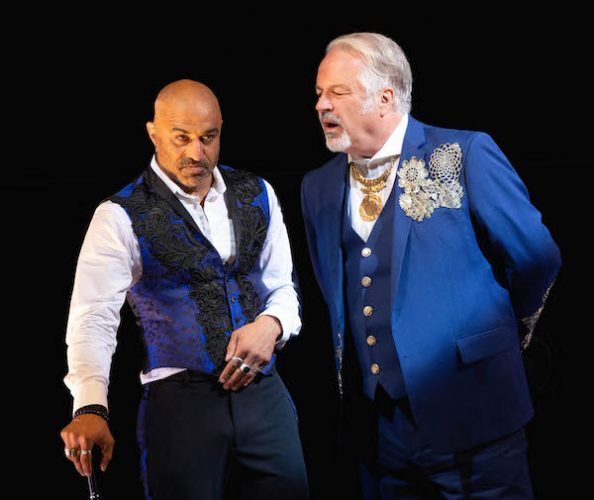 By Erik Nikander
Seeing Shakespeare in the open air is a remarkable experience. Without traveling to London and visiting the 'real' Globe Theatre, outdoor performances provide modern theatregoers perhaps the best glimpse at how these plays were experienced in the Bard's day. That said, Commonwealth Shakespeare Company's open-air production of Richard III, running now at the Parkman Bandstand in the Boston Common, is no mere historical curiosity. It's a deft, gripping show in its own right, staged with verve and vision. This creative team digs into the gut-wrenching tragedy of Shakespeare's conniving king with such conviction and skill that it's nearly impossible to look away.
Richard III is a retelling of the rise and fall of Richard, Duke of Gloucester (Faran Tahir), who becomes King of England through a series of sly machinations and murderous schemes. After bringing about the deaths of his brother Clarence (Remo Airaldi) and King Edward IV (Richard Noble), he eliminates all other heirs to the throne with the help of the Duke of Buckingham (Fred Sullivan Jr.). After facing off against Edward's wife, Queen Elizabeth (Deb Martin), Richard's paranoia gets the better of him, and control of the kingdom begins to slip out of his grasp.
Faran Tahir portrays the scheming monarch with a sense of wicked flair. His Richard is a gleeful master manipulator who dispatches all enemies with brutal intelligence and precision. While the character is often portrayed as a deformed hunchback, Tahir takes a subtle approach to Richard's disfigurement; the brief winces that often accompany his movement tell us all we need to know about the character's deep and constant suffering, as well as his determination to control his own weaknesses. Perhaps above all else, Tahir animates Richard with an insatiable need to dominate those around him, a thirst for destruction that can never be slaked. By embodying these vicious appetites, Tahir provides the King's downfall with an air of tragic inevitability.
The supporting cast members are both too skilled and too numerous to give everyone their proper plaudits, but there are several notable standouts. As Richard's underling Buckingham, Fred Sullivan, Jr. provides some wonderfully crass comic relief. Remo Airaldi's Clarence is both pathetic and sympathetic, a figure of unsullied innocence who provides a necessary contrast to Richard's calculated villainy; Bobbie Steinbach is fierce and resonant as the exiled Queen Margaret. All these performances are strong, but Deb Martin as Queen Elizabeth tops them all, giving us an unrestrained portrait of of a grieving mother in torment. Martin's acting is often bold and unrelenting; but never for a moment does her agony feel untrue. Her nerves scraped raw mesh beautifully with the play's grim atmosphere.
Indeed, the designers have imbued Richard III with the aura of a funeral. The costumes, crafted by Jessica Pabst, go a long way towards creating a funereal impression, sticking to a mostly-black color palette with sparse, muted splashes of color for accents. The production is technically modern dress, but the dark suits and dresses feel subdued and timeless, nonetheless. Eric Southern designed both the production's set and lighting, and he excelled at both tasks. The set is understated but adaptable; a raised platform at the back of the broad stage is the only permanent fixture. The lighting work is bold and creative, flooding the subjects of this ghostly court with harsh, cold light (often from beneath, creating a noir-ish atmosphere). It's only when the Earl of Richmond (Michael Underhill) launches his rebellion that warmth enters the color scheme in the form of red costume elements and sunny orange light.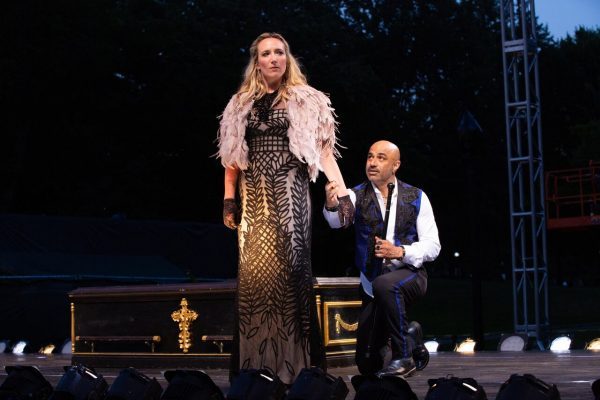 Staging a show in the outdoors opens a production up to the unpredictability of nature. However, director Steven Maler proves adept at staging Shakespeare in a way that takes advantage of a large, open-air environment. His eye for composition is terrific, sensitive to both the script's grand and intimate moments. For instance, the night before Richard's ultimate battle, the ghosts of his victims spring to life around his sleeping form, damning him for his crimes. The stage, bathed in fog and white-blue light, is filled with ghosts, and the scale of the horrors Richard has wrought becomes suddenly (and spookily) clear. The moment is thrown into effective relief moments later: Richard wakes to find himself alone, dwarfed by an immense field of blackness. Maler's staging renders the King's growing sense of dread and isolation in a way that is immediate and palpable.
CSC has been staging the Bard on the Boston Common for over two decades now, and the artistry and excellence of this performance make it clear that they know what they're doing. It would be wonderful if more local theatre companies had access to the resources they do, both in terms of space and cast size. To be sure, a large cast does not necessarily lead to a better production, but having more experienced performers to work with, and more space to utilize, opens up visual and narrative possibilities that two-handers staged in black boxes simply can't match.
In the hands of the CSC, Richard III is engaging to its last moments, even after the demon flash of Richard III's skullduggery has ended. A sure sign that the production wisely sees its protagonist, for all his dark charisma, as one element among others. If you can, make your way to the Boston Common to see the carnage before the show's run is over.
---
Erik Nikander is a critic, playwright, and filmmaker based in the New England area. His film criticism can be read on Medium and his video reviews on a variety of topics can be viewed on Youtube at EWN Reviews.