Anna Shelest's new recording of piano-and-orchestra pieces by Anton Rubinstein is one of those albums that makes you want to rethink Rubinstein's relative neglect in the broader canon – almost.
By Jonathan Blumhofer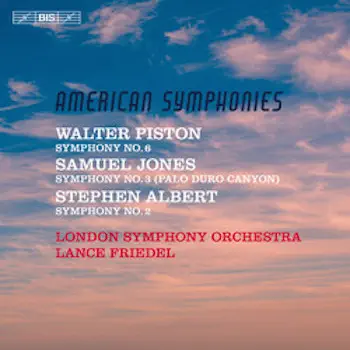 There's much to like about American Symphonies, a new album from Lance Friedel and the London Symphony Orchestra (LSO) on Bis, featuring three symphonic scores written between 1955 and 1992. For one, the programming is great: Walter Piston, Samuel Jones, and Stephen Albert may be known to aficionados but probably not many more. On top of that, the LSO's playing is largely vibrant and sympathetic. Indeed, you could hardly expect more idiomatic readings of this music from an American ensemble.
Piston's Symphony no. 6 surely ranks among the top symphonic works by any mid-century American composer. Like most of Piston's music, it's taut and direct but not austere. The four movements alternate moments of intensity – conflicts between texture and tonality in the first, gestures of searching expression in the slow third – with lighter episodes (like the brilliant, jaunty second movement).
Throughout their performance, Friedel and the LSO tap its veins of lyricism – especially Piston's compelling writing for woodwinds and percussion – with remarkable warmth and elegance. And they deliver a reading of the brawny finale that's perfectly athletic.
Jones' Symphony no. 3, Palo Duro Canyon, takes as its departure point the eponymous Texas landmark. It manages to evoke the place through a variety of means, from recordings of the blowing wind, to allusions to fiddle tunes, and quotations from Comanche melodies. It's a fairly easy work to digest, filled with recurring motives, excellent writing for the ensemble, and a clear sense of musical direction.
The LSO plays it beautifully, not overdoing the Symphony's cinematic bits (of which there are more than a few) and imbuing Jones' meditative episodes (like the gorgeous Adagio cantabile movement) with refinement.
Albert's Symphony no. 2 is, on the whole, a bit more enigmatic a piece. Written for the New York Philharmonic's 150th anniversary in the early '90s, its scoring was incomplete at the time of Albert's untimely death in 1992 (it was finished by Sebastian Currier).
The first of the Symphony's three movements is a brooding, lyrical essay, the sort of thing Prokofiev might have written had he settled in New York City in the late '80s. A short, droll scherzo follows. The finale traces a route from dense, rather rhetorical struggle through to a gleaming, Copland-esque hymn of a coda.
Friedel leads the LSO in a tight performance, hitting all the notes, dynamics, and articulations. But, perhaps owing a bit to Albert's stylistic unfamiliarity (or the ruminative, disjunct nature of the piece), it's one that doesn't sparkle as easily as its companions on the album. Still, this is a satisfying reading of the last major work by a too-easily-forgotten recent American master. May there be more to come – and may this one-off survey be the start of a much-needed series by these forces.
---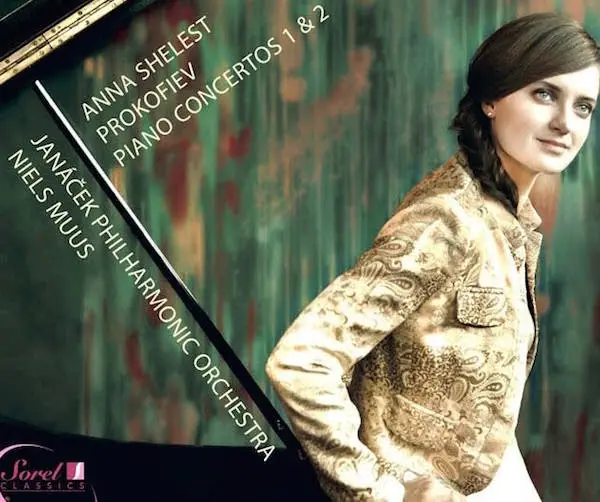 Anna Shelest's new recording on Sorel Classics of piano-and-orchestra pieces by Anton Rubinstein is one of those albums that makes you want to rethink Rubinstein's relative neglect in the broader canon – almost.
The qualities that make his music great – the sweeping tunes, the impellent drama, the heart-pounding virtuosity – are all abundantly evident. Unfortunately, so are the drawbacks: the incessant bombast of the Caprice Russe, for instance, and the shallow repetition of the Fourth Piano Concerto's last-movement refrain. But Shelest plays it all with such charisma and unfailing vim that you can all but look past those shortcomings.
That's especially true of the Piano Concerto no. 4. A real, overlooked warhorse, it's got more going for it than not, including a feisty, brilliant first movement and a luminous slow one. Shelest plays them both with lustrous color and a strong sense of shape. She gives the same attention to the prolix finale and her commanding tone and smart tempos do what they can to enliven Rubenstein's redundancies.
Alas, there's not much that can redeem the Caprice, whose showy pyrotechnics can dazzle but, at nearly twenty minutes, leave one numb by the halfway point. Shelest's interpretation is well phrased and paced but there aren't any expressive depths here to plumb.
The ubiquitous Neeme Järvi is Shelest's engaged partner, leading The Orchestra Now in pert accompaniments in both works. Balances aren't always perfect – the piano is a bit forward, covering some of the woodwind solos in the Concerto, and a handful of string runs in the Caprice come out muddy – but that's more the result of a live taping than interpretive issues. On the whole, these are kinetic performances, at their best very fine, indeed.
---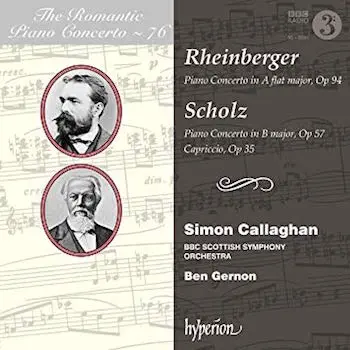 You've got to hand it to Joseph Rheinberger: he knew how to craft a tune (or two) and he had a pretty strong command of musical rhetoric. The first movement of his Piano Concerto in A-flat major demonstrates both capabilities from the outset, with an heroic, opening piano solo conjuring up memories of Beethoven that then unwind into extensive lyrical passagework that Beethoven would never have written (Schumann, though, might have penned something similar). It's music of warmth and much charm, and these qualities carry through the first movement, all of the lovely second, and then into parts of the finale.
Unfortunately, in the latter, Rheinberger's shortcomings – namely, the inability to structure the movement into something dramatically thrilling – get the better of him. But there are some fetching melodies, all the same, the scoring is bright and fresh, and the general atmosphere never gets too stodgy.
Bernhard Scholz's Piano Concerto in B major, on the other hand, isn't dogged by architectural issues, though it owes a pretty obvious debt to Brahms's style (Scholz, two years younger, was a disciple). Still, the work's strengths – Scholz's effervescent melodic writing, a strong sense of musical drama (middle part of the slow movement goes in a remarkably dark direction), and its overriding expressive directness – are considerable.
Both concerti (along with Scholz's Capriccio) form the latest compelling installment in Hyperion's ongoing Romantic Piano Concerto series. Pianist Simon Callaghan navigates the respective solo parts with all the energy and feeling you could ask for. Both slow movements are beautifully done, the central section of the Scholz especially so. But he also plays with lots of spunk: the first movement of the Rheinberger is boldly colored and the finale of the Scholz is a perfect romp. Ben Gernon leads the BBC Scottish Symphony Orchestra in snappy, full-throated accompaniments.
---
Jonathan Blumhofer is a composer and violist who has been active in the greater Boston area since 2004. His music has received numerous awards and been performed by various ensembles, including the American Composers Orchestra, Kiev Philharmonic, Camerata Chicago, Xanthos Ensemble, and Juventas New Music Group. Since receiving his doctorate from Boston University in 2010, Jon has taught at Clark University, Worcester Polytechnic Institute, and online for the University of Phoenix, in addition to writing music criticism for the Worcester Telegram & Gazette.