Everyone should avail themselves of such opportunities for inter-generational collaboration.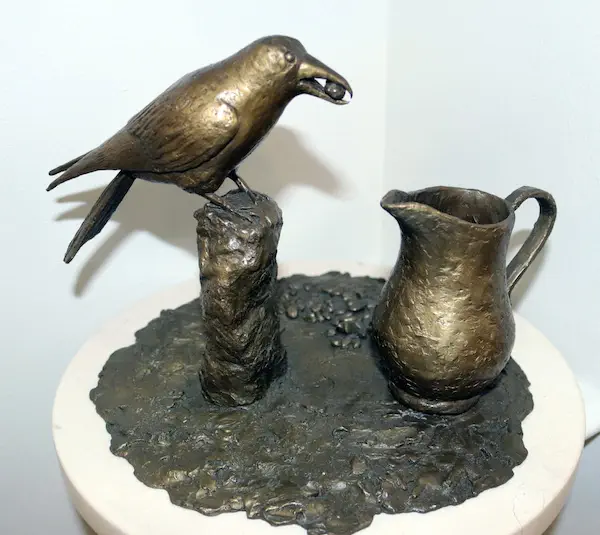 By Charles Giuliano
The special exhibition at Needham's Art Gallery at North Hill, Schön and Schön: From Generation to Generation, is a truly remarkable occasion and celebration.
For several months mother and daughter collaborated, for the first time in their careers, to create a stoneware sculpture "L'Dor V'Dor" (44 x 18 x18"). The title in Hebrew translates as "From Generation to Generation."
The senior Nancy Schön, now 89, is a sculptor of animals including in this project small illustrations from Aesop's "Fables." She is world renowned for her "Make Way for the Ducklings" bronze pieces, based on the beloved book published in 1941 and illustrated by Robert McCloskey. There is a small version of that iconic work in the exhibition. She also cast a full scale set of the ducklings for a site in Moscow.
During a gallery talk, Nancy Schön discussed the complex process by which that signature project came to be commissioned for what she described as "hallowed ground" on Boston's Public Garden, just steps from the swan pond. With considerable humor she spoke about a woman who creates seasonal outfits for the ducks, birds that have become a delight for children of all ages.
The younger Ellen Schön is the Ceramics Studio Supervisor as well as an adjunct faculty member at Lesley University College of Art and Design. She makes abstract, non-functional vessel forms. This summer in Finland she will collaborate with an artist friend. I spoke to her during a weekend in the Berkshires and she described the progress they were making on the collaboration and its many challenges.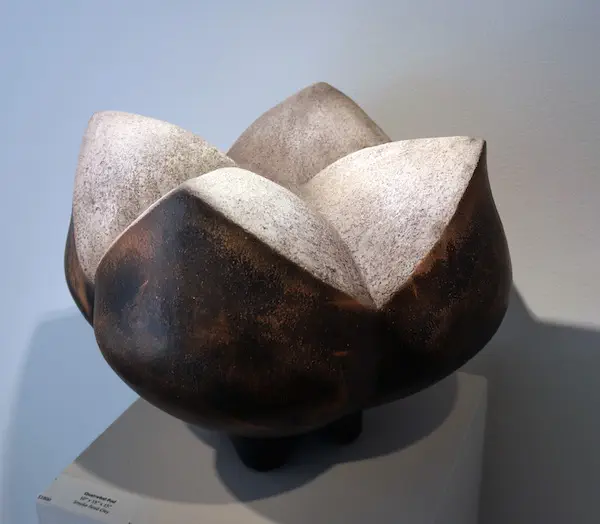 Once the decision to work together was made there was discussion regarding what form the piece would take. They both work with additive process in clay, but stylistically they are more than just generations apart. Nancy creates accessible, animal, figurative pieces; Ellen explores the limits of abstraction.
The common denominator was the medium of clay. Ellen created what proved to be a large and technically challenging vessel form — to which Nancy would add several faces, which would accent the perimeter of the object. To document as well as explicate their piece, Ellen produced a ten minute video, with musical accompaniment by her son. The process  was labor as well as time intensive, involving a number of mutual aesthetic decisions. For example, at one point in the video Ellen holds up a head (created by Nancy) at a certain height — both artists agree that it should go there.
I was intrigued about how that addition would be accomplished. By then, the object was already quite large.  a simple, ancient technique was the answer. A thick coil of clay was rolled out. This was then set on the top edge of the piece and the surfaces were pressed together. Then the clay was "slapped" all around with a paddle and smoothed into a seamless surface. Once the height of the face was agreed to, it was pressed in and secured.
During the opening celebration there was a talk by the artists, followed by a lively Q & A session. Who do the faces represent? One suggests an Indian chief; another, according to Ellen, loosely resembles her deceased husband. Of course, viewers are invited to bring their own interpretations regarding the faces and the collaborative work's meaning.
Once the piece was finally formed came the real challenge. The scale of the object would require a large kiln  — and there was the problem of getting the piece there. Professional movers were called in.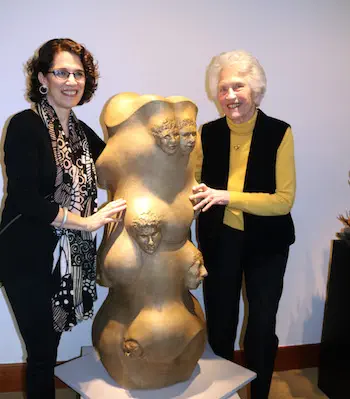 Once the piece was fired, there was the matter of treating its surface which normally would call for refiring with a glaze. The pair opted not to do that, and experimented with how to create a metallic-like, painted, patina resembling bronze.
Ellen amusingly discussed the difficulties this innovative process entailed, the trial and error as well as the awkward matter of crouching down.
The result of this unique collaboration is sublime. A wonderful testament to long careers in the arts; though this is not to say that there weren't tensions and complications. They come from any artistic teaming-up, compounded by the inevitable tensions between mother and daughter.
Talking with Ellen about this unique opportunity for closure was emotionally moving for me. This experience reminded me of the six hours of tapes that I made when driving my Mom home from Florida. Years later they were transcribed and became a part of a book about my mother and our Irish ancestors and clan.
Everyone should avail themselves of such opportunities for inter-generational collaboration. That's why "L'Dor V'Dor" is, for me, so much more than just an object in an exhibition: it represents a deep and essential exploration of family, conflict, resolution, respect, interpretation, understanding, and love.
The exhibition remains on view through June 28 at the North Hill community complex, 865 Central Avenue, in Needham, MA. It is easily reached by Route 9 from Brookline Village.
---
Charles Giuliano is publisher/editor of the on line Berkshire Fine Arts. This summer he will publish his fifth book of verse. In July a retrospective of portrait and performance photography "Heads and Tales" opens at Gallery 51 of Massachusetts College of Liberal Arts in North Adams, Massachusetts.