Why has Bernard Weinraub chosen this secretive chapter of Miller's life as fodder for his play?
Fall by Bernard Weinraub. Directed by Peter DuBois. Staged by the Huntington Theatre Company at the Huntington's Stanford Calderwood Pavilion at the Boston Center for the Arts, Boston, MA, May 18 through June 26.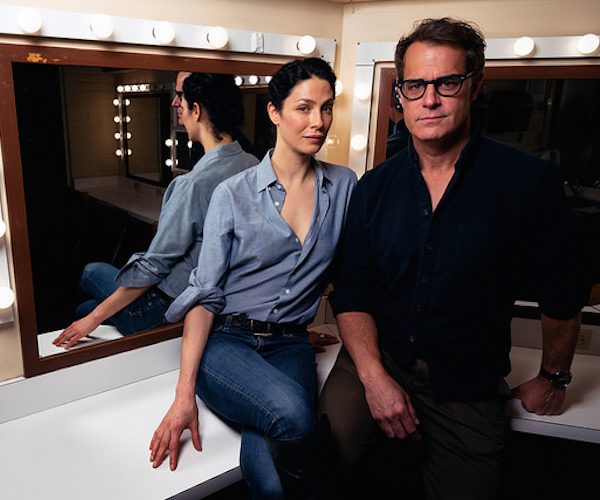 By Robert Israel
American playwright Arthur Miller rests in an unquiet grave. Never a stranger to controversy or criticism during his lifetime, the sound and fury hasn't waned since his death in 2005 at the age 89. Miller, who earned a Pulitzer Prize in 1949 for Death of a Salesman continues to be praised and maligned under the glare of the media's spotlight:
Nestled among the various idolizers and besmirchers, casting his own distinctive perspective on the personal life of Miller, is Bernard Weinraub, a retired New York Times reporter. Bernie, as he prefers to be called, claims not to take a side in the debate about Miller. (Or at least he doesn't want to wade into the current brouhaha.) Rather, he is in Boston readying a play that dramatizes the story of Miller's institutionalized son, Daniel, and he insists that audiences are invited to come to their own conclusions about the relationship — or the lack thereof.
Weinraub's play is titled Fall. And yes, the title is meant to remind us of Miller's 1964 drama After the Fall. It is set for a May 18th world premiere production at the Calderwood Pavilion at Boston Center for the Arts via the Huntington Theatre Company, under the direction the the Huntington's artistic director, Peter DuBois.
Why has Weinraub chosen this secretive chapter of Miller's life as fodder for his play?
"What interested me about Miller was that he was such a moral playwright, and he wrote a lot about the relationships between fathers and sons," Weinraub said in an interview this week.  The latter "was a major theme in his work. In Salesman and All My Sons he expounds on this theme, particularly on the betrayal of the fathers by the sons. And what fascinated me is that here he is, in real life, behaving in stark contrast to what he wrote about."
Weinraub, when researching the play, was impressed by the passionate reaction generated by readers of the Vanity Fair article – many of them parents of Down syndrome children. They expressed outrage that Miller chose to institutionalize his son and asserted that, because of that decision, they could no longer see him as an important American playwright.
"In the play, I do not demonize Miller for having made this decision," Weinraub continued. "After all, during the time of Daniel's birth, doctors routinely advised parents to institutionalize their children who were born with Down syndrome."
But what struck Weinraub is that Miller went further than just placing his son elsewhere. "He deleted Daniel from his life," Weinraub explained. "There is no mention of him in his official biography. Daniel is not mentioned in Miller's obituary, except in the Los Angeles Times. Daniel became invisible."
In Rebecca Miller's  2017 documentary film about her father, Arthur Miller: Writer, she tells us that her father gave her permission to include Daniel in her film. But she chose not to, insisting her narration during the film that she made this decision "out of respect for Daniel's privacy."
"If you notice," Weinraub observed, "she doesn't ask her father a single question about Daniel. Other than mentioning that she, as his sister, has a relationship with him, we never learn what her father felt about him, or why he and his late wife chose to institutionalize him."
Weinraub's two act play opens just after Miller's play After the Fall was produced, which took place around the time of Daniel's birth. It follows Miller – and his son Daniel, who is being played by Nolan James Tierce, a Boston-area actor with Down syndrome – through to the end of Miller's life.
"What I hope audiences experience from my play," Weinraub said, "is that this is a story about a great playwright, a great artist, who went through his life grappling with weighty, moral issues that he faced fearlessly and eloquently, and that he chose, with his wife, to hide his son from public view. The play shows this dichotomy and explores the reality of his life versus the reality of his art. In the end, Miller realized that he may have missed something special from having deleted Daniel from his life."
---
Robert Israel writes about theater, travel, and the arts, and is a member of Independent Reviewers of New England (IRNE). He can be reached at risrael_97@yahoo.com.