Local examples of immersive aesthetic and sensual experimentation as forms of cultural experience.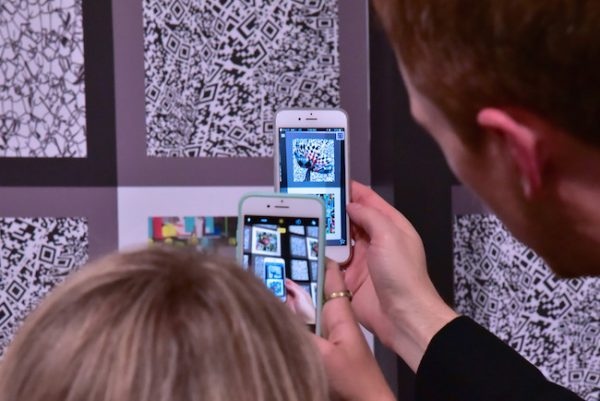 By Mark Favermann
Known for its cutting-edge and often transformative shows about art and technology, Boston Cyberarts has recently presented two inspired gallery exhibitions as well as unconventional outdoor exhibits presenting examples of augmented reality art.
Inspired by our dreams and powered by our imagination, augmented reality explores visions of what lies just beyond the real. Simply put, augmented reality (AR) layers  computer-generated sound, video, or graphics into a real-world environment. Think of it as art in the form of virtual snowflakes — the surreal and the hyper-real dovetailed. These visceral, even sensuous, mirages may connect with reality, may stand on their own, or may partake of both worlds.
Boston Cyberarts Executive Director George Fifield has defined augmented reality as "when you build a a virtual object and place it in the real world. You can see it on a device like a phone or tablet, and it's there because it's located only in that spot. However, it is also not there because you can't bump into it." According to Fifield, "This artwork allows cultural narratives to be told about places that appear to be empty."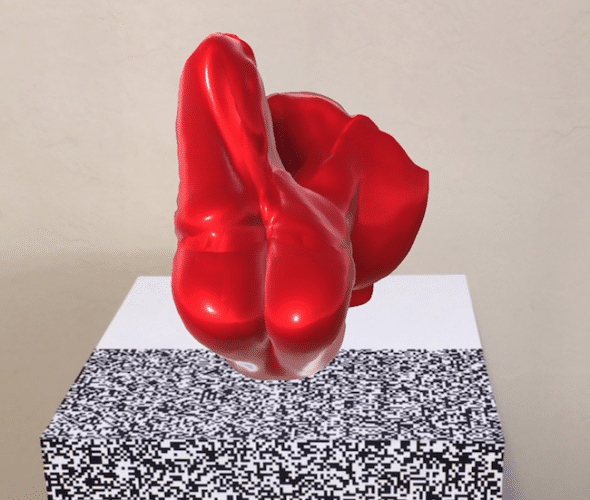 Boston Cyberarts' exhibit Now You See It…. (through May 13) includes works by five prominent and pioneering augmented reality artists. Joseph Farbrook's Amorphous Ball (2017) is a shape-shifting red sphere that can assume an infinite number of forms. Carla Gannis's The Selfie Drawings (2015) is a book of 52 digital drawings completed over 52 weeks in which the artist performed "the self" via digital drawings and augmented reality.
Claudia Hart's selection of works from The Flower Matrix creates new kind of liminal space. Hart supplies a seductive environment for viewing her immersive world: technology has replaced nature, both sugary sweet and chemically toxic in equal measures. Michael Mittelman draws on mixed reality to create digital Sol LeWitt-like drawings on the walls of the gallery. And Will Pappenheimer presents Waters Rising, which generates the illusion that the gallery is slowly filling with water, until viewers feel they are trapped in a distorted underwater world.
Concurrently, the Institute of Contemporary Art is presenting Art in the Age of the Internet, 1989 to Today (through May 20), a show that explores the various artistic applications and approaches to contemporary visual and performance art. The ICA thoughtfully coordinated with other Boston area institutions and museums so that this exhibit is connected to other related exhibitions and programming. An earlier related Boston Cyberarts exhibit shown in January — Artificial Intelligence (AI) — was one of the 14 partners' exhibits or events among the ICA's Art+ Tech Collaborative.
The ICA exhibit examines how the internet has radically changed visual art, specifically in its production, distribution, and reception. On view is a broad range of works across a variety of mediums — including painting, performance, photography, sculpture, video, and web-based projects. The works in show investigate the extensive effects of the internet, not only on individual artistic practice, but on culture. The ICA exhibition is accompanied by a major scholarly publication and web platform.
Over the last year, Boston Cyberarts has been involved in a series of augmented reality exhibits and events. In each instance, they have been uniquely site-specific.
Inspired by the historic City of Salem, Massachusetts (from May 27 through November 30 2017), Boston Cyberarts presented The Augmented Landscape at the National Park Service's Salem Maritime National Historic Site. Located on the city's historic waterfront the project featured eight augmented reality "sculptures" created by four internationally-acclaimed artists — John Craig Freeman, Kristin Lucas, Tamiko Thielm and Will Pappenheimer. Each one of the eight artworks investigated various relevant topics related to both Salem and the oceans. Works focused on such important issues  as East-West relations, New England's maritime connections with Russia, Japan, and China, American idealism, the discord between globalism and isolationism, piracy as warfare, and the effects of climate change, global warming, and rising ocean waters.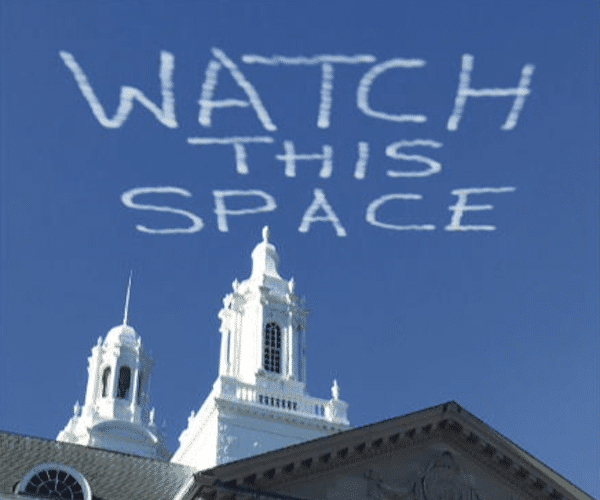 This year, through May 20, Boston Cyberarts is assisting Newton, MA in a celebration of its 13 villages with Skywrite Newton, an augmented reality skyart/skywriting project. The artwork has been created by artist Will Pappenheimer. Viewers, through the use of smart devices, can view the sky above each village  and read a Skywrite phrase. Thorough instructions are available online to help viewers see the evidence of the project and to document them.
On April 29 (coinciding with ArtWeek), ARLines at Boston, a vibrant Brazilian public art project previously shown in early winter, returned to Downtown Boston at 10 sites within the Rose Kennedy Greenway Conservancy. The project was co-sponsored by Boston Cyberarts. Brazilian artist/curator Giovanna Casimiro made use of augmented reality  (via the free app, HP Reveal) to place murals in her hometown of São Paulo throughout various Boston locations. Stretching from the Chinatown Gates along the Greenway  to the Harbor Island Welcome Center, participants could see São Paulo's strikingly colorful murals. The Boston-São Paulo connection is the first edition of this project. Casimiro hopes to expand this project to other cities in order, as she says, "to try to create other portals of street art."
The Boston Cyberarts-sponsored series of augmented reality exhibitions and events has generated a wonderfully stimulating visual and cultural conversation about what was, what is, and what can be art in the 21st century. These investigations into art and technology aim to take us out of ourselves, to enable us to perceive the environment around us in radically different ways while generating considerable wonder and delight.
---
An urban designer and public artist, Mark Favermann has been deeply involved in branding, enhancing, and making more accessible parts of cities, sports venues, and key institutions. Also an award-winning public artist, he creates functional public art as civic design. Mark created the Looks of the 1996 Centennial Olympic Games in Atlanta, the 1999 Ryder Cup Matches in Brookline, MA, and the 2000 NCAA Final Four in Indianapolis. The designer of the renovated Coolidge Corner Theatre, he has been a design consultant to the Red Sox since 2002. He has previously written for The Phoenix, Art New England, American Craft Magazine, Boston Herald, Blueprint (UK), Design (UK), and Leonardo.