Arts Fuse critics select the best in film, dance, visual arts, theater, music, and author events for the coming weeks.
By The Arts Fuse Staff
Film
Wicked Queer: The Boston LGBT Film Festival
April 8 throughout Boston
April 8 at Brattle Theatre in Cambridge
The Thirty-Fourth LGBT Film Festival entertains, enriches and enlightens all audiences in the lesbian, gay, bisexual, transgender, and allied communities. But these are films for everybody, quality films by independent filmmakers. The last day, so check out the full schedule for a selection of movies you will not have an opportunity to see in commercial cinemas.
Belmont World Film (BWF)
All screenings are on Mondays at 7:30 p.m.
Studio Cinema, 376 Trapelo Road, Belmont, MA, through May 14.
This 17th Annual International Film Series promotes cross-cultural cultural performances as well as ethnic cuisine via Monday screenings of international feature films, documentaries, animation, and shorts. The line-up features (mostly) premieres of some of the best in international film. Check the schedule for further dining and cultural opportunities brought to you by this unique organization. Schedule of films and events.
Marlina the Murderer in Four Acts
April 9
Studio Cinema, 376 Trapelo Road, Belmont, MA
Belmont World Film presents a witty and darkly subversive revenge movie about a young widow who turns the tables on her would-be attackers. Deeply rooted in the cultural and geopolitical landscapes of Indonesia, this eastern-style Spaghetti Western also proffers a welcome change from male-centric cinema culture.
Spettacolo
April 9 at 7 p.m.
Brattle Theatre, Cambridge, MA
A tiny hill town in Tuscany has found a unique way to confront their issues – they turned their lives into a play. Every summer for the past 50 years, their piazza becomes their stage and villagers from 6 to 90 play a part – the role of themselves. Every issue the town has faced – its near annihilation by the Nazis, the disappearance of its farming heritage, the commercialization of its land – has been dramatized and debated by the villagers in the center of town. The documentary tells the story of the community's Teatro Povero ("Poor Theatre"): the narrative interweaves episodes from the town's past with footage from the present as the villagers turn a series of devastating blows – financial ruin, rising fascism, a dwindling future generation – into a play about the end of their world. Filmmaker Jeff Malmberg will attend in person. Arts Fuse review
Hollywood Scriptures: Childhood Stories
April 11 through 15
Museum of Fine Arts, Boston, MA
The four films in this series, curated around the theme of childhood, are highly recommended.
Lion on April 11 at 6:30 p.m. (UK/Australia/USA) Directed by Garth Davis.
Mustang on April 12 at 7:30 p.m. (Turkey) Directed by Deniz Gamze Ergüven.
The Florida Project on April 14 at 2 p.m. (USA) Directed by Sean Baker.
The White Ribbon on April 15 at 2 p.m. (Germany) Directed by Michael Heneke.
The Fits and Wendy and Lucy
April 11 at 5 and 7 p.m.
Brattle Theatre, Cambridge, MA
A double feature not to be missed: The Fits by Anna Rose Holmer and Wendy and Lucy by Kelly Reichardt. Though both narratives focus on compelling female protagonists, the stories couldn't more different. The former is infused with supernatural elements and offers a riveting performance from its young star, Royalty Hightower. The latter presents a hypnotic yet down-to-earth performance from Michelle Williams as a young woman driving to Alaska in hopes of finding work and a new life for herself and her dog, Lucy.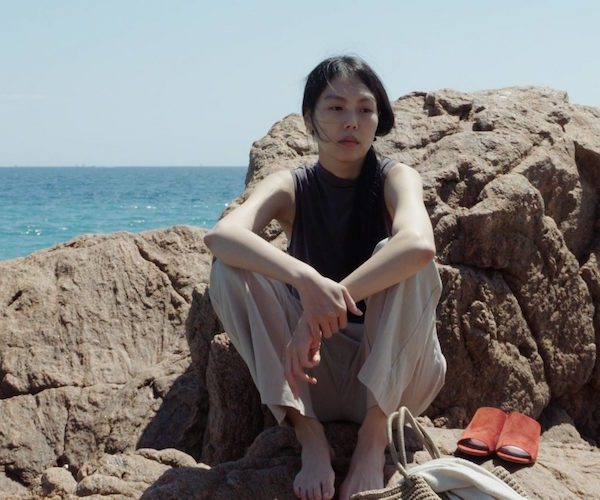 Claire's Camera
April 13 through 15
Brattle Theatre, Cambridge, MA
The Brattle Theatre rounds out the remarkable series "Moral Tales of Hong Sangsoo" (running at the Harvard Film Archive) with the director's latest film, featuring Isabelle Huppert and Kim Minhee. Huppert plays Claire, a school teacher taking a camera (that might be magical) on her first visit to Cannes. She happens upon a film sales assistant, Manhee, recently laid off after a one-night stand with a film director. Together, this unlikely pair become detectives of sorts, as they wander around the seaside resort town, trying to understand the circumstances behind Manhee's firing. They develop new outlooks on life in the process.
24 Frames
April 14 through 27
Museum of Fine Arts, Boston, MA
Abbas Kiarostami's final film is a minimalist hymn to the capturing of images.
"In each of 24 Frames' shots, a motionless picture comes alive, functioning like an artful screensaver. Aside from the first entry, the frames are inspired by photographs that Kiarostami himself took and then embellished upon, adding sound, movement (often animals wandering around), and weather, creating a miniature environment from a perfectly composed still image. Each one's four-and-a-half-minute running time is long enough to encourage the viewer to pick specific details out of the picture, or to simply let it wash over them." (The Atlantic) Schedule
Strano Film Festival Showcase
April 15 at 3 p.m.
Coolidge Corner Theater, Brookline, MA
Three films from The Strano Film Festival, an international short film competition held in Capestrano, Abruzzo, Italy. The films explore work done on the land, migration from one land to another, and the geology and transformation of the land. The event will be introduced by two of the co-founders of the Strano Film Festival with special guests.
Panorama (7 min) "is the first chapter of a trilogy about the city. The video is a trolley shot on a polis that extends into an infinite global space without any uninhabited places or frontiers to find shelter. There is no such thing in this landscape as a readmission path for anyone who has been excluded by awakening imaginary worlds looking for a balance."
Belva nera (Black Beast) (33 min) Argentina – "this documentary tells the tale of an urban legend about a black panther on the outskirts of Rome who is nothing less than real in the minds of those who obsessively seek it."
Tomba del Tuffatore (The Tomb of the Diver) (30 min) Italy – "This movie, shot on Italy's Amalfi coast, is a symphony of fragments as lived by tourists, children, musicians, divers, explorers, and lovers. Each different, yet with one commonality: the land they are on."
The Beguiled
April 15 at 7 p.m.
Harvard Film Archive, Cambridge, MA
The HFA calls this Don Siegel film "a psychosexually overheated Gothic fever dream that imagines the South as a decadent morass of aberrant violence and incestuous desire. The tables keep turning dizzyingly as dark secrets are revealed through purloined letters and jarring flashbacks, and as the women are gradually united, in fear and anger, by a thirst for revenge." With Clint Eastwood, Geraldine Page, and Elizabeth Hartman.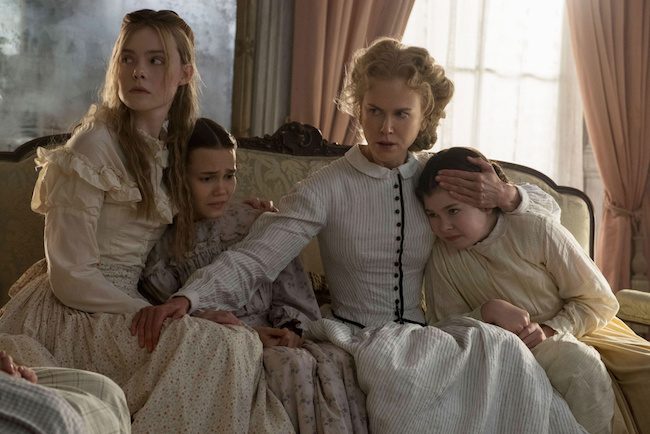 Streaker
April 16
Studio Cinema, 376 Trapelo Road, Belmont, MA
1970's-style streaking is alive and well in Switzerland — all in the name of poetry! A high school teacher starts an illegal gambling ring that places bets on how long streakers can last on the soccer field before being taken off by security. The reason: to  raise money to build a museum celebrating his favorite Swiss German poet, Gottfried Keller. Perhaps Kickstarter would have been easier?
The Beguiled
April 16 at 7 p.m.
Harvard Film Archive, Cambridge, MA
Sofia Coppola's wonderful feminist reworking of the Don Siegel/Clint Eastwood classic is, for Art Fuse critic Peg Aloi, "dreamy, sensual, haunting" and a "subtle commentary on how women's visions of their autonomy and agency are irretrievably bound up in sex." The film features strong performances by Colin Farrell, Nicole Kidman, Kirsten Dunst, Elle Fanning, and a number of lesser known young actresses. The movie won the director Best Director prize at the 2017 Cannes Film Festival. This 'Special Event' will feature an appearance by Sofia Coppola.
J. Fred Woell: An American Vision
April 18 at 7:30 p.m.
MassArt Media and Design Center, 621 Huntington Avenue, Boston, MA
This new documentary film by Richard Kane celebrates the pioneering metal artist who created work with wit, satire, and meaning. Woell, who died in 2015, is legendary in the arts community for his playful pins, pendants, and sculptures that draw on pop culture, found toys, and other objects. Woell also made art that could be satirically searing — his social and political commentary often looked at the dark side of history. An inspiring, humble, and humorous artist and mentor, Woell crafted a distinctive aesthetic perspective. There will be a Q+A with director Richard Kane. Free and open to the public.
— Tim Jackson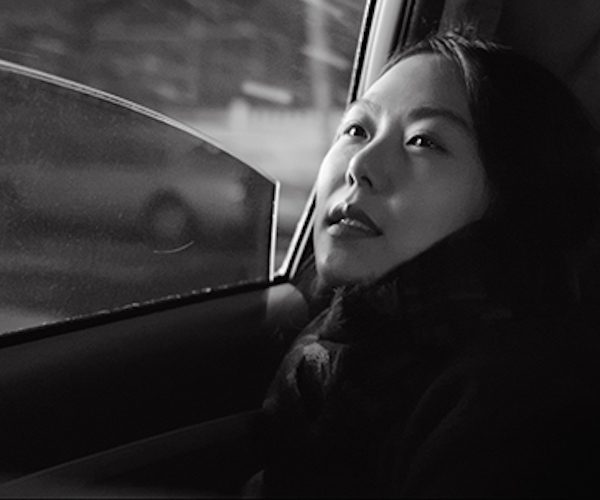 The Moral Tales of Hong Sansoo at the Harvard Film Archive, Cambridge, MA through April 14.
Check out this remarkable seven-film series featuring the work of  the South Korean master, Hong Sansoo. His heart-breaking love stories, sometimes about a young woman hopelessly enmeshed with an older married man, combine the cerebral talk of Eric Rohmer with the Chekhovian melancholy of lost opportunities, life passing us by. Lots of Ninas from the Seagull! And his long takes, sometimes lasting twenty minutes,  are there to spotlight remarkable acting! Is there a better young thespian in the world than Hong's favorite, Kim Min-hee?
— Gerald Peary
---
Dance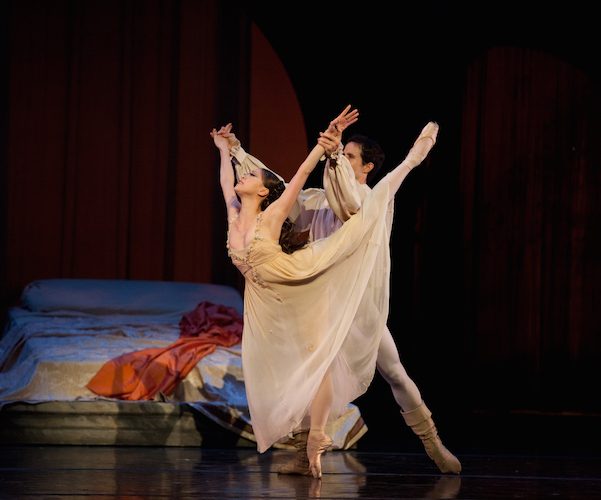 Romeo & Juliet
through April 8
Boston Opera House
Boston, MA
Boston Ballet presents John Cranko's Romeo & Juliet, which is inspired by William Shakespeare's celebrated tale of love and rivalry. Internationally-acclaimed German stage designer Jürgen Rose brings lavish sets to the stage. Sergei Prokofiev's triumphant score and will be performed by the Boston Ballet Orchestra, led by guest conductors Gavriel Heine (March 15-25) and Mischa Santora (March 29-Apr 8).
Luminarium Dance & Painter Adria Arch
April 8 from 3-4 p.m.
217 California StreetNewton, MA
The public is invited to venture inside a living, breathing painting in this collaboration between Luminarium Dance Company and acclaimed artist Adria Arch during Newton Open Studios. Company member Jennifer Roberts will perform a series of improvisational solos, dancing among the segments of Arch's new work "Dept. of the Interior," a "hybrid painting" on paper comprised of abstract cut-outs suspended from the ceiling and walls. Performances will be held at Arch's studio from 3-4 p.m., accompanied by musician Alexander Matheson. Viewers may enter and leave at any time during the hour.
Moving Violations
Now through April 29
Sanctuary Theatre, Cambridge, MA
Moving Violations is a pivotal production for Cambridge staple José Mateo Ballet Theatre. The production marks the final performances by JMBT's repertory company before going on hiatus for the 2018-19 season, as the organization searches for a new artistic director. Moving Violations includes three original works by Mateo, including his final ballet premiere. Viewers are invited to a special talk back with Mateo following the April 20th performance.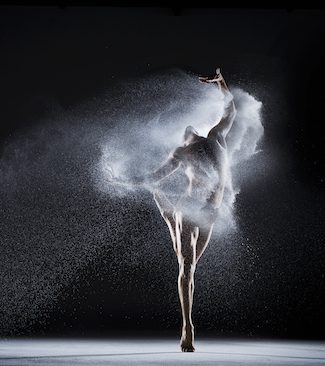 Alonzo King LINES Ballet with Zakir Hussain
April 20 & 21 at 8 p.m. and April 22 at 3 p.m.
The Institute of Contemporary Art/Boston, Boston, MA
World Music/CRASHarts presents the East Coast premiere of a new work it also commissioned, featuring renowned choreographer Alonzo King in collaboration with tabla virtuoso Zakir Hussain. For more than 20 years, King and Hussain have pushed the limits of creative expression together; they use rhythm, vibration, and transformation to bridge Eastern thinking with Western ballet's classical forms and techniques. The new work also celebrates Alonzo King LINES Ballet's 35th anniversary season.
teXtmoVes
April 22 at 3 p.m.
Galatea Fine Art , Boston, MA
Karen Klein's teXtmoVes returns to Boston's Galatea Fine Art gallery, highlighting poetry and movement. teXtmoVes, who performed at Galatea in 2016 with a different poem, will be joined by Elizabeth Keen from New York and Jessie Jeanne & Dancers with poet Sarah Anne Stinnett. The free performance proffers an especially strong relationship between performers and audience, due to the gallery's intimate space.
And further afield…
Affinity : A Student Dance Concert (https://www.facebook.com/events/1120307498110118/)
April 20 & 21 at 8 p.m.
Kendall Hall Studio Theater, Mount Holyoke College
South Hadley, MA
The Dance Department at Mount Holyoke College presents Affinity, a concert that will showcase nine choreographic works by current students Cara Board, Izzy Thompson, Joey Haley, Katherine Kain, Sea Thomas, Olivia Chandler, Silva Warren, Haylea Hubacz, and Isabelle Kirwin. The concert's dance styles will range from hip-hop to ballet, and it will explore such subjects as overcoming fear, the colonization of the Maori people, and creating architecture out of human bodies.
— Merli V. Guerra
---
Visual Arts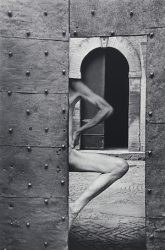 Lived Space: Humans and Architecture
deCordova Sculpture Park and Museum, 51 Sandy Pond Road, Lincoln, MA
Through September 30
About this show, deCordova Curatorial Assistant Scout Hutchinson states that "from its humblest manifestation as a source of shelter to an art form that activates the imagination, architecture permeates our daily lives." This fascinating exhibition of photography, painting, and drawings explores the harmonious, or sometimes contradictory, relationship of humans to architectural spaces. The perspective moves from the psychological charge given off by wallpapered interiors  to dramatizing the artistic imagination's response to the limits of reality.
Before Projection: Video Sculpture 1974 – 1995
MIT List Visual Arts Center, 20 Ames Street, Cambridge, MA
Through April 15
This brilliant exhibition of monitor based sculpture reclaims relevancy for a body of work created an overlooked historical moment. This video sculpture investigates the "connections between our current moment and the point at which video art was transformed dramatically with the entry of large-scale, cinematic installation into the gallery space." Some of the featured artists include Dara Birnbaum, Ernst Caramelle, Takahiko Iimura, Shigeko Kubota, Mary Lucier, Muntadas, Tony Oursler, Nam June Paik, Friederike Pezold, Adrian Piper, Diana Thater, and Maria Vedder.
John O'Reilly: New Territory
Howard Yezerski Gallery, 460 Harrison Avenue, Boston, MA
Through April 10
This highly respected artist is best known for his sophisticated and mysterious photomontages that daringly intertwine Italian Renaissance masterpieces with pornographic imagery. But this showcase of his newest work takes up new territory – formal collages — made with found coloring books — ponder mortality through visualizations of innocence and anxiety.
Now You See It…
Boston Cyberarts, 141 Green Street, Jamaica Plain, MA
Through May 13
George Fifield presents Boston with his second ground-breaking exhibition exploring augmented reality (AR).The five featured artists are all pioneers in the field. A work of special interest — Claudia Hart's selections from The Flower Matrix: disturbing yet fantastical spaces, decorated with toxically sweet fake imagery, replace Nature's beauty with an Alice in Wonderland type of delirium.
Klimt and Schiele: Drawn
Lois B. and Michael K. Torf Gallery, Museum of Fine Arts, Boston, MA
Through May 28
This thoughtful exhibit highlights masterful drawings of the human form. The work revolves around two historically renowned artists, each with their own uniquely recognizable style. Klimt's delicately rendered figures reveal his sensual preparatory markings behind the genius of his lavish painting. Schiele's raw and gutsy work, enlivened with gestural applications of watercolor, spotlight psychologically intense characters.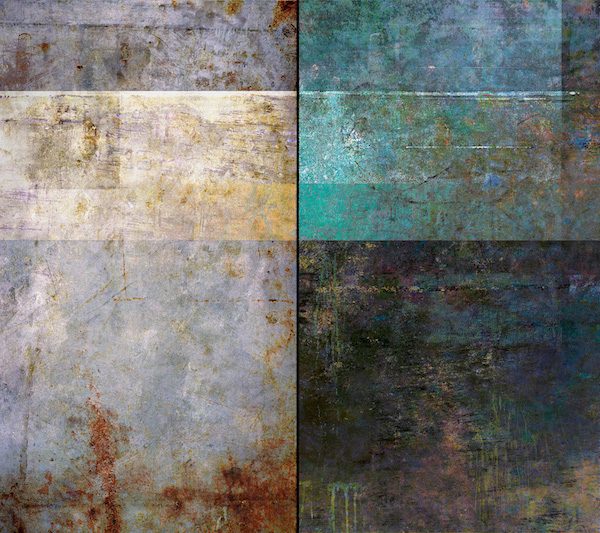 Daniel Feldman – Specific Gravity
Bromfield Gallery, 450 Harrison Avenue, Boston, MA
Through April 29
Feldman's pictures set out to generate sensations of sublimity. "I like that feeling," he has said. "Decision-making floats on a raft of intuition." Each step and choice in his creative process is chronicled in his heavily nuanced abstractions; the artist digitally 'paints' while combining and manipulating his images in Photoshop. The work could be easily mistaken for oil paintings.
Self Made: Kate Shepherd
Krakow Witkin Gallery, 10 Newbury Street, Boston, MA
Through May 5
New York based artist Kate Shepherd's artistic practice has undergone a shift, at least that is the impression left by her third solo exhibition at this small, prestigious gallery. Regarding her creative process, Shepard first applies a glossy reflective enamel in linear strokes on canvases. She then places these mirror-like pictures around her studio, capturing, with painted enamel ink, the ghost-like reflections of the room's light fixtures. Her curious work, with its filmic qualities, will capture yet another layer of reflections once it is placed in the gallery space. These pieces are accompanied by two minimalist bronze sculptures that show the diversity of her vision and talent.
– Aimee Cotnoir
33° at Bell Gallery, List Art Building, Brown University, 64 College Street, Providence, RI, through May 27.
A series of exhibitions and public artworks exploring ice melt and climate change featuring the work of a group of international artists including sound artist Jacob Kirkegaard and photographers Olaf Otto Becker, Camille Seaman, James Balog, Jean de Pomereu, and Iain Brownlie Roy. Visitors can encounter Kirkegaard's forty-minute soundspace "Isfald" (Icefall), a recording made at the Illulisat ice fjord in Greenland that will allow visitors to hear the variety of sounds produced by melting, cracking glaciers. Photomurals by Becker, Seaman, Balog, de Pomereu, and Roy will be displayed on the exterior of buildings across Brown's campus.
Pathways to Freedom Installation
Boston Common, April 25 through May 2.
Internationally-acclaimed social sculptor Julia Vogli is the force behind JArts' ambitious public art project. The work will be inspired by the universal themes of the Passover Exodus story. The artist will engage with a broad multi-cultural audience from across the city in a community-wide dialogue focusing on issues of freedom and immigration.
"Julia's artwork will reflect the hundreds of conversations she will have in the Greater Boston area, asking people from all backgrounds about their journeys to freedom. Drawing inspiration from these stories, and the symbolism within a Passover seder, Vogli will create a larger than life visual representation on the Boston Common."
— Bill Marx
---
Theater
The Bakelite Masterpiece by Kate Cayley. Directed by Jim Petosa. Staged by New Repertory Theatre on the MainStage at the Mosesian Center for the Arts, 321 Arsenal Street, Watertown, MA, on April 8.
At the end of World War II, artist Han van Meegeren sits in a prison cell accused of selling a long-lost Vermeer to the Nazis, a crime tantamount to treason. Van Meegeren contends that the painting was a forgery, which he skillfully produced and aged with a special treatment of the plastic known as Bakelite. Now he must create another masterpiece in front of his jailer, art historian Geert Piller, to save his life.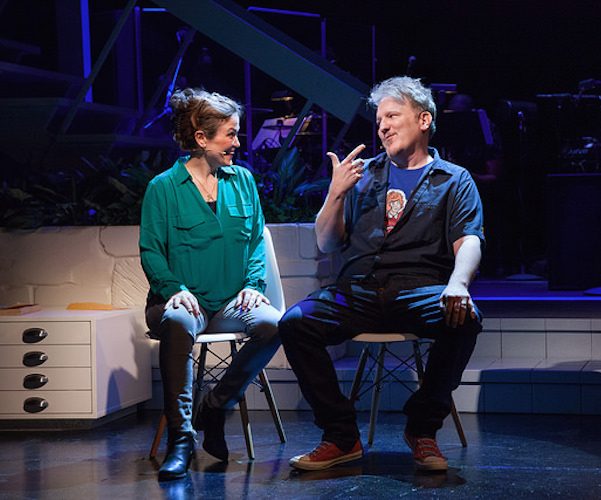 Little Orphan Danny Book, Lyrics & Music by Dan Finnerty, Created by Dan Finnerty & Sean Daniels. Additional music by Dan Lipton. Directed by Sean Daniels. Staged by Merrimack Repertory Theatre at 50 East Merrimack Street, Lowell, MA, through April 15.
"The musical memoir of The Dan Band's brilliant frontman Dan Finnerty: Growing up a small town altar boy in a nice conservative family doesn't always suit our adopted protagonist. Childhood outbursts of blasphemy in church only lead to pathetic adolescent attempts at playing sports. But of the many lessons he'll learn, none could prepare him for the fateful day he and his mother meet the woman who gave birth to him. An irreverent-yet-tender story of a boy and the women who made him."
Native Gardens by Karen Zacarías. Directed by Christie Vela. Staged by Trinity Repertory Company at 201 Washington St. in Providence, RI, through May 6.
A excursion into feuding next-door-neighbor genre comedy: "Pablo and Tania are new to the neighborhood. Virginia and Frank have been fixtures in the area for decades. They all agree that the chain link fence separating their yards has got to go! A quick replacement with a stately wooden fence will arrive just in time to impress both Pablo's bosses and the judges viewing Frank's elaborate English garden. Everyone starts off on the right foot, but [then] the truth about that old fence is revealed and Tania's vision of native plants and wild flowers doesn't align with Frank's pesticide-dependent masterpiece."
Much Ado About Nothing by William Shakespeare. Directed by Christopher V. Edwards. Staged by the Actors' Shakespeare Project at the Multicultural Arts Center, Cambridge, MA, April 11 through May 6.
Another outing for one of the Bard's most popular romantic comedies. "Benedick is never getting married. Not ever. And Beatrice can't imagine loving a man she can't tolerate! They might just be the perfect couple. While the villain Don Jon sows seeds of rumor and discord, the success of two noble marriages hinges on the hilarious efforts of local constables."
Ngoc-Tran Vu: Made Elsewhere at the Boston Center for the Arts, Black Box Theatre, April 10. Free.
An interactive project created by Visual Artist Resident Ngoc-Tran Vu that "involves constructing a new vision of the Statue of Liberty using recycled and found materials. Made Elsewhere explores issues of migration and displacement—particularly of refugees and immigrants—through cultural exchange and storytelling, and it is being developed through the artist's active collaboration with local groups and organizations advocating for refugees and immigrants' rights."
Top Girls by Caryl Churchill. Directed by Liesl Tommy. Staged by the Huntington Theatre Company at the Huntington Avenue Theatre, Boston, MA, April 20 through May 20.
Yet another revival of Churchill's venerable 1982 play. It will be interested to see if the script holds up today. "Career-driven Marlene has just landed the top job at a London employment agency" in a play about "the sacrifices required to be a 'top girl' in a man's world."
The Women Who Mapped the Stars by Joyce Van Dyke. Directed by Jessica Ernst. Staged by the Nora Theatre Company (the inaugural production in The Brit d'Arbeloff Women in Science Production Series. A Catalyst Collaborative@MIT Production) at the Central Square Theatre, Cambridge, MA, April 19 to May 20.
The world premiere of a script (part of what seems to be a series of similar stage narratives) that tells "the untold story of brave women in science who paved the way for previously impossible advances in astronomy." "Late 1800s, Harvard College Observatory. 'Computers' – women employed for half a man's salary to analyze astronomic data — show us that the universe is larger than we ever dreamed. The thrilling story of five women who changed the way astronomers saw the universe – from scientist to scientist and generation to generation."
Three Americanisms by Mac Wellman. Directed by Paul Lazar. Staged by The Theater, Dance & Media Concentration at Harvard University at Farcas Hall, 12 Holyoke Street, Cambridge, MA, April 12 through 15.
Critic Marjorie Perlman has high praise for this script from a veteran (and homegrown) anarchistic dramatist: "a decaying painting of the American landscape that, without apology, fuses abstraction and realism. The audience encounters various itinerant souls navigating an unpredictable, alien terrain. An absurdist enterprise that is at once comical and unsettling, armed with language that ricochets between Chaos Theory and a wholly artificial street slang, our heroes maneuver through a land of "rusted jumbos," "atomic glimmer glass," "the howling badlands of prehistoric lawn furniture," and much more." Director Lazar founded Big Dance Theater in 1991 with Annie-B Parson.
Berlin; or, The Part of You That Wants It: A Musical Comedy Love Story (Written by Accident) by Shaoul Rick Chason. Staged by O.W.I. (Bureau of Theatre) at Central Square Theatre, 450, Cambridge, MA, April 19 through May 12.
The world premiere of what sounds like an unusual evening of theater: "An irreverent vaudeville about an American rapist who goes to Berlin and inadvertently starts a genderfucked feminist revolution of anarchy and turmoil." The piece is also described as "a timely look at sexual predation told in a Brechtian burlesque of epic theatre." Brecht is used to parody himself? Ok … I think.
True West by Sam Shepard. Directed by Daniel Bourque. Staged by the Hub Theatre Company of Boston at First Church Boston, 66 Marlborough Street, Boston, MA, April 13 through 26.
A revival of one of the late Sam Shepard's most popular scripts, one of his most visceral exercise in flipping yin and yang: "Austin, an ambitious and accomplished screenwriter, and his older brother Lee, a beer-swilling, cunning drifter find themselves face to face in their mother's kitchen after years apart. However, instead of brotherly love, it's all-out war as their sibling rivalry explodes to reveal their secret envy of each other's lives. In an unexpected and ironic twist of fate, roles get reversed when Lee sells a screenplay and Austin hits the bottle as a petty thief. The brothers then struggle to prove they can successfully walk a mile in the other's shoes.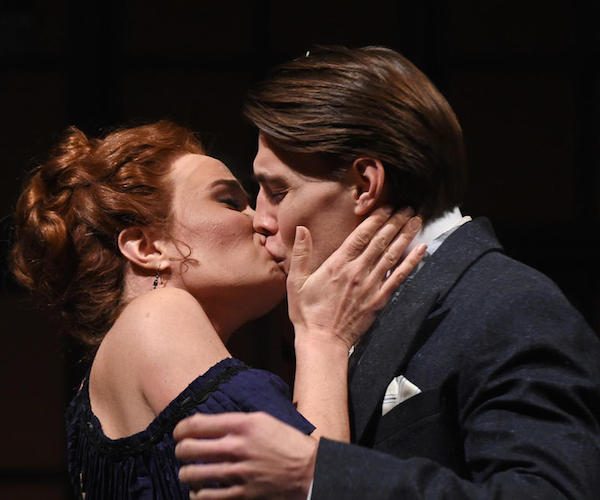 The Age of Innocence, adapted from the Edith Wharton novel by Douglas McGrath. Directed by Doug Hughes. Staged by Hartford Stage Company at 50 Church Street, Hartford CT, through May 6.
The world premiere of a stage version of Wharton's classic, somewhat nostalgic, yarn about a not-to-be romance. Franky, given the rise of #MeToo, the writer's House of Mirth, her story of a gifted young woman's downwardly mobile journey through Gilded Age corruption, abuse, and indifference would be more appropriate.
— Bill Marx
---
Jazz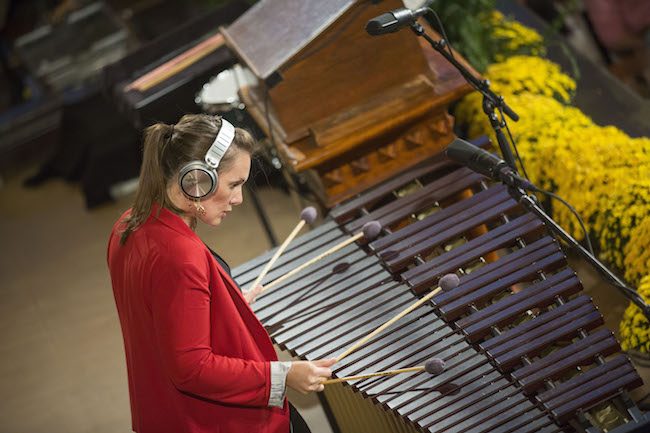 Maria Finkelmeier/Tim Hall Duo
April 8 at 7:30 p.m.
Charles River Museum of Industry, Waltham, MA.
Composer/performers Maria Finkelmeier and Tim Hall work in all manner of multi-media contexts — Finkelmeier's primary musical instrument is the marimba, Hall's the saxophone. (As part of the collective trio Masary Studio, Finkelmeirer and her cohort turned Fenway Park's Green Monster into a musical instrument and worked similar magic on City Hall Plaza, as part of HubWeek.) This show is part of the new Boiler House Jazz Series at the Charles River Museum of Industry, curated by musical polymaths Ken Field and John Bechard.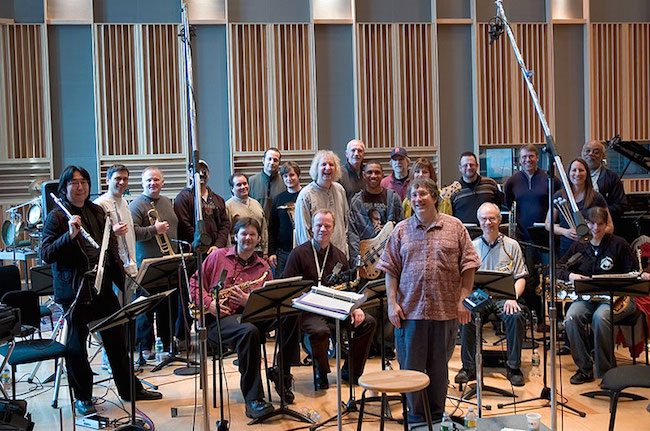 Jazz Composers Alliance Orchestra
April 10 at 8 p.m.
Lilypad, Cambridge, MA.
For this show, the venerable JCA Orchestra (b. 1985) presents music by resident composers David Harris, Darrel Katz, and Bob Pilkington as well as Mimi Rabson. The JCA's music is always ear stretching and exciting.
Cutout and Stormy Weather
April 11 at 7:30 p.m.
Lilypad, Cambridge, MA.
Eric Rosenthal's .01% music series of improvisational derring-do double-bills this month features Cutout (7:30 p.m.), with pianist Pandelis Karayorgis, trombonist Jeb Bishop, saxophonist Jorrit Djikstra, bassist Nathan McBride, and drummer Luther Gray; and Stormy Weather (8:45) with trumpeter Forbes Graham, vibist Andria Nicodemou, bassist Damon Smith, and Rosenthal on drums.
Lewis Porter-Phil Scarff Quartet
April 13 at 8 p.m.
Outpost 186, Cambridge, MA.
Accomplished jazz saxophonist and Indian-music specialist Phil Scarff has joined forces with pianist and scholar Lewis Porter (his John Coltrane: His Life and Music is essential) for an a CD, Three Minutes to Four (Whaling City Sound). They celebrate the CD with bassist John Funkhouser, and drummer Bertram Lehmann. This is billed as an "evening of jazz, ragas, and free improvisations."
Pablo Ablanedo's Octet(o)
April 14 at 4:30 p.m.
Lilypad, Cambridge, MA.
Buenos Aires-born master composer Pablo Ablanedo plays the Lilypad Saturday matinee with his Octet(o): flutist Fernando Brandão, trumpeters Dan Rosenthal and Jerry Sabatini, reedmen Daniel Ian Smith and Rick DiMuzio, guitarist Eric Hofbauer, bassist Fernando Huergo, drummer Juan Chiavassa, and Ablanedo on piano.
Plane Crash
April 14 at 8 p.m.
Lilypad, Cambridge, MA
A rare appearance by the free-jazz guitar pioneer Henry Kaiser with the long-running trio Plane Crash, with bassist Damon Smith and drummer Weasel Walter. Joining the trio for this show are percussionist Ra-Kalam Bob Moses and reed player Vinny Golia. Plane Crash's music is billed as "wild, volcanic, telepathic, loud free improvisation which takes no prisoners."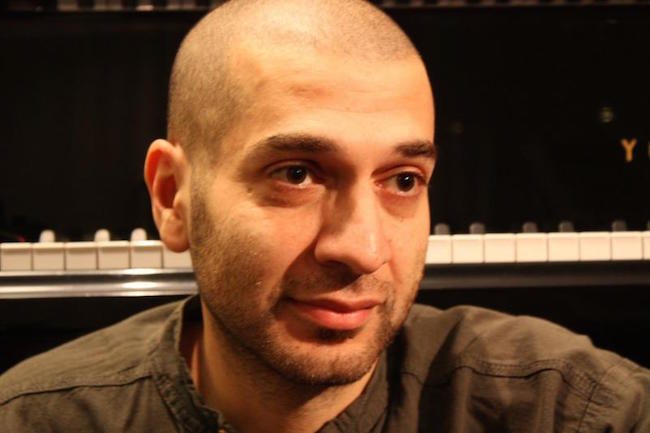 Vardan Ovsepian
April 18 at 7:30 p.m.
Regattabar, Cambridge, MA.
Armenian-born pianist and composer Vardan Ovsepian — a virtuoso with a knack for fusing his classical and jazz sides into a unique sound — fronts a band with guitarist Tim Miller, bassist Joshua Davis, and drummer Zach Harmon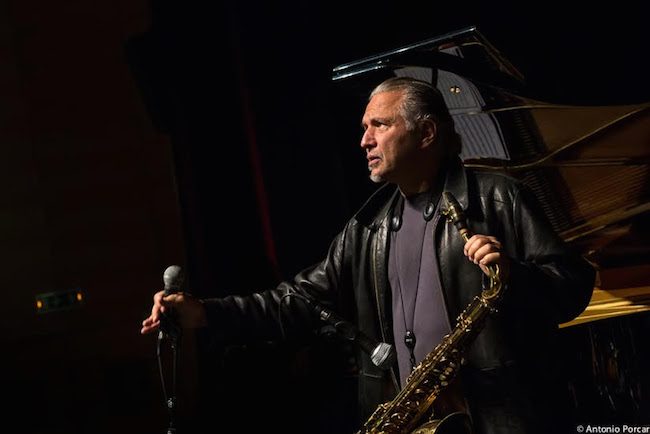 The Seven Rays: Music of Jerry Bergonzi and Ken Schaphorst
April 19 at 7:30 p.m.
Jordan Hall, Boston, MA.
This will be the US premiere of composer Schaphorst's arrangement of saxophonist and composer Bergonzi's seven movement work, a meditation the many mystical associations of the number 7. The two New England Conservatory faculty members enlist the services of the NEC Jazz Orchestra, with Bergonzi as featured soloists. Admission is free.
Brad Mehldau Trio
April 19-21 at 8 p.m. and 10 p.m.
Scullers Jazz Club, Boston, MA.
Pianist and composer Brad Mehldau plays this rare series of club shows, over three nights, with his fine trio — bassist Larry Grenadier and drummer Jeff Ballard. A new album, Seymour Reads the Constitution, is due May 18, so maybe expect a couple from that: pop songs by Paul McCartney and Brian Wilson, jazz pieces by Elmo Hope and Sam Rivers, American songbook standard "Almost Like Being in Love," by Frederick Loewe, and maybe even a couple of Mehldau's meter-busting originals.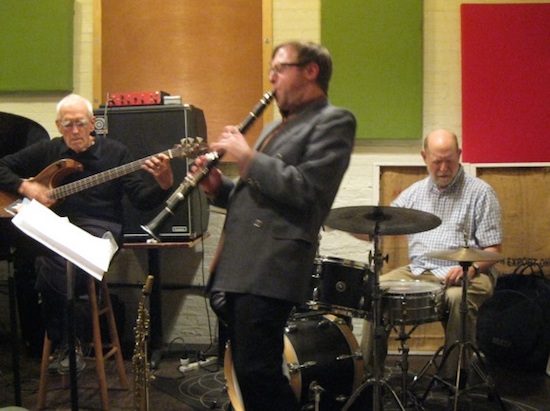 Mike McGinnis, Art Lande & Steve Swallow
April 21 at 5:30 p.m.
Lilypad, Cambridge, MA
The big news here is that the visionary bassist and composer Steve Swallow (we ain't kidding: if you play rockist guitar in a jazz band, you're working from the template Swallow helped create; look it up) is playing the Lilypad, more modest than the venues you usually find him at. Swallow and the equally distinguished pianist Art Lande are now celebrating their second release as a trio with their younger colleague, saxophonist and clarinetist Mike McGinnis.
Coming up: Arlington Jazz Fest, April 26-28, Arlington, MA; Terence Blanchard, April 27, Brighton Music Hall, Boston.
— Jon Garelick
---
Rock, Pop, and Folk
April 14

(doors at 9, show at

9:30

)
This Jamaica Plain-based nine-piece alt-Americana band is led 
Jefferson Riordon and Chris Toppin and a includes a horn section. Their sophomore effort,
Picture
, is slated for release on
May 5
. 
The full name of their show at The Midway Cafe

on Saturday

is "Love Love & Friends present Spring It! A Seasonal Music Special." Among the friends will be 
Russell Chudnofsky, Field Day, Scott Janovitz, and Dave Finney. Admission is FREE and there will be food, so forget about the 153rd anniversary of Abraham Lincoln's assassination and head on over to JP.
Now that Ultimate Painting has split, Nap Eyes is the prime torchbearer of the latter-day Velvet Underground and early Lou Reed solo material sound. The Halifax quartet's latest offering is this year's 
I'm Bad Now
. With more songs (11) and a longer running time (46:45) than the band's previous two albums,
I'm Bad Now
benefits from being streamlined on the micro level and expanded on the macro one. The "
guitar-slinging bard-scholars of Eastern Canada
"–as AllMusic reviewer Timothy Monger
describes
them–will be joined by fellow Great White Northerners She-Devils at Great Scott on
April 20
.
April 20

(doors at 7, show at 8)
Grace Curran and the High Falutin' Band was formed in Boston 
but is now based in Memphis, where they established themselves as favorites at Beale Street's 
Rum Boogie Cafe
. The group released its debut,
Proof of Love
, in 2013. That same year, they were nominated in the best blues artist categories at both the New England and Boston Music Awards. In 2014, they won the Blues Artist of the Year award at the latter ceremony. Curran and company have shows scheduled throughout 2018 in West Virginia, New England, New York, Indiana, DC, Virginia, Ontario, Alabama, and Florida. (The follow-up to Proof of Love,
Come Undone
, is also due out this year.) They will perform at Beverly's 9 Wallis on
April 20
as part of Carter Alan's Beverly Blues Series.
April 21

(doors at

6:30

)2015
"So who did the Bush Tetras influence? Just about everybody who's since crossed punk with funk," wrote The Arts Fuse's 
Brett Milano in a 2015
interview
with Bush Tetras lead singer Cynthia Sley. New material from the no wave/post-punk quartet is currently unavailable, but their influential 80s EPs and 90s reunion albums allow them to remain active on the club circuit. Sley and her bandmates will headline a bill that includes local legends Muck and the Mires and Gloucester resident Hugo Burnham–a fan from since the early days when he was the drummer for Gang of Four–at the Middle East on
April 21
.
April 21

(doors at 8, show at 9)
A seven-track LP on which each track was about a 19th or 20th century train wreck might seem strange coming from most artists. However, it seemed perfectly natural (if not predictable) when The Residents released such an album–titled The Ghost of Hope–in 2017. This past January saw the reissue of the band's first two albums, 
Meet The Residents
 (1974) and 
The Third Reich 'N Roll
 (1976). 
The eyeball-helmeted San Franciscans kick off their 
In Between Dreams tour in Portland, OR on April 10 and arrive in Allston on
April 21
.
---
Roots and World Music
Welcome the Stranger
April 8
Berklee Performance Center, Boston, MA
Reacting against the rise in hate crimes targeted at both Muslim and Sikh communities, Indian singer Kiran Ahluwalia decided to fight back with this pan-cultural project, which is known as LOVEFest. Ahluwalia will be joined by Algerian songwriter Souad Mass — along with Egyptian sufi dancers — in what is billed as one of the first-ever concert performances by traditional Sikh temple singers.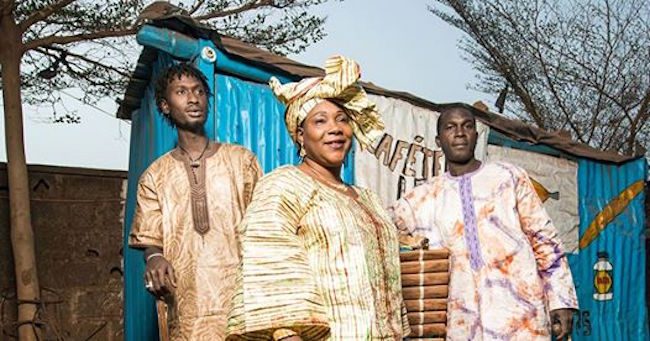 Trio Da Kali with Balla Kouyaté
April 10
Villa Victoria Center for the Arts Boston, MA
The Malian trio of singer Hawa Kasse Mady, Lassana Diabate on balafon, and Madou Kouyate on ngoni create such intimate music that they've attracted the attention of the classical as well as the new music world. They recently released a collaboration with the Kronos Quartet and will make their Boston debut tonight. Opening up is a Malian griot who has long been based in Boston, the phenomenal virtuoso Balla Kouyaté. He'll be joined by heavy hitters bassist Michael Rivard and guitarist Nathaniel Braddock.
Clinic with Leo Nocentelli of the Meters
April 11, 1:00 p.m.
David Friend Recital Hall
Berklee College of Music, Boston, MA
It's Funk Week at Berklee, and the students — and anyone else who is interested — can learn lessons from the man who was there at funk ground zero: Leo Nocentelli. His clean, compact lead and rhythm playing with New Orleans' iconic Meters helped invent the genre.
Eric Andersen
April 12
City Winery Haymarket Lounge, Boston MA
The prototypical Americana singer-songwriter, Andersen is the author of the oft-recorded "Thirsty Boots." During the '90s he was one-third of a criminally under appreciated trio,whose other members were Jonas Fjeld and the Band's Rick Danko. Today, he's one of a handful of '60s folk survivors still making new music.
Todd Baptista's Doo-Wop & The Sounds of the City
April 14
Zeiterion Theater, New Bedford, MA
South Coast vocal harmony historian Todd Baptista never skips when it comes to his annual bash at the beautiful Z. Crystals lead singer Lala Brooks tops the bill, along with The Mystics, The Orlons, and a very special reunion of the living alumni of the Del-Vikings, whose "Whispering Bells" and "Come Go With Me" were among the first hits recorded by an integrated group.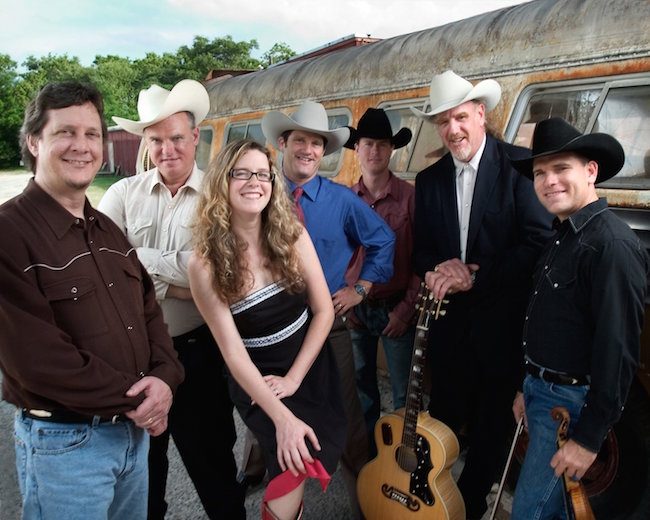 Asleep at the Wheel
April 19
City Winery, Boston, MA
Ray Benson's Western swing juggernaut is galloping towards its 50th anniversary. Besides reminding the world about the music of Bob Wills, it's also the answer of a neat country music trivia question: Wynonna Judd took her stage name from the band's version of "Route 66" when her mom Naomi was dating the band's then-harmonica player.
— Noah Schaffer
---
Classical Music
Lorelei Ensemble
April 10 at7 p.m.
First Church in Wenham, 1 Arbor Street, Wenham, MA
April 13 at 8 p.m.
First Church Cambridge, 11 Garden Street, Cambridge, MA
April 14 at 8 p.m.
Nahant Town Hall, 334 Nahant Road, Nahant, MA
"Boston's Lorelei Ensemble is recognized nationally for its bold and inventive programs that champion the extraordinary flexibility and virtuosic capability of the human voice. "
The Iberian Songbook: Spanish songs & dances, 1450-1600
April 14 at 8 p.m.
First Church in Cambridge, Congregational, 11 Garden Street, Cambridge, MA
Blue Heron's conclusion to its season "presents songs and dances from 15th- and 16th-century Spain performed by a colorful array of musicians: six singers, a five-part Renaissance violin consort, two vihuelas, percussion, and a pair of dancers. Music by Johannes Cornago, Francisco de Peñalosa, Juan Vásquez, Francisco Guerrero, Juan Blas de Castro, and others."
Tre Voci
April 15 at 8 p.m.
Jordan Hall/New England Conservatory, 30 Gainsborough Street, Boston, MA
"Tre Voci returns to Boston with an eclectic and dynamic program of 20th Century repertoire including the world premiere of a work by Toshia Hosokawa."
Phantasy
April 15 at 7 p.m.
St. Paul's Episcopal Church, 15 St. Paul's Street, Brookline, MA
Winsor Music concludes its season with music of Rebecca Clarke (1886-1979). Striking for its passion and power, her compositions span a range of 20th-century styles.
Finale & Premiere
April 20 at 8 p.m.
Hamilton Hall, 9 Chestnut Street, Salem, MA
April 22 at 3 p.m.
St. Paul's Church Brookline, 15 St. Paul Street, Brookline, MA
On the Boston Artists Ensemble's program: Ravel's Sonata for Violin and Cello, Wheeler's Songs Without Words, and Dvorak's Piano Trio in F Minor, Opus 65.
Darers and Dreamers
April 21 at 8 p.m.
April 22 at 4 p.m.
At the First Church in Boston, 66 Marlborough Street, Boston, MA
The Chameleon Arts Ensemble's program includes: Debussy's Sonata for flute, viola & harp; Bartok's Contrasts for clarinet, violin & piano, Sz. 111, BB 116; Bruce's Steampunk for oboe, clarinet, bassoon, horn, violin, viola, cello & bass; Schoenberg's Phantasy for violin & piano, and Beethoven's Piano Trio in D Major, Op. 70, No. 1 "Ghost."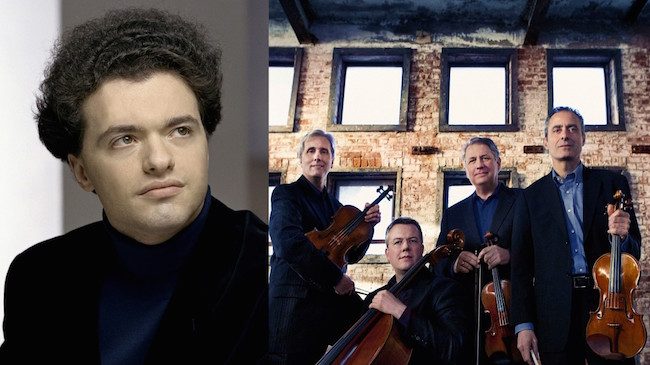 Emerson String Quartet and pianist Evgeny Kissin
April 22 at 3 p.m.
Symphony Hall, 301 Massachusetts Avenue, Boston, MA
On the program: Mozart's Piano Quartet in G minor, K.478; Fauré's Piano Quartet No. 1 in C minor, Op. 15; and Dvořák's Piano Quintet No. 2 in A Major, Op. 81.
— Susan Miron
---
Author Events
Robert Kuttner
Can Democracy Survive Global Capitalism?
April 12 at 6:30 (Doors open at 6)
Cambridge Public Library, Cambridge MA
Free
"In the past few decades, the wages of most workers have stagnated, even as productivity increased. Social supports have been cut, while corporations have achieved record profits. Downward mobility has produced political backlash. What is going on? Can Democracy Survive Global Capitalism? argues that neither trade nor immigration nor technological change is responsible for the harm to workers' prospects. According to Robert Kuttner, global capitalism is to blame. By limiting workers' rights, liberating bankers, allowing corporations to evade taxation, and preventing nations from assuring economic security, raw capitalism strikes at the very foundation of a healthy democracy."
Kate O'Donnell & Cara Brostrom
Everyday Ayurveda: Cooking for a Calm, Clear Mind
April 12 at 7 p.m.
Brookline Booksmith, Coolidge Corner, Brookline MA
Free
Ayurveda is a Hindu medical tradition that goes back for generations. Given the current state of the world, would there be a better time to participate in a tea service with the author?  The book contains 100 simple recipes that help foster a calm, balanced, and receptive state of mind.
Patrick Pritchett and Matthew Gagnon
Orphic Noise and Song of the Systole
April 14 at 7 p.m.
Amherst Books, Amherst MA
Free
Two exemplary contemporary poets read from their latest work in the fine old literary city of Amherst. Pritchett's text wrestles with the Gnostic tradition of poetry, taking inspiration from the likes of W.B. Yeats. Gagnon's poetry elliptically interrogates the ways in which we experience the world.
Nathaniel Rich
King Zeno: A Novel
April 18 at 7 p.m.
Newtonville Books, Newton Centre, MA
Free
"New Orleans, 1918. The birth of jazz, the Spanish flu, an ax murderer on the loose. The lives of a traumatized cop, a conflicted Mafia matriarch, and a brilliant trumpeter converge―and the Crescent City gets the rich, dark, sweeping novel it so deserves. From one of the most inventive writers of his generation, King Zeno is a historical crime novel and a searching inquiry into man's dreams of immortality."
Poetry Karaoke
April 20 at 7 p.m.
Porter Square Books, Cambridge MA
Free
Ever wanted to emulate your favorite poets in public? Cop some fervent indignation from Ginsberg or some seductive sonnets from Keats? Now's your chance! The format is simple: bring five-minute's worth of your favorite poetry to read in public. It doesn't need to be your own — that's what makes it karaoke-style — bring whatever you'd like to read and perform yourself to Porter Square and cheer on like-minded versifiers while you're at it. They don't call it national poetry month for nothing, you know.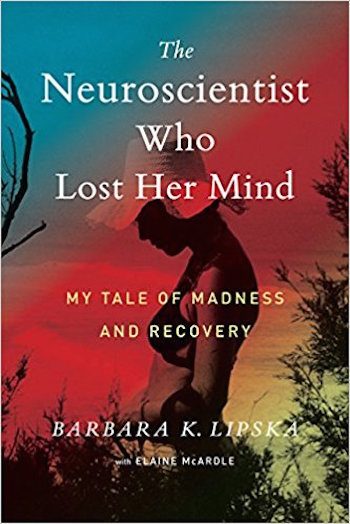 Barbara K Lipska
The Neuroscientist Who Lost Her Mind: My Tale of Madness and Recovery
April 23 at 7 p.m.
Harvard Book Store, Cambridge MA
Free
Neuroscience is an incredibly complex topic, which means it's not terribly shocking that studying it occasionally drives people mad. Lipska is a renowned scientist who, while fighting brain cancer, descended into madness. She recovered, miraculously, several weeks later with her memory of the harrowing experience completely intact. She will tell this fascinating story at Harvard Book Store, as only an expert and a survivor of this ordeal can.
Terry Ann Knopf
The Golden Age of Boston Television
April 24 at 7 p.m.
Brookline Booksmith, Coolidge Corner, Brookline MA
Free
In the seventies, Boston TV let its freak flag fly. Instead of the staid old programming of yesteryear, the airwaves were filled with experimental programming that turned traditional TV inside-out. Knopf explains the real-life responses to this advance in local programming and tells the history of Boston TV at its most creative.
— Matt Hanson