The talented duo's ability to impressively converse across a stylistic divide was fascinating.
Frank Carlberg/Noah Preminger CD: Whispers and Cries (Red Piano Records)
Frank Carlberg/Noah Preminger: live at Dimensions in Jazz in Portland, ME 3/30/18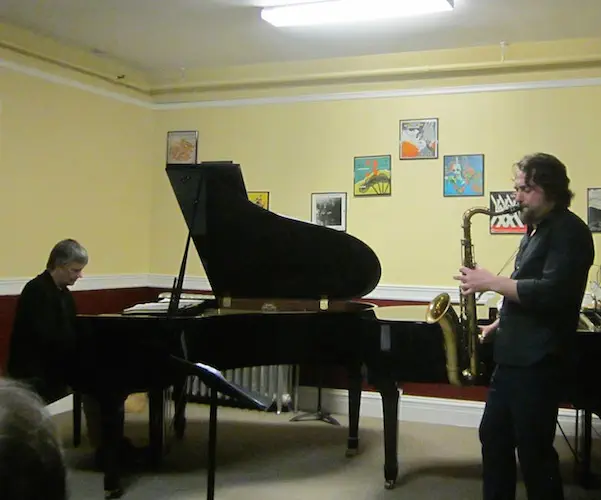 By Steve Feeney
Pianist Frank Carlberg and his former New England Conservatory student, tenor saxophonist Noah Preminger, have reached deep into a bag of sturdy chestnuts for their new CD of duets entitled Whispers and Cries (Red Piano Records). Only a smattering of the disc's ten selections were written as recently as the 1950s. The majority have their origins in the pre-WWII era of popular songwriting.
On the one hand, this lends the session the air of a reverent recital, finely recorded as it is on the stage of an empty Jordan Hall in Boston. On the other, there's a palpable sense of an attempt to reinvigorate the classic repertoire through both "subtle tonal shadings," as Carlberg puts it, and moments of a more assertive expressiveness, primarily courtesy of Preminger.
Carlberg starts things off by bringing Gershwin's "Someone To Watch Over Me" back from the venerable ether with some dissonant keyboard clusters — before Preminger pays a call upon the familiar melody. Oblique harmonizations from the pianist keep the tune fresh as the sax man provides the romantic melancholy. Carlberg's late solo adds drama before Preminger returns to take the theme on a reflective journey.
Cries from Preminger's upper register add emotional weight to an otherwise pensive take on another Gershwin tune, "Embraceable You." The sensitive rendering of this classic comes with a seductive appeal that makes it worthy of repeated listenings.
Billy Strayhorn's "Take The A Train" is given a spacious deconstruction. Preminger provides the emotive elaboration while Carlberg supplies more pointed angles of attack (a pattern that's repeated throughout Whispers and Cries). Given Carlberg's affection for Thelonious Monk, the pianist's version of "Reflections" predictably features a fervent display of accent and embellishment. Preminger's distinguishing touch is to add some rapid runs and overtones.
Though not a Monk composition, "These Foolish Things" is given an arrangement that resonates with the master's stride-to-bop lineage. Preminger takes advantage of the sturdy rhythmic base to get a little loose on top.
There's much more to savor on this perfect-for-late-night (or any quieter time during the day) disc, but I want to write a word or two about the duo's CD release concert in Portland, Maine on March 30.
My first impression, as I joined a few dozen audience members gathered at an intimate performance space in the Woodford's Church complex in Portland, was how Preminger's wide-ranging style contrasted markedly with the cooler precision of Carlberg. These are not mismatched performers, but considerably different sensibilities. The talented duo's ability to impressively converse across such a stylistic divide was fascinating.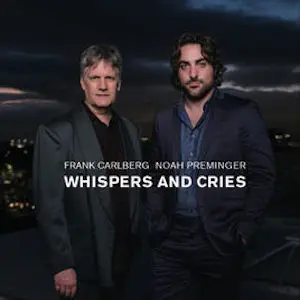 Their take on the Otis Redding-associated "Try A Little Tenderness" (which is also featured on the album) was a crowd favorite. The duo honed in on the tune's soulful core: Preminger celebrated via attention-grabbing shouts while Carlberg brought things home with a more analytical, but still moving, approach.
The 19th century song "Aura Lee" received the full mysterioso treatment, which included some piano wire manipulations by Carlberg, leading to an eruption of a solo by Preminger.
The closer, Warne Marsh's "Background Music," gave us Preminger somewhat irreverently stretching the confines of the composer's cool-bop sensibility, while Carlberg, at home with this steely tune, peeled off an exemplary solo in the mesmerizing manner of the Marsh/Konitz/Tristano branch of post-WWII jazz.
Like the best jazz musicians, the Carlberg/Preminger duo are dedicated to an ongoing search, a project rooted in creative openness. In this case, exploration means renovating (firmly, though sometimes explosively) classic tunes and making them sing for today — though they should think about throwing in an original or two along the way.
---
Steve Feeney is a Maine native and attended schools in Maine, New Hampshire and Massachusetts. He has a Master of Arts Degree in American and New England Studies from the University of Southern Maine. He began reviewing music on a freelance basis for the Portland Press Herald/Maine Sunday Telegram in 1995. He was later asked to also review theater and dance. Recently, he has added BroadwayWorld.com as an outlet and is pleased to now contribute to Arts Fuse.