A slow-motion road to the silver screen: Spinning Man author George Harrar talks about the journey from page to film.
By Glenn Rifkin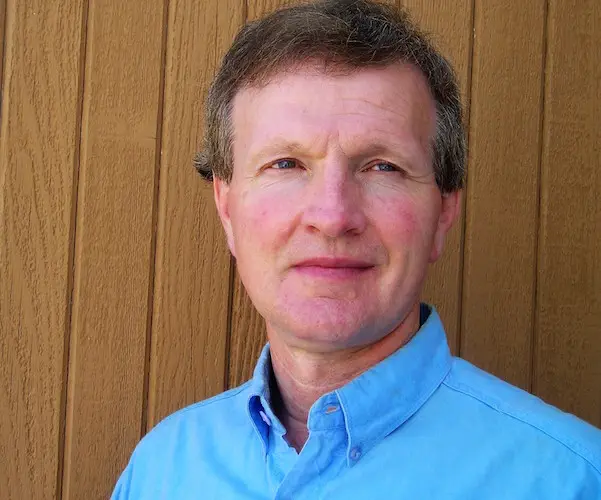 In 2004, when George Harrar, a Wayland-based novelist, published his dark and provocative The Spinning Man, he figured it might have the right stuff to entice a Hollywood film producer. It was a high concept, suspenseful thriller about a missing 16-year old girl and a college philosophy professor who might or might not have had anything to do with the crime. Strong dialogue, cerebral plot, good character development — prime ingredients for a commercial movie. He couldn't imagine, however, that it would take 14 years for that possibility to become a reality.
In fact, the novel was optioned twice by producers who saw big screen potential, but as is the case with the majority of optioned novels, nothing happened. When the second option lapsed, many years passed and Harrar had mostly abandoned his Hollywood fantasies.
But in the summer of 2015, an independent producer named Keith Arnold, emailed Harrar and asked if the novel was available for an option. Arnold purchased the option, made a deal with Film Bridge International, and the long journey from novel to screen finally got underway.
Spinning Man (they dropped the The for the movie version) is directed by Swedish director Simon Kaijser, a film noir buff, and was filmed in 2017 in Hollywood. It will open at the West Newton Cinema on Friday, April 6 and Harrar plans to be in the audience that evening. The film, starring Pierce Brosnan, Minnie Driver, and Guy Pearce, is being distributed in the U.S. by Lionsgate Premiere, the division that releases films to theaters in select cities as well as to On Demand and iTunes. The film has already opened in Spain and will be distributed in Europe and other parts of the world. All of which pleases Harrar immensely and alleviates some of the frustration of the fits and starts authors must endure in this time-honored process.
The author of seven adult and young adult novels, Harrar seems to have found the right touch. His most recent adult novel, Reunion at Red Paint Bay, another suspenseful mystery, is being turned into a made-for-television film in France starring popular French star Cecile Bois. "It's a little overwhelming to have them done at the same time," Harrar said. "It would be nicer to have them spread out, but I'm definitely not complaining."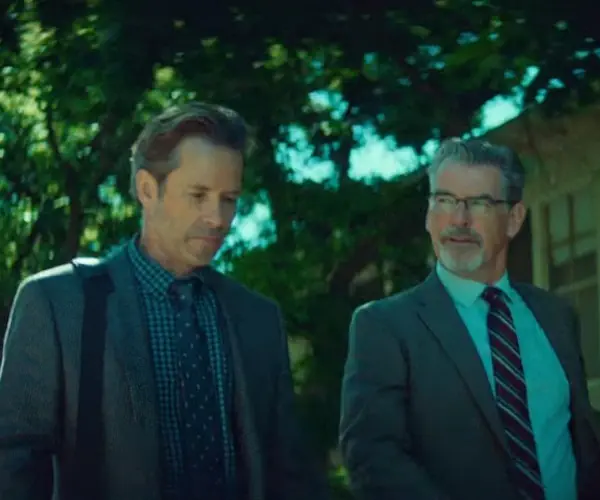 For Harrar, Spinning Man offered an opportunity to explore the psyche of an unusual and flawed character. Evan Birch, a 40-something philosophy professor, is not your usual suspect. In what he calls "psychological suspense," Harrar spins the tale inside the main character's head so the reader sees how he is navigating this sudden tear in the fabric of his life. Harrar purposely made his protagonist a philosophy professor because Birch is someone who is very conscious of logic, the meaning of words, and the subtext of those words. "He can get lost in that world and not realize how the reality seems to everyone around him, including his wife, kids and a detective," Harrar explained. He claims that he can "envision" a film while writing, but he is not writing with that in mind. In fact, he hopes the film will trigger interest in the novel, which is being reissued due to the film.
Harrar and his wife Linda, a documentary filmmaker, visited the Los Angeles set for two days, meeting the director and several of the stars. Harrar noted how several people thanked him for writing the book because it gave them work in a tough business. "That was rewarding," he said. What was also rewarding, and a relief, was that he was extremely pleased with the film version of his book, something rare for novelists whose work get translated to the silver screen.
"I'm happy with the outcome," he said. "It keeps the tone and suspense of the book, and up and down, the cast does a great job. They really sell the story." And he is quick to point out that he had no input into the film. "I've heard from other writers that the author becomes a distant memory when it comes to making the movie," Harrar said. "There were 66 people on the set and it was obvious to them that this was their film. I think that's good. That's how it becomes a good film, if it is their own."
---
Glenn Rifkin is a veteran journalist and author who has covered business for many publications including The New York Times for nearly 30 years. He has written about music, film, theater, food and books for ArtsFuse. His new book, Future Forward: Leadership Lessons from Patrick McGovern, the Visionary Who Circled the Globe and Built a Technology Media Empire, will be published by McGraw-Hill in September.