Their combined sound, made by two nested pianos, their lids off, aided and abetted by Jordan Hall's superb acoustics, was irresistible.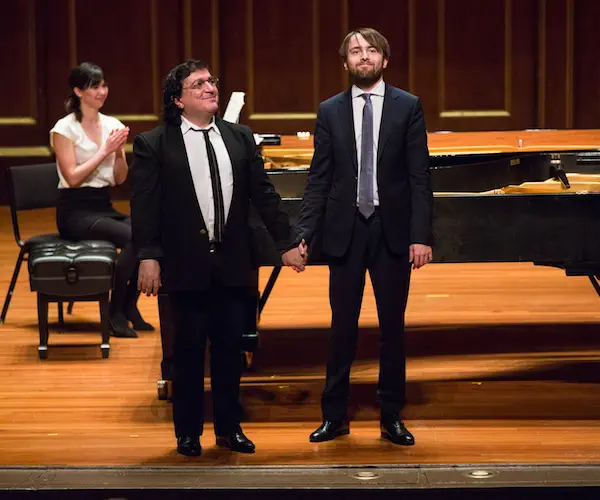 By Susan Miron
When two-piano concerts feature the right musicians playing together, there's magic. And there was plenty of it on Saturday night when the young superstar Daniil Trifonov and Armenian—American virtuoso Sergei Babayan thrilled a sold-out Jordan Hall, courtesy of the Celebrity Series, with elegant musicianship and astonishing technical prowess. The two pianists have a curious and moving history. Trifonov moved from Russia to study with Babayan at the Cleveland Institute of Music: almost immediately he started blowing away the juries in three career-making competitions — the Chopin Competition (3rd prize), first prize at the 13th Arthur Rubinstein International Piano Master Competition in Tel Aviv in 2011, and first prize, the Gold Medal, and Grand Prix at the XIV International Tchaikovsky Competition. His five CDs have been acclaimed by critics (his album of Liszt garnered a 2018 Grammy Award). Trifonov, also a composer, has established himself, by the age of 28, as perhaps his generation's most lavishly gifted pianist.
While Trifonov was probably the big draw for this eagerly anticipated concert (this is his third appearance on the Celebrity Series of Boston), from where I was seated I could only see Babayan's hands. It was his playing most of the evening that held me spellbound. Still, it was their extraordinary partnership that often made it sound as if there was only one pianist on stage. Trifonov explains their connection this way, "Because I've studied with him, there is already a certain understanding, a certain similar musical 'frequency' on which both musicians collaborate, and that of course is very helpful." Babayan sees it this way: "Proud' is not the right word for how I feel about Daniil — I am simply privileged, grateful to have this diamond, this beautiful creature who can feel music this way, in my life." Such deep mutual admiration is essential for first-rate musical collaboration, and it made a huge difference in this four-hand piano recital which called for delicacy and elegance in the first half and formidable technical prowess and pyrotechnics during the second half. Their combined sound, made by two nested pianos, their lids off, aided and abetted by Jordan Hall's superb acoustics, was irresistible.
The duo began with a wonderful concert opener, Robert Schumann's hauntingly elegaic Andante and Variations, Opus 46 (1843), a piece I first loved in his original version for two pianos, two cellos, and horn. Schumann reworked the score for two pianos at the suggestion of Felix Mendelssohn. Fifty years later, Brahms released the original version, in the course of editing Schumann's complete works. This performance made a strong case for the two-piano version.
I was transfixed by the simple, quiet six-minute "Pari interval" (1976) by Estonian composer Arvo Pärt (b. 1935). Pärt often leaves his instrumentation flexible; the solo organ version of this piece was very popular, but it exists in a 4 saxophone version as well, and doubtless many others. The duo's performance of this bare-bones piece was deeply moving,  almost prayerful. W. A. Mozart's charming and familiar Sonata in D Major for two pianos, K. 448 (1791) was suffused with airiness, sweetness, and beauty, as the two echoed each other's thoughts with consummate beauty.
The concert's first half might be summed up as lyrical, cantabile, beguiling.
The second half was a much different matter, consisting of two suites by Sergei Rachmaninoff (1873-1943), himself a brilliant pianist. The four-movement Suite No. 1 (Fantaisie-tableaux) for Two Pianos, Opus 5, was written by the composer when he as 20. The piece gives hints of what would characterize his later works —  extraordinary pianistic virtuosity, lyricism tinged with melancholy, and the sounds of Russian church bells. Dedicated to Tchaikovsky, the composition has four movements, each presaged by a passage of verse by a different poet. This suite is performed far more rarely than the second; I was most grateful to hear this compelling performance.
Suite No. 2 for Two Pianos, Op. 17 (1900-01) is one of three important works (which include the Second Piano Concerto as well as Preludes for Piano, Op. 23) that Rachmaninoff wrote after a three-year hiatus from composing. (The dismal reception to his First Symphony put him into a deep and debilitating depression — he recovered from it with the aid of hypnotherapy.) Two weeks after he played the wildly successful premiere of this new concerto in Moscow, Rachmaninoff returned to the stage with his cousin — also his former teacher — Alexander Ziloti to debut this Suite.
Both Suites were unknown to me. I was held spellbound during much of the second. This is wonderfully dreamy and hypnotic music, full of heart-melting, ethereal melodies, capped by a exhilarating, Russian-flavored tarantella.
The duo generously responded to the expected standing ovation with Victor Babin's arrangement of Rimsky-Korsakov's Dance of the Tumblers. Babin's career (he died in 1972) included performing for decades in a piano duo with his wife, Vitya Vronsky, and serving as president of the Cleveland Institute of Music, where Babayan is artist-in-residence and where Trifonov studied. Suffice it to say that the duo's extraordinary virtuosity and chemistry were apparent, as it was at every moment of this concert.
---
Susan Miron, a harpist, has been a book reviewer for over 20 years for a large variety of literary publications and newspapers. Her fields of expertise were East and Central European, Irish, and Israeli literature. Susan covers classical music for The Arts Fuse and The Boston Musical Intelligencer.