Lost Laughs is an absorbing examination of the dark side of American celebrity.
Lost Laughs: The Slapstick Tragedy of Fatty Arbuckle by Andy Bayiates and Aaron Muñoz. Directed by Nathan Keepers. Staged by the Merrimack Repertory Theatre at the Merrimack Repertory Theatre at 50 East Merrimack Street, Lowell, MA, through March 11.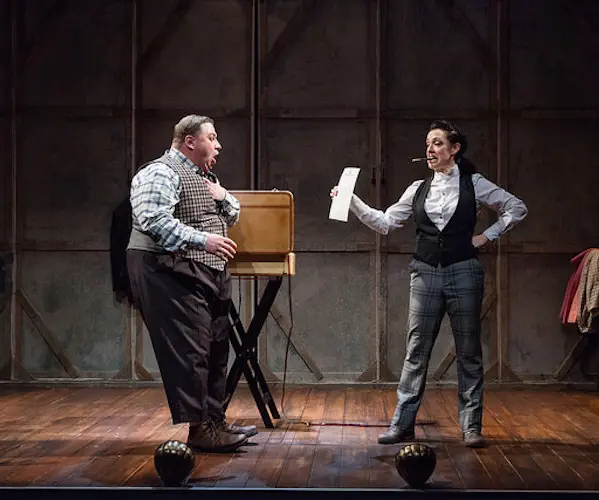 By Erik Nikander
The idea of a "slapstick tragedy" sounds, on its face, oxymoronic. How could the broad, farcical antics of Charlie Chaplin and Buster Keaton be fused with a heartbreaking story of death and suffering? These two emotional extremes, unfettered humor and gut-wrenching anguish, would seem to be a mismatch. However, against staggering odds, Merrimack Repertory Theatre has (for the most part) pulled off the tonal tightrope walk necessary to make Lost Laughs: The Slapstick Tragedy of Fatty Arbuckle a dramatic success. The show's thoughtful script, committed cast, and top-notch technical presentation cohere into an absorbing examination of the dark side of American celebrity.
At the height of his fame, Roscoe "Fatty" Arbuckle (Aaron Muñoz) was the veritable king of Hollywood. He transitioned from a successful vaudeville career to movie stardom, signing million-dollar contracts with studios back when doing so was unheard of. Eventually, the death of actress Virginia Rappe, which the public suspected Arbuckle of causing, ruined his reputation and trashed his filmmaking career. In Lost Laughs, Arbuckle looks back on the events of his life, processing his various ups and downs with the help of Will (Kristen Mengelkoch), a versatile, chameleonic figure who morphs into various people from the star's past.
Aaron Muñoz, who co-wrote Lost Laughs with Andy Bayiates, takes on the lead role in the production, and he demonstrates both a thorough understanding of Arbuckle's trials and tribulations and a deep connection with the performer's joyful and tormented soul. His commitment to the role is evident throughout, from the charming physicality of the vaudeville routines to the dread radiating through Arbuckle's being in the days after Rappe's controversial death. The script emphasizes that Arbuckle's greatest desire was to use his talents to make people laugh; the performer's good nature shines through in Muñoz's performance, a generosity that grows more devastating as the character's circumstances become increasingly dire. As a playwright and a performer, Muñoz forces Fatty to confront his demons in a way that's dramatically satisfying.
The brilliant and versatile Kristen Mengelkoch makes up the other half of the show's cast, flitting from character to character as the mercurial Will. She plays several of Arbuckle's wives, channels the gaunt face and wide eyes of Fatty's best friend Buster Keaton, and, in the show's most gripping monologue, gives Virginia Rappe the chance to tell her side of the story. Mengelkoch's stagecraft is pure pleasure; her character changes are swift and seamless, and each persona she inhabits is superbly distinct. While conveying the breadth and texture of silent-era Hollywood might sound like a tall order for a two-hander, Lost Laughs comes close to pulling it off, largely because Mengelkoch's presence is so multifaceted and captivating.
One of the play's best qualities, as exemplified by Will's character, is its willingness to experiment. After all, the life of its subject encompassed riotous laughter as well as lifelong pain; shouldn't a truthful, complete portrait include both aspects? Not all of these playful attempts work: the exaggerated sword fight between Arbuckle and a Snidely Whiplash-esque personification of his demons is one of the iffier bits. Still, by exploring the sharp contrast between tragedy and comedy while being unafraid of tonal inconsistency, Muñoz and Bayiates highlight the dangerously contradictory nature of Arbuckle's life.
The tendency of Lost Laughs to explore the contrasting elements of Arbuckle's life is heightened by the excellent technical design, especially by way of the scenic and lighting work. Meredith Ries's set conceals Arbuckle's bloody secret — the crimson hotel room in which Rappe's bladder fatally ruptured — behind a Hollywood facade. The room remains present in the background during Fatty's arrest and trial, a gruesome spectre that persists as a stain on his life from that moment on. The lighting design by D.M. Wood is dramatically pointed, rendering Arbuckle's early career with an attractive Hollywood sheen, but pulling out the harsh spotlights and disorienting side-lighting after his life goes awry.
Nathan Keepers, the show's director, is remarkably adept at handling both the emotional weight of the drama and the script's physical demands. At points, Muñoz breaks into a vaudeville routine of the sort Arbuckle would have excelled at; crucial scenes in the star's life are sometimes expressed in the amusing style of a silent movie. But Lost Laughs is just as compelling when life slows down. Mengelkoch's monologue as Rappe and Arbuckle's tense stand-off with his arresting officer are two of the play's subtler moments — and its most gripping. Lost Laughs demands comedic and dramatic expertise in equal measure; Keepers proves himself capable of conveying both extremes.
Lost Laughs: The Slapstick Tragedy of Fatty Arbuckle would seem at first glance to be a risky creative proposition, but this artistic team proves that breaking the rules, with an aesthetic purpose in mind, can create satisfying theater. Lost Laughs isn't your usual biographical play — and it's all the better for it. Buoyed by thoughtful direction, a nimble creative team, and a pair of exceptional performances, Lost Laughs offers an insightful study of the joys of show business, and the pain they can leave in their wake.
---
Erik Nikander is a critic, playwright, and filmmaker based in the New England area. His film criticism can be read on Medium and his video reviews on a variety of topics can be viewed on Youtube at EWN Reviews.