The San Francisco Symphony delivers performances of chamber-like sensitivity and remarkable transparency; a brilliant, inviting, snappy album of Gershwin that doesn't once disappoint.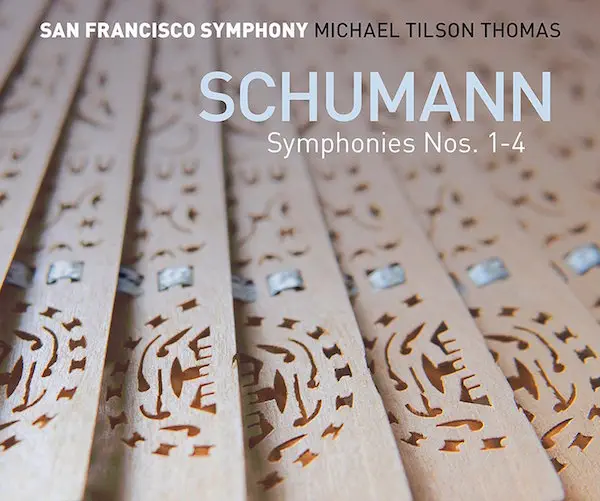 By Jonathan Blumhofer
What can one say of the San Francisco Symphony's (SFS) new recording of the four Schumann symphonies with Michael Tilson Thomas?
Well, first, when it comes to balances and textures, everything's comprehensively thought through. Tilson Thomas's lengthy essay in the liner notes reveal a connection with the symphonies that dates back nearly fifty years and suggests an understanding of the music that is steeped in the conductor's own experience of the world as much as it is Schumann's time and work.
In practical terms, that often means performances of chamber-like sensitivity and remarkable transparency. Indeed, the latter quality might be the most striking feature of this cycle: even in the thickest moments of the busiest textures (like the first movement of the Rhenish Symphony), you can hear nearly every moving part – a feat even Mahler and Szell, in their re-orchestrations, couldn't pull off quite so perfectly.
One of the ways Tilson Thomas achieves this balance is through a careful reduction of players in certain sections of each symphony. The approach doesn't really take away from the music's sonic profile, which is full and robust as ever. At its best, adds a certain glow to the proceedings: the woodwind writing in the First Symphony's second movement shimmers, while the Second's slow movement is particularly warm and radiant.
Some of the big moments are strong, too: the outer movements of the First offer plenty of swagger (especially in the solo flute and horn playing), the Second's finale is potent, the scherzo of the Fourth Symphony zips.
But the sheer exuberance and urgency that runs through the whole of the best Schumann cycles already on the marked – I'd put both of Bernstein's, Barenboim's, and, yes, Szell's in that category – is hardly to be found in these performances. In spite of technically excellent playing, there's an antiseptic quality to these readings that doesn't do the music, the SFS, or Tilson Thomas justice.
Sometimes things are simply sluggish: the outer movements of the Third Symphony drag, as does the virtuosic scherzo of the Second. But even when the music's flowing, something's often missing.
Take the Fourth Symphony's third movement. In Bernstein's and Barenboim's respective recordings, you're in the middle of a storm, each downbeat and syncopation deliberately – even exaggeratedly – accented. All of these gestures come over gently on the current album.
Similarly, the Fourth's finale lacks a certain degree of mystery (in the introduction) and brash energy (in the closing four-fifths) that makes the aforementioned reference recordings (not to mention those by Furtwängler, Walter, Klemperer, Karajan, and others) irresistible. Similar issues dog spots in the other three symphonies: not one is flawless.
Maybe that's alright – hardly anyone's suggested that these pieces are perfect to begin. But as far as recorded cycles go, this one is a bit of a disappointment. It's thoughtful and well-intentioned, no doubt, and played very well. But it's not on the same artistic plane as the best work of this conductor and orchestra.
---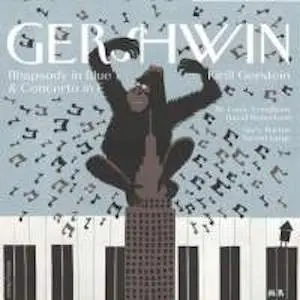 It's surprising to consider, but, as Joe Horowitz's liner note reminds, George Gershwin's wide acceptance as more than a "pops" composer by American musicians and ensembles is only a recent phenomenon (the Boston Symphony, for instance, only included the Rhapsody in Blue on a subscription concert in 1997 – and it hasn't returned on one since). So, as curious as the title of Kirill Gerstein's new Gershwin disc, The Gershwin Moment, first appears, it's actually, in some ways, a rather apt one.
It surely doesn't hurt that Gerstein is such a charismatic performer or that his readings of the Rhapsody and Concerto in F are so electrifying. Momentous might actually be the best word for describing them, since the performances are, indeed, fully lived in the moments of their recording.
Gerstein's take on Gershwin is, generally speaking, free and flexible. He has a strong sense of the melodic line and allows it to guide his overall interpretation. It's a tack perfectly suited to Gershwin, one of the 20th century's lyrical geniuses, and results in a spirited, free-flowing account of the Rhapsody (in its original, jazz-band orchestration).
The Concerto is handled with similar brio and elasticity: it even includes a cadenza (not in the score) to the middle of the second movement. But Gerstein's so at home in the style that his occasional embellishments of the music – a feature of his playing discussed in some detail in the liner notes – never feel intrusive or inappropriate.
It doesn't hurt that David Robertson and the St. Louis Symphony provide Gerstein with lively, inspired accompaniments (collaborations might actually be a better word for it). They draw out the bright, clean textures of the Concerto – has Gershwin's writing here ever sounded like such close kin to Stravinsky or Ravel? – and make brash work of the Rhapsody.
The Myrios Classic album is taken from a series of live concerts Gerstein gave in St. Louis, Kalamazoo, and Boston between 2012 and '17. The disc is filled out by three of Earl Wild's Virtuoso Etudes after Gershwin ("Somebody Loves Me," "I Got Rhythm," and "Embraceable You"), Gerstein accompanying Storm Large in "Summertime," and a duet with vibraphonist Gary Burton in Oscar Levant's "Blame It on My Youth."
The Etudes are dispatched with effortless warmth; Large sings a fervent "Summertime"; and the Levant is pure and cool as a mountain stream. In all, then, a brilliant, inviting, snappy album that doesn't once disappoint.
---
Jonathan Blumhofer is a composer and violist who has been active in the greater Boston area since 2004. His music has received numerous awards and been performed by various ensembles, including the American Composers Orchestra, Kiev Philharmonic, Camerata Chicago, Xanthos Ensemble, and Juventas New Music Group. Since receiving his doctorate from Boston University in 2010, Jon has taught at Clark University, Worcester Polytechnic Institute, and online for the University of Phoenix, in addition to writing music criticism for the Worcester Telegram & Gazette.