Phantom Thread is an absorbing story about a genius who makes gorgeous dresses for wealthy women.
Phantom Thread, written and directed by Paul Thomas Anderson. Screening at the Somerville Theatre, Kendall Square Cinema, and the Coolidge Corner Theatre.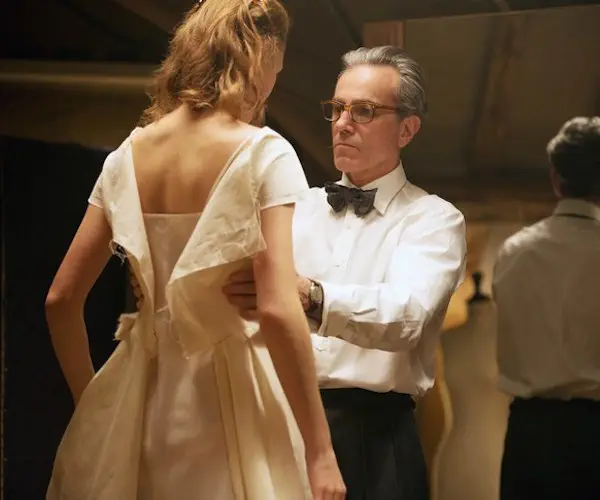 By Peg Aloi
As often happens with hotly-anticipated works of cinema, the meta-intrigue surrounding Phantom Thread has become a sort of grimoire for cinephiles anxious to enhance their appreciation. Perhaps the most significant piece of scuttlebutt: Phantom Thread will be Daniel Day-Lewis' last film — the actor has announced his retirement. Day-Lewis has collaborated with writer-director Paul Thomas Anderson once before, on There Will Be Blood. In casting Day-Lewis as Reynolds Woodcock, a workaholic dress designer in 1950s London, Anderson has ensured the actor's cinematic farewell (if a fact) shall be one remembered and revered for decades to come.
In an article for VICE, Emerson Rosenthal reveals some fascinating tidbits about the actor: Day-Lewis hand-picked veteran English actress Lesley Manville to play his character's sister, Cyril. Day-Lewis, who took a lengthy break from acting in the 1990s to become a cobbler (yes, a cobbler) is known for his intensive, research-driven approach to acting. For the role of dress designer Reynolds Woodcock (he also named the character himself) he prepared by apprenticing with a designer for the New York City Ballet, learning how to cut and sew a Balenciaga dress.
Phantom Thread is an absorbing story about a genius who makes gorgeous dresses for wealthy women. Woodcock is portrayed as a fastidious perfectionist: close-up shots of his morning ablutions show a man for whom untidiness is anathema: his cheeks are so clean-shaven they glisten, his wavy iron-grey hair is lightly oiled and combed to a smooth helmet. His own sartorial choices, Harris tweed jackets and Savile Row shirts, bought, not made, radiate the same elegance of his designs: subtle colors, impeccable tailoring.
Woodcock is also a punctilious connoisseur of fine food, drink, and beautiful women. One key opening scene shows him having breakfast with his sister Cyril and a young woman named Johanna (Camilla Rutherford). We know she is a lover to whom Reynolds has recently turned cold; he refuses her offer of a plate of frosted pastries by saying "I told you, no more stodgy things at breakfast." Indeed, breakfast is the barometer for Reynolds' carefully mapped out day, as he responds to Johanna's entreaty to pay attention to her by saying "I cannot begin the day with a confrontation." Cyril echoes this sentiment, sardonically suggesting that "if breakfast isn't right, it's very hard for him to recover for the rest of the day." Cyril privately opines that it's time for Johanna to leave: "She's getting fat sitting around waiting for you to fall in love with her again." Reynolds is reticent, allowing Cyril to manage this matter by packing Johanna off with one of the dresses she no doubt inspired Reynolds to make. Cyril suggests that Reynolds "go to the country" to take his mind off things, and he drives through a tree-dotted landscape to a rustic but well-appointed house somewhere by the coast.
By the next morning, Reynolds discovers a new muse at his favorite breakfast place. Alma (Vicky Krieps, in a rivetingly nuanced performance) is a waitress from Luxembourg.  After Reynolds smilingly catches her eye, she stumbles back into the kitchen and, blushing, returns to take his order. The camera lingers on Alma's rosy, luminescent skin. Anderson acted as his own cinematographer on this film, and it is as if we see this world through the eyes of people for whom every sensual object (fabric, food, trees, cutlery, rain-slicked streets) is a source of pleasure so refined it almost feels like pain. Reynolds orders a morning feast fit for a king: eggs, scones, butter, cream, jam, bacon, a pot of Lapsang Souchong tea and, as an afterthought, sausages. Alma scribbles it all down with her pencil and, in order to challenge her to remember it all, says he wants to keep the paper she wrote on. Alma readily accepts his invitation to dinner. He sits smiling across from her and gently reaches over to blot off her lipstick, "I like to see who I'm talking to." It is not a prelude to a kiss, but the maneuvering of a man used to controlling every aspect of his personal life. Alma responds good-naturedly, almost obediently.
Reynolds' first priority in this whirlwind courtship is to design a dress for Alma. Cyril walks in, as if by some psychic bidding, and immediately comments on Alma's scent, which she approves of, sniffing her arm as she intones knowingly "sandalwood and rosewater." Reynolds asks Alma to undress so he can take her measurements. Cyril sits by, assiduously writing them down. The two women wordlessly size one another up, with Alma no doubt realizing she is to become the next in what may be a long line. Reynolds chooses a dusky mauve silk for the dress, perfect with Alma's complexion, and she shows it off in a fine restaurant. The relationship's progress is not measured in the usual cinematic ways: a first kiss, a scene of lovemaking, affectionate conversations. The two apparently keep separate bedrooms. Alma becomes a fixture, first a muse, and then a model in Woodcock's couture exhibitions. Later she is relegated from model to assistant, wearing a white coat and sensible shoes, like the other seamstresses. The costumes (by Mark Bridges, nominated for an Ocsar) on display during these sequences are nothing short of stunning. I don't recall such a thrilling cinematic portrayal of couture since 2009's Coco Before Chanel.
Alma's presence begins to wear on Reynolds. His bachelorhood, symbiotic relationship with his sister, and carefully-orchestrated days leave little room for a strong-willed lover who does not cower when he criticizes her. These days we're aware of people whose over-sensitivity to sounds makes them difficult to live with: Reynolds is one of those people. He berates Alma for "too much movement" when she eats breakfast. She quietly but matter-of-factly responds: "I'm buttering my toast." Reynolds' expressions of annoyance at Alma's innocuous behaviors are both hilarious and shocking. She finds it difficult to reconcile his previous praise and attentiveness with his irritation at her mere existence, but eventually she learns to consume her breakfast in graceful, perfect silence. Alma also learns how to navigate Reynolds' stressful professional moments, as when he is hired to make a gown for a wealthy American socialite, whose tendency to get sloppy drunk makes him incandescently angry. When Alma handles the situation with firmness and efficiency, Reynolds is once again captivated by her.
Why are geniuses so hard to be intimate with? Reynolds Woodcock is a man obsessed with life's gleaming surfaces, but also with its murky depths, in particular mortality. After a bout of sickness (well, there's more to it, but I won't spoil it for you), a vision of his dead mother in the wedding gown he made for her fills Reynolds with regret and a sense of urgency. Despite their rocky romance, the confirmed bachelor asks Alma to marry him. They settle into a slower, more domestic routine, which ultimately drives them both over the edge. Is Anderson's point that the delicacy of artistic genius resists the mundanity of marriage? Is Alma's ability to challenge Reynolds in ways previous lovers could not rooted in paradox? Your perfect soulmate is most certainly out there, but he/she will definitely drive you crazy.
This film's tensive beauty and white-hot performances, not to mention its brilliant score and letter-perfect direction, may well distract the average filmgoer from the profound messages lurking in the screenplay. This is most certainly a film to enjoy on the big screen (lucky Bostonians have the exciting option of 35mm and 70mm film screenings, at the Somerville Theatre and Coolidge Corner, respectively). I suspect anyone who has ever experienced a difficult relationship with a demanding partner will feel kinship with Alma. I also wonder how many viewers will feel kinship with Woodcock, who seems devoid of empathy and self-awareness. And yet: people can, apparently, change. The film posits the possibility of a future in which the couple's daily life will become calmer, more enjoyable, a time and place where happiness is not an impeccable pinnacle, but a pleasant plateau.
---
Peg Aloi is a former film critic for The Boston Phoenix. She taught film and TV studies for ten years at Emerson College, and currently teaches at SUNY New Paltz. Her reviews also appear regularly online for The Orlando Weekly, Cinemazine, and Diabolique. Her long-running media blog "The Witching Hour" can be found at themediawitch.com.