"I'm trying to be at peace with not being a happy person. It's ok to not be happy but to do something for the betterment of humanity."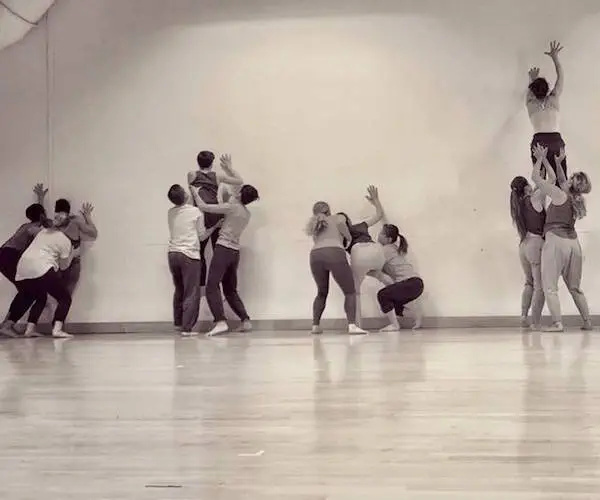 By Janine Parker
These days, Turkish-born choreographer Korhan Basaran's work hovers in a blurry flux between art and life. While developing "Project RAu," a dance theater piece that is a response to the international refugee crisis, Basaran found himself — thanks to the recent Trump travel ban debacles — in something of his own refugee crisis. The project is a collaborative endeavor in which Basaran works with dancers from Istanbul, New York, and Boston. He was due to travel back to the US from Turkey to continue his work with Prometheus Dance ("RAu"s Boston-area collaborator) when his plans were abruptly halted — his visa processing had been temporarily stopped. What Basaran calls a "very dark…rough moment" passed, but it underscored for him the pervasive "violence in the world" as well as his commitment to creating work that explores "…whatever that reality at the moment is" through "human emotions and human ideas…expressed through movement."
I spoke with Basaran about "Project RAu" over the phone one afternoon in mid-January; he had just finished up some last-minute rehearsals with members of Prometheus Dance and students from The Boston Conservatory at Berklee in preparation for an informal in-process showing. Prometheus Dance founder and co-director Diane Arvanites told me that the plan is to have the final product performed next year. "Rau," by the way, is a word, a concept, that Basaran invented, a play on the word "raw." Below are edited and condensed excerpts from our conversation.
---
The Arts Fuse: Would you talk a bit about your background, dance training, including your years in New York City?
Korhan Basaran: I started as an actor in Turkey. I figured I should take some dancing lessons to help with my acting, but then I found another spirit, another soul, with dance. Eventually I directed my whole attention, and energy, to dance. Eventually, a company brought me to New York, which helped me to find my own voice; it also give me some opportunities to work with some masters like Merce [Cunningham]…a big influence. I was interested in creating, so I was making work. It's why I came to New York. At first, I stared working with dancers from many different backgrounds and for some different projects, musicals as well as contemporary dance or modern dance choreographies. During my time in New York I worked with over 200 dancers. I have a few [dancers] that have remained with me, that really want to seek this aesthetic sense, so we keep the connection. I'm taking some steps in Turkey to receive some serious support so that I can have an international company, which would be based in Istanbul.
AF: You would like your company to be permanently based in Istanbul?
Basaran: That can be our home for a while, and then we can tour. And Istanbul is an inspiring city!
AF: I read in your "manifesto" on your website that you believe a contemporary artist also has a responsibility to know what and who came before. Would you describe your own choreographic/movement style, as well as who your influences are?
Basaran: [Laughs] It's like, I cannot discover electricity one more time: it's already been discovered. Once there's a good idea, I have to grab it, I have to hold on to it and if I can manage to, I should be able to take it further. There have already been so many accomplishments in the world, in the arts, so why try to start from zero when there is already enough information?
AF: How would you describe your movement style?
Basaran: My movement is very….I like to say instinctual. I like to keep the instinct alive as much as I can [with] full awareness. You know, even at the moment if you choose to do something completely different from whatever the thing that you did before, you're alive to it. And then you can go back and revisit the idea and why you did it. Why you did it basically explains itself…it's the instinct.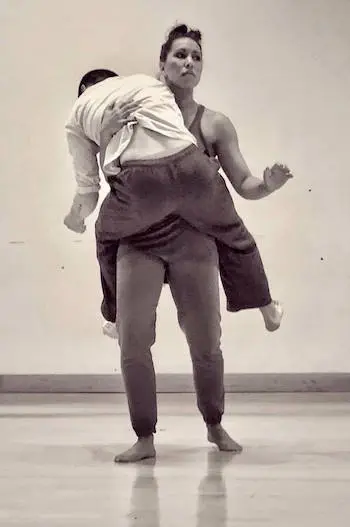 AF: You mentioned that you got to study a bit with Merce Cunningham. Is he someone that's one of your dance "heroes," people who, whether or not your work looks like theirs, really influenced you?
Basaran: I mean there are so many people, including Merce; I got to be on [the Cunningham school's] scholarship program for an entire year and I got to meet and take some classes from Merce. But he was in his last years, you know, and I also got to work with [longtime Cunningham company member and teacher] Robert Swinston. I had all these amazing opportunities to understand that movement style very deeply and very correctly. So I learned so much technically from Merce and from his style. There are so many people that I took stuff from, ideas, inspiration. But all in all, when I think back on the beginning, when I look back — I'm 40 — I've always been seeking my own voice.
AF: What do you look for in other dancers/collaborators?
Basaran: Definitely honesty and a good heart; willingness to change the world for the better [laughs]…technical abilities, yes, being able to [perform the technical movements] so that they look natural, organic. Whenever we share our work with someone, I always want it to be as if … we're taking you on a journey with us rather than keeping a big distance from the audience, not the usual "OK, now we're going to perform a dance for you." I'd rather hold onto the audience members and take them wherever we're going. If we cry, we cry all together, if we laugh, we laugh all together.
AF: How did the connection with Prometheus come about?
Basaran: Through a mutual friend in the Boston arts scene … I visited the company just for a day or two, taught a class and then we talked about how we can make this a thing, and turn it into a project, to grow it together. We kept on talking, I kept on visiting; actually this is the longest time, six days, that I've spent with them.
AF: Would you describe RAu?
Basaran: RAu is where we are at our present moment. I'll just go back to the idea of honesty, when we are all very true, very real, and right out there.We act like crystals: we take the darkness and, as crystals, we let the darkness pass through us, and we bring out light. I suffer a lot just by watching [the traumatic, violent events that occur worldwide], just by seeing and being aware of them. I think that's why I feel the need to make something better and to help people remember what is important. Life is the only thing that is important.
AF: How will the project be presented?
Basaran: My idea is to bring my dancers from Istanbul and New York and [extend the group] with Prometheus. The piece is still in process, and we will eventually find our own destination and I would it to be like seventy bodies on the stage, a huge group in a huge space, like an armory space, where we can take a really big crowd with us on this journey.
AF: Are the next steps contingent upon what kind of funding you can receive? Is part of your uncertainty regarding where this is headed based on whether or not you can get further support?
Basaran: We're doing a lot of work on that, and today we're going to be hosting the Turkish consulate people in Boston. They'll be coming [to the Conservatory showing], so it's a way for us to introduce the work, introduce the project and ourselves. I'm already in touch with the Ministry of Culture…so we'll see how it's going to progress. But I think with Prometheus, and at least with some of my dancers, we're going to be able to manage this; even if it's not going to be seventy bodies on stage at first — maybe twenty-five.
AF: Could you tell me a little a bit about the musical aspect of it, and the composer, Kinan Azhmeh? Will he be accompanying you to all the residencies? Will there be a live band for the performances, or will the music be recorded?
Basaran: Those are all our goals. I want him to be with us in the next residencies. He wasn't able to be with us for this one because, honestly, I didn't know whether I was coming or not because the visa processing stopped in Turkey at some point — that was very rough, a dark moment — so we weren't able to schedule him. [Kinan and I] are performing together in another project in April and we'll be able to talk through all the details of the upcoming residencies. He was there last year when we did a version of this process in Istanbul and, of course, having a live musician in the house raises the energy level higher and higher.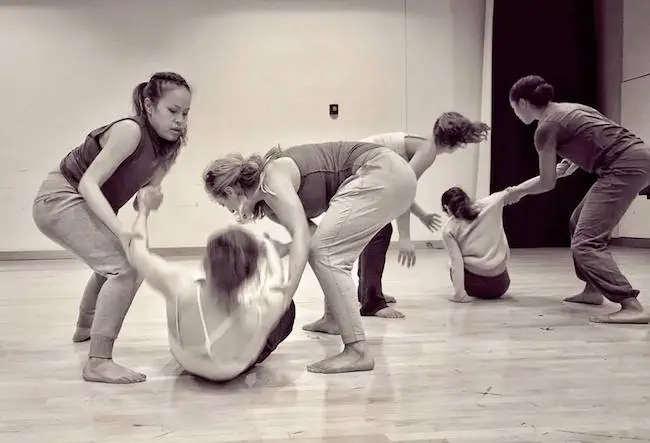 AF: Please talk now about the inspiration of the piece. Do I understand that the main focus is on Syrian refugees?
Basaran: No, this is the thing — I didn't know if I was coming or not two weeks ago. I became a refugee myself. Life, the whole system, has this way of playing with people. Dance is never so literal for me; I can't just go on the stage and make sure that the audience understands that this is about the Syrian refugee. Therefore, I try to bring out something reaches back to that [idea of] the instinctual…that touches on the  reality of the moment. I try to express human feelings, human emotions, and human ideas through movement.
AF: You write in your manifesto: "…if there is one goal to reach, I think there are infinite ways of approaching to the goal" and also "the more inspiring you become as an artist, the more you will effect the peace and beauty humanity will be able to embrace." Is that your one goal?
Basaran: This is my aim for life. Life is bigger than just one piece of work. If you choose to be good, you choose to do good things, at least in your own perception of the good. you just have to push and make it better each time and try to learn from your own failure and just keep doing it.
AF: Conversely, are you able to create dances that are just "art for art's sake?"
Basaran: I haven't been able to. It goes back to my country's heritage, to the past that you bear, to the geography you come from, the history you bear. I mean you can't unsee something; you can't pretend like [the crises] don't exist. I'm trying to be at peace with not being a happy person, that's ok. It's ok to not be happy, but to do something for the betterment of humanity, at least in a way that I believe it can be done. Maybe it doesn't really change anybody, maybe it doesn't shift some people in their guts, in their ideas, in their perceptions of things — but you know, what can you do but try?
---
Janine Parker can be reached at parkerzab@hotmail.com.