Ultimately, this production of Lost Girls might have gone deeper if it had been slowed down a bit.
Lost Girls written by John Pollono. Directed and scenic design by Melanie Garber-Letitia. Lighting design by Michael Clark Wonson, sound design by Audrey Seraphin, costumes coordinated by Mikey DiLoreto. Staged by Take Your Pick Productions at Deane Hall, Calderwood Pavilion, Boston, MA, through January 21.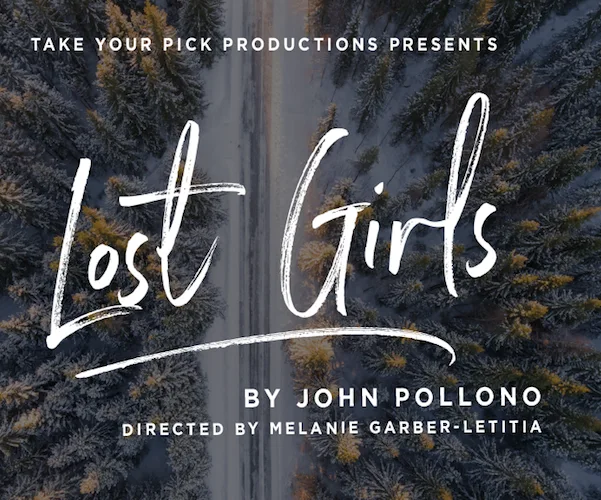 By David Greenham
If you've spent any time talking to Americans who have been left well behind in the 1%'s hellbent quest for riches, you will recognize them in Lost Girls: the class that lives paycheck to paycheck, don't have a 401k or even a savings account, and don't really care how many times Donald Trump plays golf.
Pollono, an actor and playwright who grew up in the Granite State, sets his play in an apartment somewhere in Manchester, New Hampshire. At the heart of action: Maggie (Audrey Lynn Sylvia), a bitter and foul-mouthed single mom who is trying as hard as she can to keep her head above water. She lives with her mother Linda (Christine Power), who has obviously given up trying. At the height of an old fashioned nor'easter, Maggie's teenage daughter Erica has stolen the car and can't be located.
To make matters worse, Maggie's ex-husband Lou (Terrence P. Haddad) is a state policeman, and he's heard about the missing vehicle. He comes to the apartment to get to the bottom of things. Naturally, he's brought his new wife, Penny (Lauren Foster), a quiet, born-again Christian who is the polar opposite of Maggie.
The action includes lots of discussions on cell phones between Lou and his colleagues in the State Police as they hear additional details about the weather and updates on the search for Erica and the missing auto.
A few times the action shifts to a hotel room in Connecticut where a Girl (Leslie Anne Moreau) and a Boy (Zach Winston) have landed for the night; it is their first stop on the way to Florida. They aren't a couple — yet. The boy is being paid to drive the female down South, part of a plan that's clearly going to end in disaster.
By the end of the 100-minute play there's a plot twist that suggests the family's fate is sealed. We're left to wonder if there will ever be any relief for Maggie and those around her.
Lost Girls is a challenging play in a theater scene mostly dedicated to entertainment. The majority of its characters are knee-jerk cynics who have been beaten down — to a nub — by life. In that sense, the script is a welcome distant cousin of the British literary movement of the 1950s, when writers such as Kingsley Amis and dramatist John Osborn were celebrated as "angry young men." Maggie could certainly hold her own with Look Back in Anger's Jimmy Porter, although at the end of the 1956 play there's at least a glimmer of hope. Lost Girls gives us three generations of women who haven't a flicker of a future. The system that put Linda down, and is beginning to swallow up Maggie, isn't likely to change all that much for Erica.
The power of this fast moving production is encumbered by the set, which is essentially made up of two locations: Maggie's kitchen and the nondescript Connecticut hotel room. Neither location reflects what you would imagine to be the reality of these surroundings. We'd expect that Maggie's kitchen and apartment would feel much more lived in, and the hotel room seemed to be a little more comfortable than where we'd expect teenage runaways would end up. The contemporary costumes mostly fit the period and characters, though I wonder if the garb of figures in the hotel room might have been used to suggest the time period more exactly.
Audrey Lynn Sylvia's Maggie grabs hold of the productions and carries it, with confident support from Christine Power (Linda) and Terrence P. Haddad (Lou). Lauren Foster's Penny, the least well-developed character in the piece, could easily have become a parody of a religious-right Christian. The actress wisely grounded the figure in common sense and avoided the trap. In some ways, Penny could have been made into the script's most amusing character, but she was mostly tucked on the sidelines of this production. As the unnamed Boy and Girl, Zach Winston and Lesley Anne Moreau had the right chemistry for a pair of lost teenagers. In the end, however, their journey, which includes dealing with the aftermath of a bar fight, felt contrived and a little too sappy.
Given the intimacy of the playing space, director Garber-Letitia would have been wise to have tempered the yelling and the screaming. And that is where the production struggles most; how it uses the performance space. Despite the fact that the audience is so close at hand, the production never feels intimate. And the staging might have gone deeper if it had been slowed down a bit. The proceedings feel rushed and pushed, as if the people involved didn't completely believe in the strength of Pollono's drama. They are wrong to doubt it. There is plenty of substance here, along with undeniable relevance.
So congratulations to Take Your Pick Productions for choosing to mount a play this raw and revelatory: Lost Girls helps us know, and to understand, the agony of America's underclass.
---
David Greenham is an adjunct professor of Drama at the University of Maine at Augusta, and is the Program Director for the Holocaust and Human Rights Center of Maine. He spent 14 years leading the Theater at Monmouth, and has been a theater artist and arts administrator in Maine for more than 25 years.