Three incisive visions of what's to come from largish groups of committed musicians.
Heliosonic Toneways Vol. 1, The Heliosonic Tone-tette (ScienSonic Laboratories)
Fukushima, The Satoko Fujii Orchestra New York (Libra Records)
The Repeatedly Answered Question, Weird Turn Pro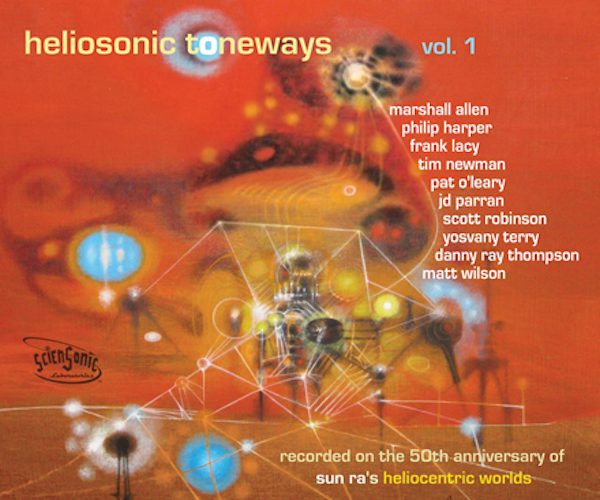 by Steve Feeney
Three recent releases confirm that hope and despair come in many guises.
The legacy of composer/bandleader Sun Ra (1914-1993) is viewed by many as that of an eccentric genius, often with an accent on the adjective. After claiming he'd been to Saturn in the past, Ra travelled this world professing a sort of "futurism" which was about equal parts idiosyncratic whimsy and advanced artistry.
But, even if you thought the composer/bandleader's spacy assertions and his Arkestra's highly theatrical performance style (and costumes) a bit bizarre, the music he made is not so easily dismissed. We're surely off to see the Wizard in Ra's musical universe — but the rewards from the man behind the curtain are often very real.
One of the most highly touted of Ra's many recordings was The Heliocentric Worlds of Sun Ra from 1965. With its spirited mixture of traditional jazz rhythms and free jazz honks and shouts, augmented by the bleeps and squeals from various proto-electronic instruments, the album's anarchism connected to a lot of fans looking for the next thing to grab onto — musically, personally, and culturally.
For the 50th anniversary of that seminal recording, multi-instrumentalist Scott Robinson assembled surviving participants from that session, plus some younger jazz musicians, and created new, Ra-inspired music for Heliosonic Toneways. Volume 1 has recently been released.
Eleven numbered cuts give the players a chance to shine in various combinations. Original Arkestra member Marshall Allen, now in his nineties, still blows unfettered on alto sax and offers some structurally important piano on a couple of pieces. Longtime member Danny Ray Thompson, on baritone sax and flute, adds to both the roar and the flutter.
Philip Harper's trumpet tops off the brass while leader Robinson mans the bottom on the same bass marimba Ra played on Heliocentric Worlds. Pat O'Leary's agile arco bass work adds touches of chamber solemnity.
Along with Robinson, drummer Matt Wilson offers a key entrée to this complex but joyful music (check out the shuffle beat on track 4), bringing in rhythms that trace Ra's music all the way back to early jazz and bop and then  all the way forward to open-ended concepts still in the making. Nods to the master's roots in swing are rare here, but savory.
A spirit of exploration and discovery on this disc pays proper tribute (although Robinson eschews the term) to one of the most distinctive and hopeful voices in modern jazz. A second volume is promised — and would be appreciated.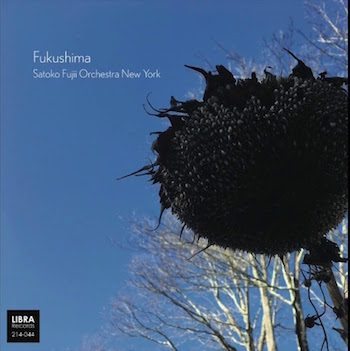 A less sanguine type of futurism is suggested in Satoko Fujii's latest large ensemble work Fukushima. Drawing on her Orchestra New York, the indefatigable Fujii (in composer/conductor mode here) sets out to musically address the horrifying 2011 nuclear disaster at Fukushima, Japan, an event that is still poisoning the lives of those touched by the catastrophe.
The all-star cast includes tenor sax man Tony Malaby, who all but succeeded in summoning Poseidon himself on Time/Life-Song for the Whales and Other Beings, the Liberation Music Orchestra disc from 2016. In exemplary form again here, he and fellow tenorist Ellery Eskelin are all about the foul, nasty, burning threat to humanity unleashed by the threat of a nuclear meltdown.
Guitarist Nels Cline digs deep into his electronic bag of tricks (echoes of Ra) to add to the sense that things have gone desperately awry.
The tone is somber, with long desolate passages of sound broken up by thunderous orchestral chords and turbulent outbreaks of collective improvisation.  A continuous piece, broken up into six sections, the work tempts venturing into chaos but, if the message is cautionary, the musical inspiration here is real.  The sounds of a still living, breathing humanity, Fujii has said, give her hope.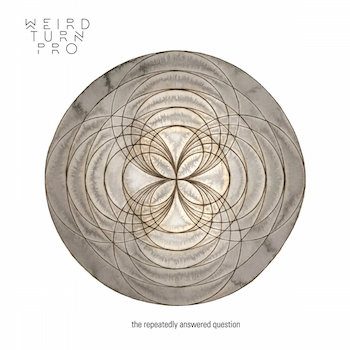 I'd like to conclude with mention of a disc led by a young composer/keyboardist from the seacoast of New Hampshire.
Mike Effenberger first came to my attention as part the Monk tribute band led by Frank Carlberg. The guy added a fitting — and gratifyingly never overdone — level of quirk by way of some mild electronics. Also, he was otherwise right on the mark with his quietly digging-deeper-and-deeper keyboard work.
Effenberger's band Weird Turn Pro (band name inspired by Hunter S Thompson) recently produced a disc called The Repeatedly Answered Question that, though it features only a sextet, feels like it belongs in the company of the aforementioned large ensemble recordings.
Including Boston-and-points-north luminaries Matt Langley (reeds) and Chris Klaxton (trumpet), the group works through a range of Effenberger compositions that reveal his gift for blending "in" and "out" jazz concepts with classical approaches to reach a musical place that's quite engaging.
Following on the intensity of the Ra-inspired and Fujii releases, I found the nimbly meditative tunes "Ozone," "Grew Dim, and Went Out Forever" to be particularly moving. These minimalist laments speak to an uneasy future, yet another incisive vision of what's to come from a group of committed musicians.
---
Steve Feeney is a Maine native and attended schools in Maine, New Hampshire and Massachusetts. He has a Master of Arts Degree in American and New England Studies from the University of Southern Maine. He began reviewing music on a freelance basis for the Portland Press Herald/Maine Sunday Telegram in 1995. He was later asked to also review theater and dance. Recently, he has added BroadwayWorld.com as an outlet and is pleased to now contribute to Arts Fuse.