"The acoustic duo shows are on the edge. It's stripped pretty naked. It's as if we were just playing in your living room."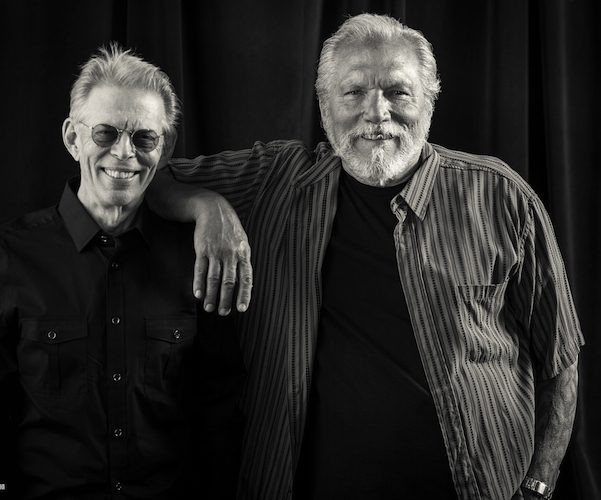 By Scott McLennan
Jorma Kaukonen and Jack Casady have been performing as Hot Tuna since 1969, yet Casady says they still manage to surprise each other during performances on stage. Tones and notes unexpectedly arrive in tunes these two have been playing for decades; perhaps that explains why Hot Tuna has survived for so long on mostly grassroots praise and minimal commercial hype.
"Good music lives on word of mouth," said Casady when reached by phone last month ahead of a tour that brings Hot Tuna to the Wilbur Theatre on November 30.
Guitarist and singer Kaukonen turns 77 years old on December 23, and Casady has turned 73 this year. But age has not dimmed their appeal; in fact, Hot Tuna is enjoying a prolonged renaissance this summer spurred by the band's performance as an electrified trio (with drummer Justin Guip) as part in the Wheels of Soul tour helmed by the Tedeschi Trucks Band.
Night after night, Hot Tuna blazed through sets that ebbed and flowed from nasty blues to swirling psychedelia. Often, Kaukonen and Casady sat in with the Tedeschi Trucks troupe – players roughly half their age—and engage in some extended jamming.
Hot Tuna was reaching a new young audience who were only too happy to embrace the manic yet soulful goods these veterans of the Summer of Love were dispensing.
To their credit, Kaukonen and Casady have pretty much steered clear of the nostalgia circuit that has sucked in many of their peers. As founding members of Jefferson Airplane, Kaukonen and Casady only once took part in an Airplane reunion tour staged in the late '80s. It wasn't until 2015 that the two revisited the Jefferson Airplane catalog via a pair of special performances that included singers Teresa Williams and Lake Street Dive's Rachel Price handling the Grace Slick parts, with additional augmentation from guitarists G.E. Smith and Larry Campbell, and singer Jeff Pehrson.
"Some look at the rock and roll persona and think it has to be a search and destroy lifestyle," Casady observed. "I think Jorma and I certainly rode that edge finely. But Jorma and I pursued the craft, and we work in a diligent manner and raise the bar for ourselves. It's what every painter, or writer, or filmmaker tries to do. We are always looking for what combination of notes will create a different viewpoint on the object."
Given that perspective, Casady is not surprised that Hot Tuna is going strong.
"All of my heroes, whether from classical music, jazz or folk, all did really well in the later parts of their careers," he said.
Casady and Kaukonen even find time to branch out into other projects, with the bassist readying an album for 2018 release. It's an instrumental record, which he joked is the "kiss of death for sales," but will feature a cast of accompanists.
For the show in Boston, Casady and Kaukonen will be performing as an acoustic duo, which is how Hot Tuna first came about. During a bit of downtime before Jefferson Airplane finished its masterpiece Volunteers, Casady and Kaukonen started playing acoustic shows in a small club in the San Francisco area.
The self-titled Hot Tuna album, released in 1970, was recorded live at those shows, and much of the material captured in that nascent era of the band is still vital in the repertoire today. In Hot Tuna, Kaukonen champions the music of Rev. Gary Davis, Jelly Roll Morton, Leroy Carr, and other similar country and blues artists. The Hot Tuna sound resonates with that tradition: Kaukonen's finger-picking guitar style and Casady's thick, braided bass lines are as melodic as they are rhythmic. The band's sets remain a blend of cover songs along with Kaukonen originals, which merge the solemnity of gospel with salaciousness of the blues.
"Jorma picks the material," Casady explains. "And, as a songwriter, his lyrics are not ripped from the news headlines. They are thought-provoking observations of life, so his songs don't wear out."
And the tunes have proven quite versatile, because Casady and Kaukonen have led several permutations of Hot Tuna, both in terms of format and personnel. The recent revival of the electric trio has its roots in the mid-'70s, when Hot Tuna became notorious for long, mind-bending shows. At times, the band also included fiddler Papa John Creach, who appears on the popular Burgers album. After a bit of a hiatus, Hot Tuna resurfaced in 1983 with a raw, caustic approach to the material that left some fans decrying Tuna's inscrutable turn toward heavy metal.
In the mid-'90s, Hot Tuna was fleshed out with second guitarist Michael Falzarano and keyboard player Pete Sears. For much of the '00s, mandolin player Barry Mitterhoff performed with Hot Tuna.
Every variation and turn brought different textures to the canon, which itself grew to include the Steady as She Goes album in 2011, the first album of new Tuna material since 1990's Pair of Dice Found.
This creative restlessness has kept Hot Tuna fresh for all these years. "You need to tap into the energy of the environment. Just like a boxer doesn't think about his last fight, I don't think about last night's show, and I don't think about tomorrow night's show," Casady insisted.
But no matter what direction Hot Tuna heads in, Casady and Kaukonen always made room for acoustic shows.
"The acoustic duo shows are on the edge," Casady said. "It's stripped pretty naked. It's as if we were just playing in your living room."
---
Scott McLennan covered music for the Worcester Telegram & Gazette from 1993 to 2008. He then contributed music reviews and features to The Boston Globe, The Providence Journal, The Portland Press Herald and WGBH, as well as to the Arts Fuse. He also operated the NE Metal blog to provide in-depth coverage of the region's heavy metal scene.