Selina Fllinger's play manages to serve up some vivid confrontations between believers and doubters.
Faceless by Selina Fillinger. Direction and scenic design by David J. Miller. Staged by the Zeitgeist Stage Company at the Plaza Black Box Theater at the Boston Center for the Arts, Boston, MA, through October 7.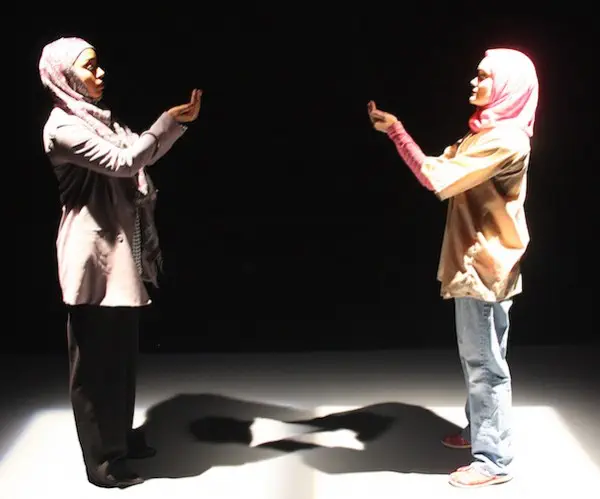 By Bill Marx
Given Boston theater's reluctance to venture beyond fainthearted explorations of identity politics, gender and race edition, Zeitgeist Stage Company should be congratulated for presenting Faceless, which probes issues of Muslim terrorism, ISIS recruitment, and American xenophobia. What's more, Selina Fllinger's play manages to serve up some vivid confrontations between believers and doubters, as well as scenes in which marginalized women struggle (against men in power) to find a place for themselves in the world. Ultimately, though, the script flounders because of the dramatist's crippling indecisiveness: Is this a courtroom drama in the tragic Antigone mode? Or a sympathetic character study of two women hemmed in by society and/or their faith? Fillinger, a fledgling dramatist, wants it both ways, so she ends up not doing justice to either line of dramatic attack.
The legal setup is the play's initial hook. A middle class, 18-year-old white woman in Chicago, Susie Glenn, falls in love, via the Internet (Twitter and Facebook), with an ISIS solider. She is arrested before she can fly off and join him: she is brought to trial. A Harvard-educated Muslim woman, Claire Fahti, whose family emigrated from Iraq, is asked to be a pivotal member of the government team prosecuting Susie. Claire is understandably reluctant to take the assignment; she knows she is being used as a political pawn. But Claire agrees. Once the courtroom stand-off is established, Fillinger leaves the trial in order to explore the troubled backgrounds of her female combatants, pointing out, at times with a heavy hand, some schematic ironies. Both face religious prejudice and hatred, both come from dysfunctional families, both want to reach out beyond the dog-eat-dog boundaries established by American culture and its legal system.
Claire's boss, Scott Bader, represents the stereotypical ugly American male. He's an out-and-out shark, so abusive and arrogant that he shifts the focus of our attention from Susie's dilemma to guessing when Claire will kick back at her tormentor. As for Susie, she is given a good-natured Jewish defense attorney (the Judd Hirsch role). While Claire's backbone is being continually tested, Susie's is being gently humanized. Susie is not an irrational ideologue or a fanatic for jihad– we are given a psychological portrait of a vulnerable woman whose need to be nurtured (and to nurture in turn) could be manipulated. Her mother died tragically, but her father, an EMT, is shown to be a caring if overwhelmed parent. Susie is a 'nice' girl gone wrong.
The over-emphasis on domestic relationships, the besetting sin of new American scripts, means that there is no concerted attempt to take broader, more challenging looks at acts of religious and political hypocrisy on both sides of the 'war on terror': there's a quick mention of the Iraq conflict, but nothing about innocent bystanders killed by American drones, a savage practice that is now going to be brought to Afghanistan. (Afghan fighters are now using drones against us.) The conflict's systemic context, the indifference, profit-taking, and cynicism all around, is pretty well ignored, including an opportunity to take an unflinching look at the emptiness, stupidity, and desperation that would lead to someone becoming involved with ISIS.
While Susie and Claire are grappling with their demons, the trial continues to be looked in on via brusque dribs and drabs. Are we supposed to care about how it all turns out? How severely should a gullible, non-combatant like Susie be punished? Fillinger comes up with an ending that is not very satisfying. She plants a foot on both sides of the great divide: salvation can be found, either by trusting in the justice-dispensing will of God or by embracing the secular strength of the independent self. Sometimes leaving the audience wondering (or vaguely reassured) is less about encouraging fruitful dialogue and more the by-product of a dramatist who won't dare to take a stand.
All of this said, Faceless is involving, and the Zeitgeist Stage Company production is solid, led by fine performances from attractive performers in the lead roles. Ashley Risteen lets us see the anxious softie behind Susie's intransigence. She manages to suggest some of what I wish the script had fleshed out more — Susie's slow and painful change of heart and mind. Aina Adler's Claire is dignified and resolute — to the point that the actress slams up against the weakness in the playwright's portrait. You can't believe Claire would put up with the Victor Shopov's reptilian Scott for as long as she does. Robert Orzalli makes for an amiable Jewish lawyer. (If only Fillinger had flipped the polarity, setting humane Gentile against an inhumane Jew. Now that might have been something!) David Anderson supplies the requisite working man vibes as Susie's dad, though he could use some toning down, particularly during his scene when he confronts Claire. Less can be more in the intimate confines of the Plaza Black Box Theatre.
Of course, Fillinger should continue to speak up, and louder. But she should take her dramaturgical/political concerns beyond a conventional Western context and its liberal stereotypes (the caring/non-caring lawyers and salt-of-the-earth worker) and dissect what Toni Morrison, in her recently published The Origin of Others (The 2016 Charles Eliot Norton Lectures), calls the "Pressures that can make us cling manically to our own cultures, language, while dismissing others'; make us rank evil according to the fashion of the day; make us legislate, expel, conform, purge, and pledge allegiance to ghosts and fantasy." It may be comforting for audiences to stick to familiar ground, but theater needs to dramatize the lives, and perspectives, of Others.
---
Bill Marx is the editor-in-chief of The Arts Fuse. For over three decades, he has written about arts and culture for print, broadcast, and online. He has regularly reviewed theater for National Public Radio Station WBUR and The Boston Globe. He created and edited WBUR Online Arts, a cultural webzine that in 2004 won an Online Journalism Award for Specialty Journalism. In 2007 he created The Arts Fuse, an online magazine dedicated to covering arts and culture in Boston and throughout New England.