Some institutions' offerings aren't perhaps as challenging or provocative as they could be, but there's a healthy balance between the familiar and new.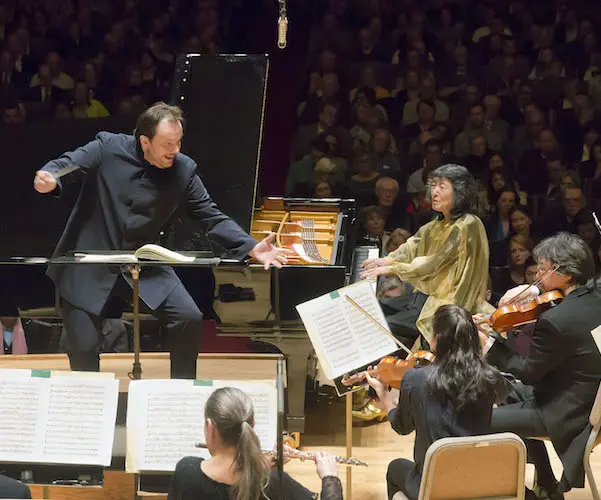 By Jonathan Blumhofer
The end of summer means that the start of the Boston area's conspicuously vibrant orchestral, opera, and new music scenes are right around the corner. While some institutions' offerings aren't perhaps as challenging or provocative as they could be, there's a healthy balance between the familiar and new to be found across the dozen or so groups and presenters listed below. In particular, there are several theatrical (or semi-staged) productions that offer commentary on a range of timely subjects worth catching. Taken together, this suggests that we ought to be able to expect some lively things, artistically, with (of course) plenty of music to simply enjoy.
---
Boston Symphony Orchestra
Program-wise, the BSO's upcoming season plays things safe and reprises a fair number of big pieces heard regularly over the last few seasons. Among its highlights is an abbreviated celebration of Leonard Bernstein's centenary that focuses on the handful of his pieces premiered by the orchestra (various works on Opening Night on September 22 and the Symphonies nos. 2 and 3 in March). Music director Andris Nelsons continues his Shostakovich symphony survey with the Eleventh (in September), Fourteenth (in February), and Fourth (in March); Artist-in-Association Thomas Adès appears as conductor (in an intriguing concert featuring György Ligeti's Violin Concerto in January) and pianist (playing Bach with Kirill Gerstein and Jean-Yves Thibaudet in February); and Thibaudet joins the orchestra as its first Artist-in-Residence, playing, in addition to the Bach, music by Ravel and Bernstein. Other highlights include Charles Dutoit conducting Berlioz's La damnation de Faust (in October) and Ravel's Daphnis et Chloe (in February); Alan Gilbert making a welcome return to the podium with music by Sibelius, Debussy, and John Adams in tow (in March); François-Xavier Roth conducting pieces by Webern, Bartók, and Stravinsky (in January); the American premiere of a new work by Jörg Widmann (in March); and Jonas Kaufmann singing the title role in Act 2 of Tristan und Isolde (in April).
Boston Philharmonic Orchestras
In the meantime, Benjamin Zander and the BPO explore some unusual terrain (for them, at least): John Harbison's ambiguous Symphony no. 3 opens the season in October (alongside piece by Gershwin and Stravinsky) and Elgar's epic oratorio The Dream of Gerontius closes it in April. In between comes Kim Kashkashian playing Berlioz in November and Alexander Korsantia performing Prokofiev's Piano Concerto no. 3 in February.
Zander and the acclaimed Boston Philharmonic Youth Orchestra (BPYO) offer plenty of enticing fare themselves. For the group's first concert in November, they're joined by pianist George Li in Tchaikovsky's Piano Concerto no. 1. Their Mahler symphony this year is the searing, valedictory Ninth, to be played at Symphony Hall in March. And the season ends with an eye-catching program that showcases the orchestra in just about every demanding light possible, starting with Ravel's La valse and ending with Strauss's Till Eulenspiegel, with detours to Elgar's Cello Concerto and Charles Ives' Three Places in New England falling in between.
Celebrity Series
Orchestras don't tour as widely these days as they used to and it's been commonplace for the last few years for the Celebrity Series to only feature a couple out-of-town ensembles a season. This year's pairing could hardly be bettered. In October, Antonio Pappano and the Orchestra dell'Accademia Nazionale di Santa Cecilia bring music by Verdi and Respighi to Symphony Hall, plus Martha Argerich playing Prokofiev. Then, in April, Gustavo Dudamel and the Los Angeles Philharmonic return after a four-year hiatus, performing a gripping program of works by Esa-Pekka Salonen, Edgard Varese, and Shostakovich. One local orchestra also gets special billing: a week before the LA Phil comes, the NEC Philharmonia gives a concert at Symphony Hall marking the school's 150th anniversary, playing music by Leonard Bernstein, Debussy, and Aaron Jay Kernis.
New England Philharmonic
The NEP's four-concert season starts off with music by Andrew Norman (Sacred Geometries) on a program that also features works by Joseph Schwantner, Peter Child, and Stravinsky (October). The annual, December Family Concert is, this year, built around Nathaniel Stookey's The Composer is Dead, while the spring brings a couple of notable local premieres: Steven Stucky's 2012 Symphony (in March) and Sebastian Currier's virtuosic Time Machines (with violinist Danielle Maddon, in April). There's also a special performance with the Commonwealth Chorale on November 11th of Amy Beach's Mass in E-flat.
Lexington Symphony
Jonathan McPhee leads the LSO in six concerts this year, highlights of which include Philip Glass's Concerto Grosso (in September), Sibelius's Karelia Suite (in November), Leonard Bernstein's Serenade (in February), and Haydn's Symphony no. 59 (in March).
Chamber Orchestras
There's no shortage of excitement around A Far Cry this season, who have a most healthy series of tours and premieres lined up. Among the latter is a new piano concerto from Philip Glass (to be unveiled in September); another one by Elena Ruehr (in October); and "The Blue Hour," a new piece with music by Rachel Grimes, Angélica Negron, Shara Nova, Caroline Shaw, and Sarah Kirkland Snider featuring the mesmeric vocalist Luciana Souza (in November).
Steven Lipsitt and his Bach, Beethoven, and Brahms Society Orchestra deserve several accolades for their programming choices this year. First of all, they're one of just two of the city's major orchestras (the New England Philharmonic is the other) that don't ignore Amy Beach's 150th birthday this year: they're presenting her Bal Masque in their season-opener on September 24th. They also venture off the beaten path a bit: Osnat Netzer's Saxophone Concerto (in November) and music from Leonard Bernstein's score to Peter Pan (in April) being cases in point. In between comes plenty of traditional fare, a highlight of which will surely by Elizabeth Rowe and Jessica Zhou playing Mozart's Concerto for Flute and Harp (in March).
Grand Harmonie's season opens with Camille Saint-Saens' score to the 1908 film, The Assassination of the Duke of Guise (accompanying a rare screening) in September. It continues with music by some Bach brothers (CPE and JC) and Franz Götz in November and ends with a "pastiche opera" at the Somerville Armory in April.
Pro Arte Chamber Orchestra's fortieth-anniversary season opens with a concert featuring a new piece by Thomas Oboe Lee (in September) and continues with Erik Ewazen's Concerto for Trumpet and Strings in January. The May finale includes celebratory new work by Howard Frazin, plus Copland's Clarinet Concerto and music by Mozart and Michael Daugherty.
Period Ensembles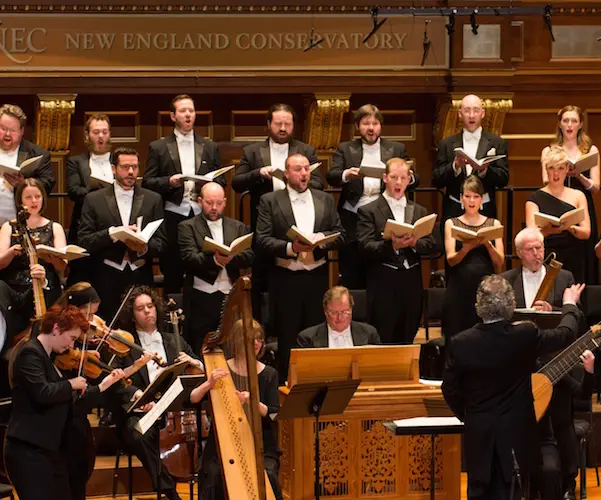 The city's flagship period band, the Handel and Haydn Society, does plenty of heavy lifting this year, with performances of Bach's complete Brandenburg Concertos (in February) and B-minor Mass (in March) on tap, plus Purcell's The Fairy Queen (in April) and Handel's Hercules (in May). Before that, there's quite a bit of Beethoven and Mozart to be found (including a presentation of the film Amadeus with live soundtrack in November). An early highlight promises to be the season-opener in October, which has Masaaki Suzuki leading the orchestra and chorus in the Bonn-born master's Ninth Symphony.
Boston Baroque kicks off its season with an all-Mozart program showcasing the soprano Amanda Forsythe (in October). Music by Bach and Handel makes up the annual New Years' Eve/Day program, while Telemann's St. Luke Passion of 1744 and Beethoven's Fidelio fill out the winter/spring half of the ensemble's schedule.
Opera
Boston's two big opera companies have more than a few rich options on tap this year. Odyssey Opera builds its entire season around operas based on the life of Joan of Arc, starting with Tchaikovsky's rarely-heard epic, The Maid of Orleans, in a concert performance in September. Donizetti's L'assedio di Calais and Verdi's Giovanna d'Arco are the company's two other staged productions, in October and April, respectively, at the Huntington Avenue Theater. Concert performances of Norman Dello Joio's The Trial at Rouen and Arthur Honegger's Jeanne d'Arc au Bûcher come in between, in December and February, respectively.
Meanwhile, Boston Lyric Opera's forty-first season opens with Elena Stikhina singing the title role in Puccini's Tosca in October. Then comes the world premiere of Julian Grant's The Nefarious, Immoral but Highly Profitable Enterprise of Mr. Burke & Mr. Hare in November. A production of the great Weill/Brecht The Threepenny Opera will be heard in March and the season ends with Leonard Bernstein's one-act opera Trouble in Tahiti paired with his song cycle Arias and Barcarolles in May.
Other seasonal highlights include the semi-staged double-bill of Debussy's L'enfant prodigue and Ravel's L'enfant et les sortilèges at New England Conservatory in October, and Jake Heggie's Dead Man Walking at the Boston Conservatory in November. Boston Opera Collaborative presents its "Opera Bites" in November and, in January, Laura Kaminsky's As One. And Guerilla Opera's eleventh season features the world premiere of Andy Vores' Chrononhotonthologos (after Henry Carey's 1734 satire), set to be debuted in November.
School-based Ensembles
The NEC orchestras have plenty of great programs lined up, including Leonard Slatkin conducting William Schuman (in September); David Loebel leading George Whitefield Chadwick's Symphony no. 2 (in October), Mahler 9 (in November), and Prokofiev's Romeo and Juliet (in December); and Hugh Wolff conducting Leonard Bernstein's Chichester Psalms and Shostakovich's Tenth Symphony (in February).
A few blocks away, the Boston Conservatory Orchestra plays Mahler's Sixth Symphony (in October) and is joined by Tracy Silverman for John Adams' The Dharma at Big Sur (in November).
Orchestras from Boston University have their share of enterprising programs, including ones showcasing music by Prokofiev and Delius (in September), Lili Boulanger and Stravinsky (in November), and a Barber-Copland-Karel Husa triple-bill at Symphony Hall (in April).
New Music
This fall, the Boston New Music Festival (September 23-October 1) brings together several of the city's many ensembles and presenters for a ten-day-long immersion in contemporary fare. There will be workshops and concerts, including a performance featuring flutist-extraordinaire Claire Chase and the premiere of Julian Wachner's Rev. 23. Groups appearing include Boston Musica Viva, the Boston New Music Initiative, Juventas, Dirty Paloma, Opensound, and Transient Canvas.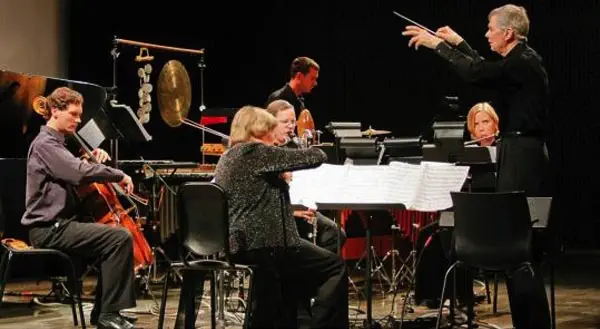 Boston Musica Viva's forty-ninth season begins in September with music by Peter Child and Elliott Carter and ends in April with pieces by Melinda Wagner and George Perle. In between comes a November concert with multi-instrumentalist Yazhi Guo and a March Family Concert that has a world premiere by Barbara White.
Collage New Music's three concerts showcase music by Marti Epstein, James Primosch, and Fred Lerdahl (in October); Helen Grime and James MacMillan (in February); and John Harbison's Mottetti di Monatale (in the March finale).
Other enticing new pieces come courtesy of A Far Cry at the Gardner Museum, who play a "difficulty-themed" concert of music by Glass, Ligeti, Xenakis, and others (in December) and a concert of works written by members of the ensemble (in April). Music by Elena Ruehr, Mieczyslaw Weinberg, Sufjan Stevens, and Luciano Berio turn up with more traditional scores in the group's other concerts at the Museum.
The Institute of Contemporary Art celebrates the centennial of the iconic Lou Harrison on an October program. Later that month, the Arditti Quartet plays a concert of pieces by Clara Ianotta, Rebecca Saunders, Olga Neuwirth, and others.
Liza Lim is the composer-in-residence at Boston University's Center for New Music this year. She presents lectures on her music in February. Ludovico Ensemble, Sound Icon, and the JACK Quartet are among several groups appearing during the season under the Center's auspices.
---
Jonathan Blumhofer is a composer and violist who has been active in the greater Boston area since 2004. His music has received numerous awards and been performed by various ensembles, including the American Composers Orchestra, Kiev Philharmonic, Camerata Chicago, Xanthos Ensemble, and Juventas New Music Group. Since receiving his doctorate from Boston University in 2010, Jon has taught at Clark University, Worcester Polytechnic Institute, and online for the University of Phoenix, in addition to writing music criticism for the Worcester Telegram & Gazette.