If Gypsy is one of your favorite musicals, chances are you'll find Lyric Stage's production of the admired show to be a terrific time.
Gypsy, Music by Jule Styne, Lyrics by Stephen Sondheim, Book by Arthur Laurents. Directed and choreographed by Rachel Bertone. Music direction by Dan Rodriguez. Staged by The Lyric Stage of Boston at 140 Clarendon Street, Boston, MA, through October 8.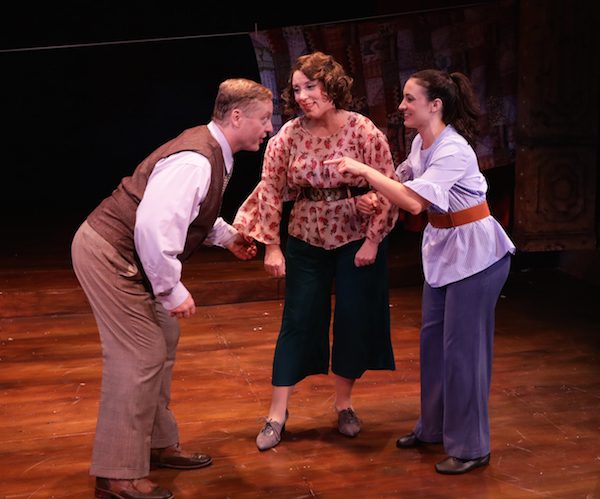 By Erik Nikander
Gypsy is a strange, warped jewel in the crown of American theatre. Many of its songs have become classics, and critics throughout the years have heralded it as one of the best American musicals ever conceived. Rose, arguably the play's central character, is a complex figure who has been portrayed throughout the years by greats such as Ethel Merman, Angela Lansbury, and Patti LuPone. The Lyric Stage's production of this theatrical classic, starring the stunning Leigh Barrett as Rose, is a more-than-respectable effort to bring this legendary musical to the Boston stage. However, for this critic, who admittedly knew little about the show going in, the dark and contradictory nature of the play itself rendered a quite-good production less than enjoyable.
The show opens with Rose, a struggling single mother, attempting to get her children a spot on a local Chicago variety show. While her daughter June has a natural talent for vaudeville, Louise, on the other hand, has little aptitude for or interest in performing onstage. Accompanied by Herbie, Rose's boyfriend and the agent for their show, the family (plus two boys they pick up along the way, with no explanation) embark on an ill-fated nationwide tour, trying to make it in vaudeville as the art form collapses around them. June eventually ditches the show to become a movie actor, leaving Louise to take the lead. When the family reaches its last refuge, a burlesque theater, Louise discovers a new talent as well as a way to make her mark on the showbiz world.
Gypsy's subject matter feels like it could make a superb black comedy or even a straight-up tragedy; Rose's hubris, her desire to become famous herself, causes her to dominate the lives of her daughters, damaging her relationships with them and pushing them both away, nearly to the point of no return. The issue is that Gypsy, perhaps as a product of its time, can't look past the glitz and allure of show business, can't help but frame Rose's ambitions to parade her children around in a corny vaudeville act instead of providing them with anything resembling an education as an admirable thing. It doesn't delve deeply enough into her desperate bid for stardom to come back with any real reflections on the American obsession with fame or on the harm Rose's abusive behavior is causing.
And that truth is one that shouldn't be avoided: Rose is an abusive parent. Her abuse may not be physical, but her manipulation of her daughters' emotions amounts to years of psychological torment, and the suffering she causes is difficult (if not impossible) to reconcile with the frothy, lighthearted trappings of a showbiz musical stuffed with catchy tunes. The artists behind the different productions and revivals of the show over the years seem to have struggled with this aspect of the play, and have tinkered accordingly with the ending; some go for a darker finale, in which the newly famous Louise cuts her mother entirely out of her life. In the Lyric's production, mother and daughter (abuser and abused) walk offstage hand in hand. A tragic ending might have felt more honest, more realistic; the hint at reconciliation we get instead feels unearned.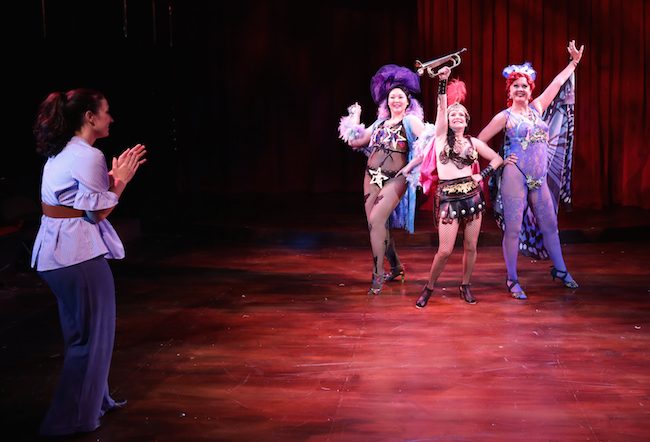 Now, all of that said, these are issues with the text of Gypsy, for which Lyric Stage is certainly not to blame. In fact, this critic may have felt so strongly about the play because the Lyric's production was especially powerful. I'm certain I came about with such an intense opinion of Rose because of Leigh Barrett's tremendous performance. As the ultimate "stage mom from hell," Barrett exudes ferocity, both through her bold physical presence and her powerful singing. The rest of the cast may not have such fiery material to work with, but they do well regardless. As the older Louise, Kirsten Salpini blossoms, with verve, from a shy, reluctant vaudevillian to the queen of the burlesque stage. Steven Barkhimer's Herbie is dogged, weary, and sympathetic, craving tenderness from Rose yet never truly receiving it. Brady Miller is a ray of hope and brightness as Tulsa, even if the book doesn't give him much to do.
All the members of the supporting cast, including a handful of child actors, give compelling performances, most of them hopping with ease from role to role as the show progresses. The true unsung hero, though, might be the one clothing them all. Rafael Jaen's costume work is exquisite, and whether he's dressing a flapper, a stripper, a theatrical agent, a child in an Uncle Sam outfit, or two vaudeville actors playing a cow, the resulting costumes are impressively vibrant and period-authentic. Also, while the set felt a tad too minimal at times (understandably, since nearly every scene takes place in a different location), there were several instances of impressive stagecraft from designer Janie E. Howland. For instance, two ornate, larger-than-life fans flanked the stage at the show's opening, and a raised platform to the side of the main stage was used memorably as a dressing room in Act II.
If Gypsy is one of your favorite musicals, chances are you'll find Lyric Stage's production of the classic show to be a terrific time. Despite the company's strong, often exceptional, work of the Lyric's actors and other theatre artists, I was too put off by the disturbing themes and implications of the play to be swept up in the rollicking fun. Those without any prior investment in the show are advised to consider it a master class in bad parenting, a supreme example of What Not To Do. This well-executed production has something to offer long-time Gypsy fans and neophytes alike. That said, those who gaze deeply into Rose's turbulent, troubled heart should consider themselves warned; they may not like what they see.
---
Erik Nikander is a critic, playwright, and filmmaker based in the New England area. His film criticism can be read on Medium and his video reviews on a variety of topics can be viewed on Youtube at EWN Reviews.