Off the Grid's The Weird is content to cast a low wattage spell.
The Weird, an anthology of plays by John Kuntz, Kirsten Greenidge, Lila Rose Kaplan, and Obehi Janice. Directed by Steven Bogart. Staged by the Off the Grid Theatre Company at the Calderwood Pavilion at the Boston Center for the Arts, 527 Tremont Street, Boston, MA, through September 16.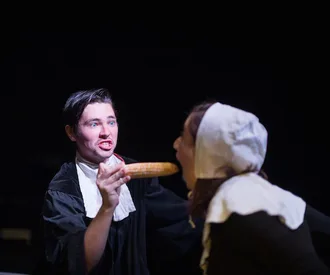 By Bill Marx
One of my favorite film horror anthologies is 1945's Dead of Night, a compendium of supernatural tales that range from the creepy to the sublime, the latter delivered in a segment that features the great Michael Redgrave as a nebbish of a ventriloquist whose dummy takes on an anarchistic mind of his own. Class warfare and the revenge of the Id wrapped up in one utterly fabulous package. So I had high hopes for The Weird, Off the Grid Theatre Company's collection of witchcraft yarns that comes with — at least as claimed in the troupe's publicity material — a political edge. Might we see Trump hexed away to bigly land? Alas, not. In fact, I don't think I even heard the word Republican mentioned. The predominately female cast in this world premiere production brings lots of gumption to the black magic proceedings, but there aren't all that many shivers or tingles to be had. And the political attacks are pretty mild. In its well-meaning, 'let's put on a show' way, The Weird is amiable, but it just isn't weird enough, certainly for these destructively surreal times.
In dramatic assemblages like this, each sketch stakes out its own distinctive territory. John Kuntz's "The Ear of Our Lord" chooses American burlesque. In this broad send-up of repression (and Arthur Miller's The Crucible?), Cotton Mather is seduced by a zealous collection of horny Puritan females. There are signs of rampant lesbianism and the discovery that corncobs (note the title) make for inventive sex toys, but there is nothing particularly erotic about any of the daffy goings-on. Is genuine sexuality too frightening to dramatize on stage? Even today? This is pretty much a one-joke bit of risqué that ends with (an ironic?) celebration of broomsticks and woman power.
Lila Rose Kaplan's "Letters from the Coven" ventures into Margaret Atwood/ female dystopia land. Five characters reveal (through individual letters) a manipulation of magic for authoritarian purposes. There is hope: some sort of rebellion against the baddies is in the works. Apples serve as antidotes to the delusions of witchcraft(?). There is way too much plot, and then Kaplan adds one too many twists on top of that. So the sketch becomes talkier than it is terrifying. Also, just who wields the power in the demented world of this play? Liberal? Conservative? Corporations? All of the above? Why don't we know? I liked some of the images, which seem to be aimed at the consumerism of Harry Potter – but it isn't very risky or frightening to snipe at J.K. Rowling.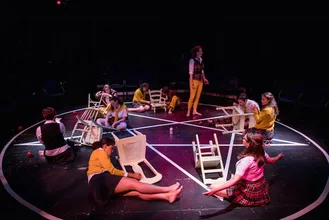 "Era Era" by Obehi Janice is a sketch in the Saturday Night Live tradition that doesn't make a very strong satiric point. Two young women are performing their radical (?) podcast live, a conversation that includes gender buzzwords, a surprising homage to the late Mayor Thomas Menino, and comic turns about chopping off penises. It is a lively if silly and diffuse session of chatter, until a woman in agony calls in to the duo and talks about her debilitating pain. A moment of reality arrives, and the piece ends with an abrupt thud. That seems to be the dramatic pattern here – The Weird wants to draw on the threatening power of witchcraft, but mostly in a lighthearted way. There are no tough confrontations with the unseemly pleasures and bitter agonies generated by the whims of wish-fullfillment.
The evening's final sketch, Kirsten Greenidge's "Gather," is split up among the other pieces, and it is the most promising. But, at least for me, it was hard to follow just what is happening to what characters in what appears to be a story about a witch on a mission of vengeance. Her quest ends, amusingly, with the slow, sadistic torture of a political figure who has been recalcitrant about doing something. Not sure what. There is something pointed and dark about the 'bringing down the high and mighty' set-up but, as least at the moment, the playlet needs to be fleshed out.
The Off the Grid production is directed, straightforwardly, by Steven Bogart. There isn't much of an effort to generate witchy atmospherics — shouldn't there be some spooky moments? The group choreography for the coven sequences look like something out of a tame exercise video. The performers are unfailingly energetic; I wish they were given more than one-note roles. When handed material with some off-speed intensity, Amanda Collins and Rosie McInnes deliver. Aside from those moments, The Weird is content to cast a low wattage spell.
---
Bill Marx is the editor-in-chief of The Arts Fuse. For over three decades, he has written about arts and culture for print, broadcast, and online. He has regularly reviewed theater for National Public Radio Station WBUR and The Boston Globe. He created and edited WBUR Online Arts, a cultural webzine that in 2004 won an Online Journalism Award for Specialty Journalism. In 2007 he created The Arts Fuse, an online magazine dedicated to covering arts and culture in Boston and throughout New England.