Sub-titled "An Ode to the New England Shoreline," Beach Rose offers three or five courses, depending on the time (and budget) you have.
By Linda J. Mazurek
You'd better hurry, if you want to taste one of the most creative dinners in one of the quirkiest restaurants in the Boston area. You only have until the end of September, so the clock is ticking … and you need reservations, so you won't miss out! (You can reserve here or by calling 617-718-0958.)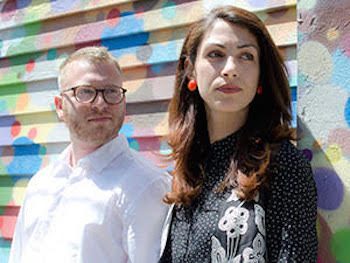 "Beach Rose" is what Juliet's owners, chef Josh Lewin and proprietor Katrina Jazayeri, still in the early stages of their culinary careers, call their summer-themed dinner, or "production," introduced on July 13 and now "showing" until September 30, a one-month extension, given its popularity. Sub-titled "An Ode to the New England Shoreline," the meal offers three or five courses, depending on the time (and budget) you have. The basic courses, or "acts," are tomatoes and burrata, garnished with fennel, celery and lemon, followed by hake poached in olive oil and herbs, served with brown butter, salt and vinegar potatoes, and summer vegetables. Dessert, or Act 3, is strawberry shortcake, with roasted strawberries, basil, meringue, and cream. The two optional courses are corn chowder, lobster, steamers, and mussels, garnished with seeds and saffron, and brandade, garnished with piperade and chorizo aioli. There's also a wine pairing offered for each menu, or a "rebellious" all-Madeira pairing. Beach Rose is available Wednesday through Saturday nights, starting at 8 p.m.
"Three courses come with a number of extras not listed there already.* If you're celebrating something, a special occasion, or it's the weekend and you're looking to splurge, we have the longer option. People share, and we say you're going to have a full and delicious meal, with the three. Five is extra flair, celebrating on top of it," said Lewin. "So it's choose your own adventure!" (*When I asked for a few examples, Lewin coyly replied, "Well, doesn't it make sense to leave something to the imagination? Nobody knows what those are, until they appear!")
Juliet is a small (1,000 square foot) restaurant, with seating for sixteen in the main space, in Somerville's Union Square. It opened in February 2016 to "share some of our favorite things with our neighbors," explained Lewin. The imaginative and socially conscious couple's goal is to serve excellent meals with great service, and to do their part to build fulfilling careers. And part of the great service is their no-tipping policy; service is included in the pricing, a first in Massachusetts. More on this later this month.
The Beach Rose menu is another great example of the couple's synergy. "We have a pretty fun delineation of creative responsibility here, and each of our projects is so much better with our counterpart's contributions," explained Lewin. The menu is a small piece of paper, decorated with eight summer color photos, including of a lobster, taken by Jazayeri. The inside cover is printed with a poem written by Lewin.
More of Jazayeri's photos and drawings decorate the walls of the all-white restaurant, which seats six at a back counter overlooking the open kitchen. (Diners at these seats order off a general dinner menu and are for those who don't know about the reservations-only themed dinners.) The open kitchen occupies the back right corner, and guests, as the owners like to refer to their customers, can see their meals being prepared for them, without the usual separation found in most restaurants.
"Our open kitchen is center stage, where diners get total immersion in the preparation of their dinners," said Lewin. "Or they can ignore it, if they want. But over half of our guests come up and look at the kitchen or talk to the chefs while they're here, or on their way out. They engage with the chefs, say 'Thank you,' or 'Wow, I've never had a great night like that! We can't wait to come back!' Most cooks don't ever get that experience.
"This is our penchant, a story-telling style, from years of producing events that were really a personal reflection, of having some fun with mostly friends," he added. "Here, you're really treated to a show, of professional craftsmen going about their business, but making it part of your business also. You're here for a couple of hours, you don't eat everything at once."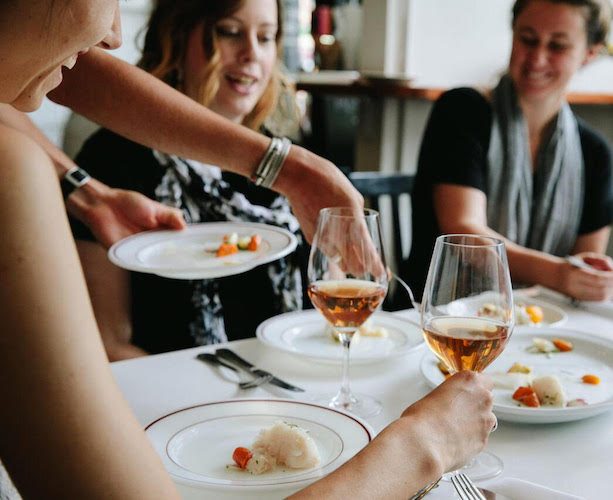 "As we figured out the space and the finer points of service, when you walk through the door, we're inviting you into our home. We want it to be comfortable and welcoming and professionally done. We will serve from the side that will interrupt you the least," said Jazayeri. "Every time the door opens, there's a variable coming in. That's part of what's exciting for us, to respond and learn from that."
Beach Rose has turned out to be the restaurant's bestseller, and it's easy to see why, as it incorporates the chef's ingenuity with local ingredients with Jazayeri's creativity. Besides designing the restaurant, and making the drawings and taking the seasonal photographs that adorn it, Jazayeri has also launched a line of new attractive aprons.
An admitted work-in-progress, Juliet offers two other concepts: breakfast and lunch from Wednesday through Friday, with brunch on the weekend; and Romeo's on Sunday night. Whew!! Talk about work…..
Romeo's, billed as "One night a week. Just for the neighborhood.", veers in a totally different direction than Beach Rose. Divided into snacks/antipasti, primi, and contorni categories, the current menu, which is moderately priced, offers parmesan and honey; a fisherman's board; tomato and bread salad, featuring Shy Brothers' cloumage, on black olive focaccia; and bacon-braised beans, among other treats. Pastas include tagliatelle with ramps, caviar, asparagus, and fiddleheads; pappardelle with brown butter, mushrooms, and cream; and Phil's pasta (any pasta with Pomodoro sauce). Gluten-free fusilli is also available. The pasta dishes come in two sizes, offering many flexible pairing options with the other items on the menu. House wines are available by the glass, carafe, or bottle, and there are two (each) red and white varietals, also offered by the glass or bottle. Service runs from 5 to 8 p.m., and then the restaurant closes until Wednesday, offering the couple two days to recoup and relax – or to plan their next "production"?
This fall's is still being developed, but will feature chicken from Pete's and Jen's (longtime friends) in Lexington and "apples and cider from all over," said Lewin. "It will be a very Norman experience, in terms of cuisine, but a lot of celebration of New England producers."
Jazayeri said their menus and décor change often, to reflect the seasons. I was frankly impressed by the variety – and size – of their à la carte dinner, which is also available for take-out. In between the time I downloaded their current dinner menu, a few days before our interview, and our meeting, it had changed. Baked oysters had been added to the snacks column; chilled cantaloupe soup with cucumber and spiced yogurt, and brandade gratin added to the appetizers and small plates section; a fisherman's board (pickled shrimp, boquerones, marinated mussels, with yogurt and toast) joined the charcuterie and salumi section; and hamburger, with shallot jam, chorizo aioli, and potatoes had replaced the roast beef on Thursday night. While the small bites sections of the dinner menu are offered every night, the entrée changes daily, and there is only one. But with all this choice, dining well shouldn't be difficult!
And there is, understandably, some overlap between the two dinner menus; Beach Roses's poached hake has replaced the whole salt-roasted fish on Friday, for example. But that gives the owners more chance to make connections among their guests. "If someone orders or asks about the spaghetti and meatballs, I can talk to them about Romeo's and our homemade pastas on Sunday nights," explained Lewin.
Connection, with its emphasis on the neighborhood and community, is a steady theme throughout our interview. "Union Square and Somerville have a varied demographic, so we built an incredibly varied restaurant," stated Jazayeri. "We chose Union Square because it's our neighborhood, and we wanted to be part of the Square. We live here, and we want to protect what's here, so what better way than to become a business owner?"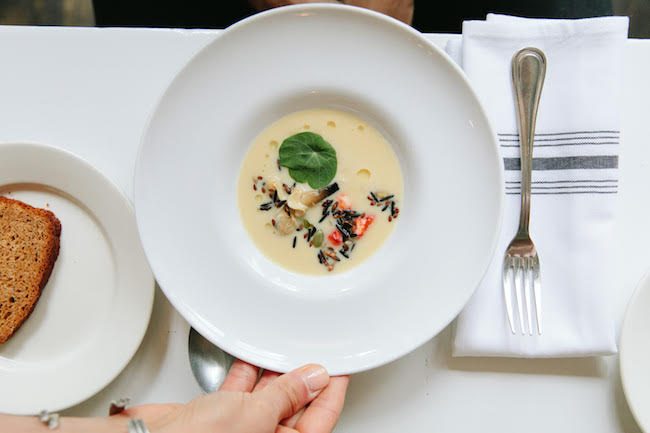 I would be remiss if I didn't mention all the accolades, including national, they've received, from early on, notably being named as one of Bon Appétit's Top 50 Restaurants of 2016. Which I had to ask about:
What was your reaction to the Bon Appétit recognition?
"We were totally surprised! One of our staff members sent us a text message, found it online. Someone a little more in tune with the moment, I guess," said Lewin. Jazayeri continued, "We had gotten tipped off with an Instagram post by the anonymous reviewer who had come to check us out. We found a picture of our pastry case tagged by Bon Appétit, and we were kinda like, well, that's amazing and strange, and why didn't he say anything?!"
Josh interrupts. "Some guy* came in, and he sat right at that stool there, at the counter. He sat down, and I had a conversation with him." (*Lewin: "Turns out, he was the editor of Bon Appétit, Andrew Knowlton." Me: "You didn't know who he was, at the time?" Lewin: "No, no idea.")
"And he won't shut up, he keeps asking all these questions. He was perfectly polite and all, and I made as much time for him as I could, but we were 30 days into operation, roughly, and it was Persian New Year. We weren't serving dinner yet. We have a long tradition of doing Persian New Year, Katrina is Persian, and we did one at the James Beard House. We didn't want to miss it, so we were serving it for lunch. Pretty low-maintenance, though, we were just getting our feet wet here, and I felt very lost in that lunch. It was our busiest lunch yet, we're spinning around in circles, and this guy wouldn't stop talking to me!
Turns out later he posted about Juliet. You know the editors of Bon Appétit, they're always posting. A couple of months later, we got a call that Bon Appétit was considering us for a story. We were excited, we happily provided the pictures they asked for, and maybe a month after that, we woke up to a text message from our bakery manager – 'You're one of the best 50!' And that was the first we heard about it. Everybody, the top 50, that morning was the first they heard about it. Only the final ten winners go into print."
---
Linda J. Mazurek is an award-winning communications professional, with more than 25 years of writing and editing experience. Blending this with her passion for food, she has written more than 90 articles since late 2006, published both online and in print, including nine in The Boston Globe's food section.