An Arts Fuse regular feature: the arts on stamps of the world.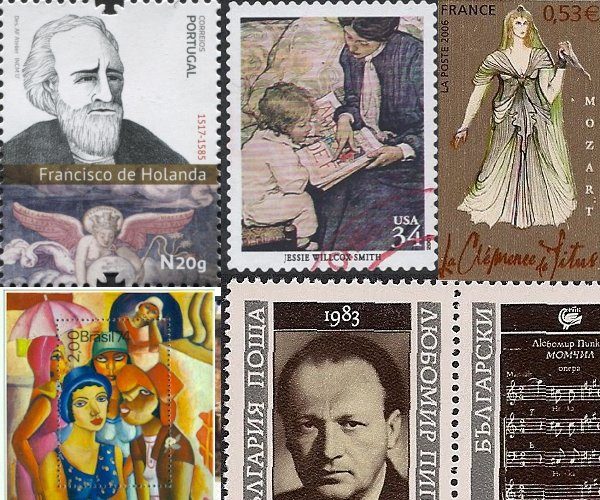 By Doug Briscoe
Today is the 500th anniversary of the birth of Portuguese court artist Francisco de Holanda (originally Francisco d'Olanda; 6 September 1517 – 19 June 1585), and Portugal issued a stamp for him earlier this year. Holanda's gifts manifested themselves in numerous disciplines. Besides painting and sculpture, he worked as an architect, art theorist, and essayist. At 20 he was illuminating manuscripts, as his father had done before him. Throughout the following decade he was studying in Italy. The most important of his writings, which he composed right after returning to Portugal in 1548, is likely Da Pintura Antiga (On Ancient Painting), which includes four imagined dialogues with Michelangelo, whom Holanda had met while in Italy. He also wrote an early analysis in the field of urban planning, Da fábrica que falece à cidade de Lisboa ("On the construction lacking to the city of Lisbon", 1571). I assume (?) the illustration at the bottom of the stamp is drawn from de Holanda's sketchbook De Aetatibus Mundi Imagines (Illustrated Ages of the World), which he maintained for thirty years, 1543-73. Here's an informative blog about it, with numerous illustrations. As an architect de Holanda was responsible for the facade of the Church of Our Lady of Grace (Igreja de Nossa Senhora da Graça) in Évora. He served Kings John III, of whom he painted a portrait, and Sebastian (1568-1578).
Jessie Willcox Smith (September 6, 1863 – May 3, 1935) was a prolific illustrator for magazines and books, one of the most prominent women in the field in her time. Born in Philadelphia, she studied there under under Thomas Eakins and upon graduation began working for the new Ladies' Homes Journal, continuing her artistic education with Howard Pyle at Drexel University. There she ended first in her class. Her work appeared in all the major magazines of the day (Scribners, Harper's, Collier's, etc.), and she made the covers for every issue of Good Housekeeping from December 1917 through April 1933. Smith's work appeared on calendars and posters, and some of the books for which she provided illustrations include Robert Louis Stevenson's A Child's Garden of Verses (1905), Louisa May Alcott's Little Women (1915), and Johanna Spyri's Heidi (1922). By 1910 Smith was earning the equivalent of $300,000 per annum, and her name was very well known across the country. The stamp shows "The First Lesson", an illustration for the December 1904 issue of the Ladies' Homes Journal.
Another award-winning book illustrator was the Austrian engraver Hans Ranzoni (6 September 1896 – 11 October 1991), known as "the Younger" to distinguish him from his father, who painted in oils. The son also designed a number of postage stamps, including the horse racing stamp and the Mozart bicentenary issue seen here. (His name is shown at bottom on both stamps. "D.J." = der Jüngere, the Younger.) (And see below for more on Mozart.) Ranzoni did the engraving, but not the original design, for the Liechtenstein stamp, the art work being by Josef Seger (1908–1998).
Brazilian painter Emiliano Di Cavalcanti (September 6, 1897 – October 26, 1976) was born in Rio de Janeiro into a household that welcomed intellectual leftists. He moved to São Paulo when he was twenty and had his first exhibition there that year. Except for periods in Paris from 1923 to 1925 and again from 1937 to 1940, he lived entirely in Brazil. His second wife, Noêmia Mourão, was also a painter. Di Cavalcanti is represented on a Brazilian souvenir sheet (not shown to scale) with his Five Girls from Guaratinguetá (1926). The issue celebrated LUBRAPEX 74, a Portuguese-Brazilian philatelic exhibition. Here's another nice piece, Samba of 1925.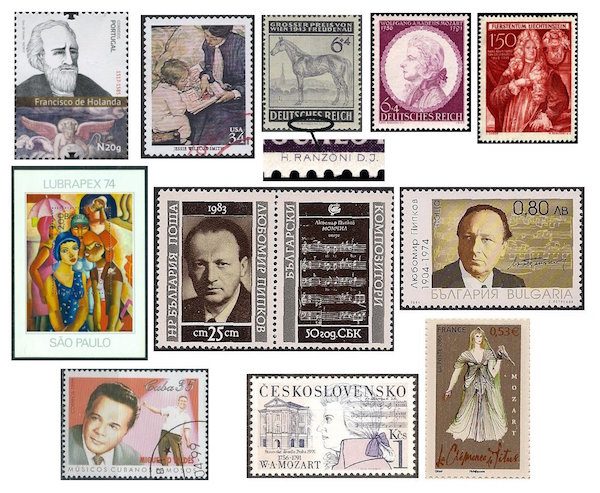 After study at the Sofia National Music Academy Bulgarian composer Lyubomir Pipkov (1904 – 9 May 1974) became the pupil of Paul Dukas. He became chorus director and ultimately director of the Sofia Opera, as well as teaching at the conservatory. He wrote music in various genres, including 4 symphonies, 4 concertos, an oratorio, and film music. The label to the right of the stamp depicts the score from his historical opera Momchil (premièred in 1948), named for a 14th-century brigand who fought against both the Ottomans and the Byzantine Empire, who exceptionally joined forces to defeat him in 1345. I first learned of Pipkov many years ago when I bought an old MHS LP of the String Quartet #7 by Bacewicz; Pipkov's Third Quartet was on the flip side. His father, Panayot Pipkov, was also a composer and also has a stamp in his honor; we'll see it in November.
The Cuban popular singer Miguelito Valdés (September 6, 1912 – November 9, 1978) was known to his fans as Mr. Babalú. His full name at birth—take a breath—was Miguel Ángel Eugenio Lázaro Zacarías Izquierdo Valdés Hernández. Though born in Havana, his parents were Spanish and Mexican. A songwriter who played a variety of instruments, he was by the late 30s one of the top singers in Cuba. From 1940 he lived in New York. Valdés appeared in several films, including You Were Never Lovelier (1942) with Fred Astaire and Rita Hayworth. He died of a heart attack while performing on stage in Bogotá, Colombia.
Today is also the 226th anniversary of the first performance of Mozart's last opera, La clemenza di Tito, first heard on 6 September 1791, just two months before Mozart's death. The Czech stamp from 1991 shows a snippet from Mozart's score as well as the Estates Theatre (Stavovské divadlo) in Prague where the opera had its première. The French stamp is one of a 2006 set celebrating costumes from Mozart operas.
A tip of the hat to the German actor Max Schreck (6 September 1879 – 20 February 1936), who played the lead role in Murnau's Nosferatu (1922).
---
A graduate of the University of Massachusetts with a B.A. in English, Doug Briscoe worked in Boston classical music radio, at WCRB, WGBH, and WBUR, for about 25 years, beginning in 1977. He has the curious distinction of having succeeded Robert J. Lurtsema twice, first as host of WGBH's weekday morning classical music program in 1993, then as host of the weekend program when Robert J.'s health failed in 2000. Doug also wrote liner notes for several of the late Gunther Schuller's GM Recordings releases as well as program notes for the Boston Classical Orchestra. For the past few years he's been posting a Facebook "blog" of classical music on stamps of the world, which has now been expanded to encompass all the arts for The Arts Fuse.