An Arts Fuse regular feature: the arts on stamps of the world.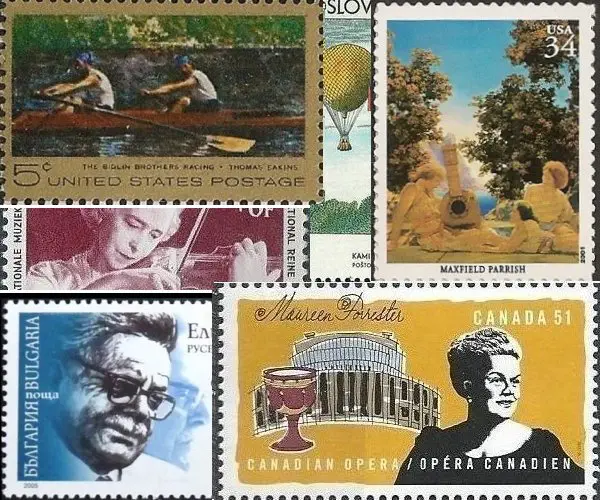 By Doug Briscoe
Two Philadelphia artists, Thomas Eakins and Maxfield Parrish, Canadian contralto Maureen Forrester, and Nobel Prize winner Elias Canetti are our lead figures on today's Arts on Stamps of the World. We also curtsey to a musical queen of Belgium and greet Italian and Czech painters and a Croatian conductor.
The great painter Thomas Eakins (July 25, 1844 – June 25, 1916) had a calligraphy teacher for a father. His interest in drawing was complemented by a fascination with anatomy, and for a time he considered a career in medicine. He studied in Paris with Jean-Léon Gérôme and Léon Bonnat. After six months in Spain he returned to the U.S. to teach at the Pennsylvania Academy, of which he was named director in 1882. He was asked to resign after removing the loin cloth from a male model in the presence of female students, but he was such a popular teacher that a number of the students quit the Academy and formed their own institution, the Art Students' League of Philadelphia, where Eakins taught, but which lasted only seven years (1886-93). Eakins used photography as a tool and explored it as an art form. The 5-cent U.S. stamp from 1967 presents The Biglin Brothers Racing (1872, not to be confused with The Biglin Brothers Turning the Stake, 1873), The Nicaraguan issue, part of a set devoted to chess, shows The Chess Players (1976). I include also a souvenir sheet from the Central African Republic and, on account of the small size of the image, offer links to larger scans of its four subjects: The Swimming Hole (1885), Between Rounds (1899), Baseball Players Practicing (1875), and William Rush and His Model (1908).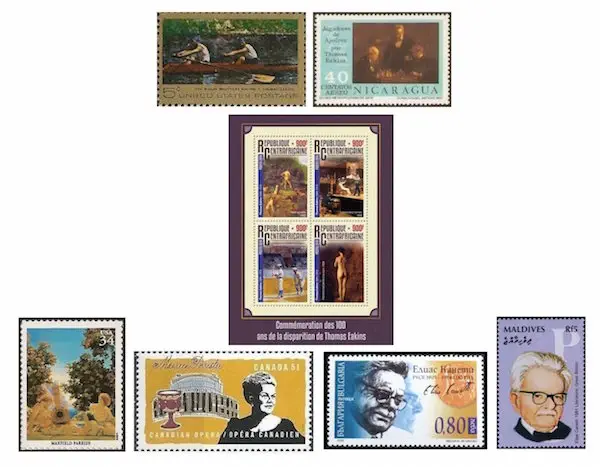 I would have thought that the art of Maxfield Parrish (July 25, 1870 – March 30, 1966) would be just the ticket for the kind of souvenir sheets exemplified by the Eakins one above, and even splashier ones, but to my surprise I found none. In fact, only a single stamp turned up, and that, appropriately enough, is an American one. Parrish attended Pennsylvania Academy, but this was some years after Eakins's dimissal. Upon graduation he relocated to Annisquam, Massachusetts to join his father's studio. Parrish did a great deal of work as an illustrator for magazines and books such as L. Frank Baum's Mother Goose in Prose (1897), Eugene Field's Poems of Childhood (1904), the Arabian Nights (1909), and Hawthorne's Wonder Book and Tanglewood Tales (1910). He also worked in advertising, but turned exclusively to painting in the 1920s, focusing on landscapes from 1931. He continued painting until he was 91 and was 95 when he died. His Daybreak (1922) is said to be the most popular art print of the 20th century. The color Cobalt blue is sometimes referred to as Parrish blue. The 1998 American stamp comes from the same set as the Edward Hopper one we saw a few days ago. It shows Interlude (The Lute Players) from 1922.
Maureen Forrester (1930 – June 16, 2010) was born in Montreal and had her debut recital at the local YWCA in 1953. She appeared at New York City's Town Hall in 1956 and was invited by Bruno Walter to take part in his upcoming recording of the Mahler Symphony No. 2. The following year she married the Jewish Toronto violinist and conductor Eugene Kash and converted to Judaism. Forrester did much to promote the music of Canadian composers, often scheduling their works in her programs. Sadly, she suffered from dementia for years before her death on June 16, 2010.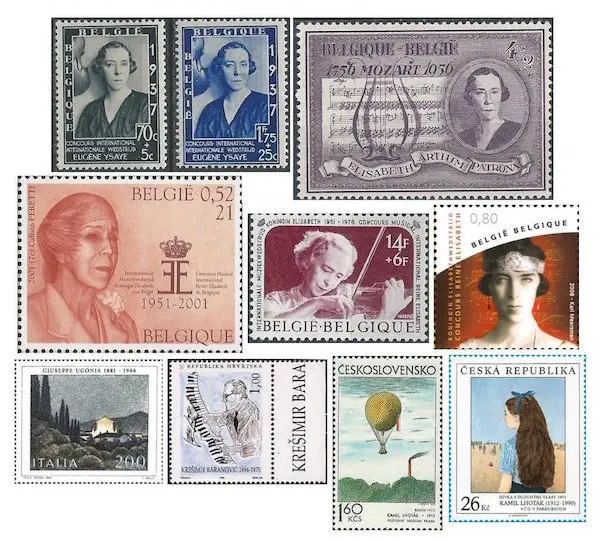 Now we turn to a Bulgarian writer of Spanish-Jewish ancestry with an Italian-sounding name who wrote in German, became a British citizen, and lived his last twenty years in Switzerland. Elias Canetti (25 July 1905 – 14 August 1994) was born in the Bulgarian city of Ruse. His father's people had come from Adrianople in the Ottoman Empire, but the family name had originally been Cañete. When Elias was seven, the family moved to Manchester, where his father suddenly died, then Lausanne, Vienna, Zurich, and Frankfurt. It was as if Canetti were tracing the route of his later life in a sort of practice run. Back in Vienna from 1924, he studied chemistry but frequented literary gatherings. In that city he remained until the Anschluss, when he decamped for London, residing there for the next thirty-odd years and acquiring British citizenship in 1952. He continued writing in German, however. He relocated to Switzerland in the 70s and won the Nobel Prize in Literature in 1981. Canetti is disguised in John Bayley's memoir of his wife Iris Murdoch as "the Dichter".
Yesterday I mentioned that Ernest Bloch studied with Eugène Ysaÿe; so did Queen Elisabeth of Belgium (1876 – 23 November 1965). Though not a professional violinist, she was a patron of the arts and, after Ysaÿe's death, founded a violin competition in his name. Since 1951 it has been called the Queen Elisabeth Music Competition. The winner of the first competition in 1937 was David Oistrakh. The following year a competition for pianists was added (first winner: Emil Gilels); a singing competition was inaugurated in 1988, and one for cellists began this year (first prize went to the 27-year-old French player Victor Julien-Laferrière). A competition for composers was held from 1953 to 2012. On Wikipedia, we find: "During the German occupation of Belgium from 1940 to 1944, she used her influence as queen and German connections to assist in the rescue of hundreds of Jewish children from deportation by the Nazis. When Brussels was liberated, she allowed her palace to be used for headquarters of the British XXX Corps…After the war she was awarded the title Righteous Among the Nations by the Israeli government."
The Italian painter and lithographer Giuseppe Ugonia (25 July 1881 – 5 October 1944) was born in Faenza and studied art there and in Bologna. His first exhibit was at Naples, followed by an invitation from London's Senefelder Club, a group named for the German inventor of lithography. The British Museum and the Uffizi acquired some of his works around this time. In 1914 he took part in the Venice Biennale, then was called up to serve in the medical corps (in Venice) during World War I. Details of his life thereafter are sketchy, but he certainly taught at the town of Brisighella (near Ravenna), where a museum named for him opened in 1994. The Italian stamp, issued three years before Ugonia's death in Brisighella, shows us his Castle.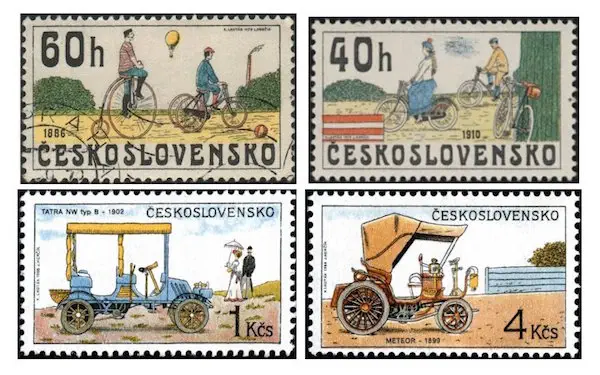 There's considerable doubt—at least in my mind—about the birthdate of Croatian composer and conductor Krešimir Baranović (1894 – 17 September 1975). July 25th is supported by the Croatian and English language Wikipedia pages, while Serbian and Finnish say June 25th, and Slovenian, Ukrainian, and Italian say August 25th! I defer to the Croatians. Baranović's conducting career was a distinguished one: he led the Croatian National Theatre Opera in Zagreb from 1915 to 1943, the Bratislava Radio Orchestra and Opera (1943-46), and the Belgrade Philharmonic from 1951 to 1961. He had also accompanied Anna Pavlova on her European tour of 1927-28. From 1946 to 1964 he taught conducting and orchestration at the Belgrade Music Academy. He introduced Stravinsky's ballets to Zagreb, was the first in Croatia to conduct Boris Godunov (1918) and Shostakovich's Katerina Izmailova (1937), and led the first performances outside Czechoslovakia of Smetana's Libuše. As a composer, he wrote a ballet, Gingerbread Heart (1924), a comic opera, Sheared-Mown (1932), and a song cycle, "From My Hills" (1927), which drew on Croatian folk music.
The father of Czech artist Kamil Lhoták (25 July 1912 Prague – 22 October 1990, Prague) never married his mother, did support the child, but rarely visited. Sadly, the young medical student, who was working on a cure for polio, inadvertently infected his small son with the disease. Lhoták's mother was a cultivated person who introduced the child to literature and painting. As an artist Lhoták was an autodidact, and his early interest in automobiles and bicycles resurfaced decades later when he created the designs for two stamp sets illustrating vehicles of various decades. (See third collage for a few examples.) He gave his first exhibition in 1939 and was one of the early members of Group 42, an art society active until 1948. Lhoták also worked as a book illustrator and is further represented on two Czech stamps with his Balloon (1972) and Girl With Long Hair (1951).
---
A graduate of the University of Massachusetts with a B.A. in English, Doug Briscoe worked in Boston classical music radio, at WCRB, WGBH, and WBUR, for about 25 years, beginning in 1977. He has the curious distinction of having succeeded Robert J. Lurtsema twice, first as host of WGBH's weekday morning classical music program in 1993, then as host of the weekend program when Robert J.'s health failed in 2000. Doug also wrote liner notes for several of the late Gunther Schuller's GM Recordings releases as well as program notes for the Boston Classical Orchestra. For the past few years he's been posting a Facebook "blog" of classical music on stamps of the world, which has now been expanded to encompass all the arts for The Arts Fuse.