A gripping autobiography and beautiful new solo CD from a master jazz pianist — Fred Hersch.
Good Things Happen Slowly: A Life in and Out of Jazz by Fred Hersch. Crown Archetype, 320 pages, $28. Open Book, a solo performance by pianist Fred Hersch on Palmetto Records.
By Michael Ullman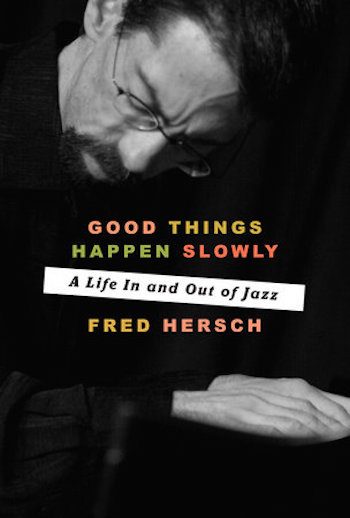 Pianist Fred Hersch does not begin his autobiography Good Things Happen Slowly: A Life in and Out of Jazz by writing about his birth in 1955 in Cincinnati, nor with the domestic limitations of his parents. No, he kicks it off with his memory of an incident that happened to him when he was 19. After dropping out of Grinnell College, he found a job playing piano at a fairgrounds in his home city, which "exuded middle-American wholesomeness." The musicians were divided: there were the singers, who were either gay boys or straight girls, "terrifically talented in the musical theater way," and the instrumentalists, who were seasoned, "jaded,"  their conversation revolving around "women, cars, and the Cincinnati Reds." Hersch was a young gay man who was beginning to discover himself and his interests in life. He didn't fit into either group, and he wasn't happy about being alone.
This theme of split worlds is elaborated on throughout the book, The young Hersch sees things, including himself, as unwholesomely split in two. And he wants to unite them. Perhaps this quixotic idea of synthesis came from observing how hard his parents worked to set up an illusion of contentment: "I grew up in an environment of carefully planned and meticulously executed artificiality  … But it was essentially a grand charade .. and I felt lost in it all." His parents tried, but failed, to become close to their son. This emotional isolation made Hersch into a jazz musician who tries not to overthink things, who is wary of over-planning. Given the lack of communication in his family's household, he values the non-verbal connection he establishes with his players: "If I'm playing with a group, I get a thousand cues from the bassist and the drummer, and I send my own cues back to them. The music is like a rhythmic and harmonic river rushing along, and each of us jumps into it in our own way as it flows by….When we are in sync with one another it's unlike anything I have ever experienced. …I have always been most interested in the kinetic, almost magical spontaneity of improvisation."
He saw jazz as, among other things, an antidote to his alienated home life. He was a young genius at the piano, able to imitate by ear what he heard while making up his own music from the start. His parents encouraged him, though he still seems aggrieved that they bought him a Baldwin rather than a Steinway piano. (He saves his harshest effusions of bitterness for his psychoanalyst.) Hersch started listening to jazz in high school. He found records such as Miles Smiles particularly tantalizing: "Herbie Hancock hardly uses his left hand and doesn't accompany the soloists." He also listened carefully to Wynton Kelly on Davis's "At the Blackhawk" recordings and to Charles Mingus's Mingus Mingus Mingus. Soon he had a goal as an artist: "I want to swing like Wynton Kelly and write like Charles Mingus."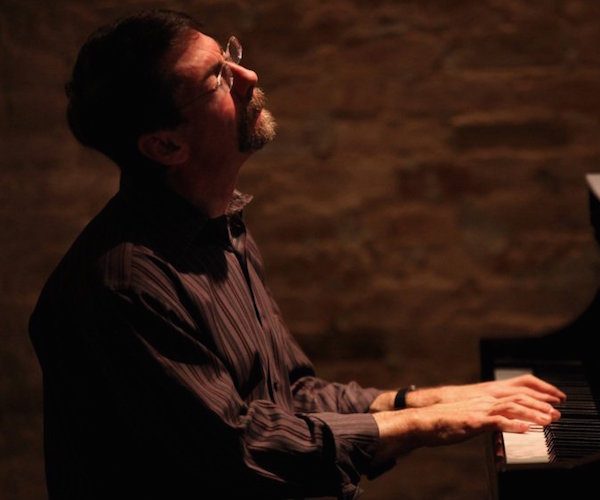 The book not only outlines his developing interest in jazz and mastery of the piano, but his struggles with establishing a career in music. As if that wasn't enough, Good Things Happen Slowly is also a gripping personal history of gay life in America. Hersch chronicles the sexually liberated days of the late '70s, good times that were eventually cut short by the mysterious, often fatal, specter of the AIDS epidemic. Hersch found out that he was HIV positive. During much of that period performing music was his public life; he kept his sexuality private. How could he bring the two halves together? Or should he? For a long while, he "toggled" between the apparent contraries in his life. Jazz, it need hardly be said, was a macho world in those days. In the '50s, jazz players, mostly men, battled with their "axes." I once interviewed the tenor sax great Dexter Gordon. We discussed the performance 'contests' he had with a second tenor, the doomed Wardell Gray. They 'dueled.' Dexter then talked about the music's macho qualities. He only knew two gay jazz musicians. (I knew many more.)
For Hersch, bringing the two halves of his life together took time. He first had to come to terms with his sexuality; he then had to decide when or if he wanted to come out as a gay jazz musician. His pre-professional life began when he showed up at Boston's New England Conservatory and auditioned for the legendary jazz pianist Jaki Byard. Byard heard Hersch for a few minutes and told him he had been accepted. (Admissions were less formal in those days.) Though it made him uneasy at first, Hersch began hanging out in gay bars, which were at that point still outside the mainstream. In June 1977 he moved to New York. By the time he was 23 — after a hellish stint with the Woody Herman band — he had gotten a job at the famous (now defunct) piano bar, Bradley's.
He accepted that he was a gay man, "though I wasn't sure what that involved." Hersch found himself in New York City's Village during the '70s, a time of "sexual liberation" that he took full advantage of. Ultimately, he became dissatisfied with relationships that were "commodified and transactional." At age 24, he fell in love for the first time. He started coming out tentatively; an interaction with bassist Red Mitchell didn't go so well. The decisive moment was when he organized, as well as took part in, concerts and recordings that were designed to assist with combatting the AIDS epidemic. Both sides were finally out.
Meanwhile, he was learning more about his music from others. The book is filled with interesting vignettes about Stan Getz and Joe Henderson. Hersch became depressed during his time accompanying Getz because the pianist felt he was going stale. At one point, the saxophonist asked Hersch if he had done anything new at all that night.  Getz went on to tell him that if he does one new thing an evening that's "three hundred sixty-five new things" a year. He taught Hersch "there was something beyond the moment at hand." The pianist was also worried about playing with the accomplished saxophonist Joe Henderson. The latter told him if it feels right, it is right. (Don't overthink it.) Besides the personal anecdotes, Hersch is marvelously articulate about jazz, particularly what it feels like to play it on a high level: "Each tune is like a glass mixing bowl, solid but clear. Each chorus, you can put different 'content' into the bowl…and it will look different depending on what you put into it, though the shape itself will not change."
Hersch tells of his harrowing struggle with AIDs and then, even more dramatically, details his experience of lapsing into a coma that left him barely alive — he couldn't eat, even swallow. His recovery was miraculous. One of his doctors gave him the phrase "Good things happen slowly," adding, ominously, that bad things happen quickly. Hersch wonders (as will the reader) what Hersch would have done without his saintly partner Scott, who took care of him, advocating for him when Hersch was helpless. By the end of this fascinating book, Hersch has achieved well-earned success, receiving critical acclaim with projects such as his brilliant and ambitious Leaves of Grass recording. The latter composition, musical settings of poems by Whitman, is also a product of Hersch's goal to unite his two sides; it is his powerful tribute to a canonical American writer who is also an iconic gay figure.
As for where Hersch is now, where he sits musically and personally, he points to his 2015 recording (on Fred Hersch Solo) and an overly histrionic, perhaps even melodramatic, rendition of Joni Mitchell's "Both Sides Now." He has reconsidered that stark position, arriving at a more complex place: "When I play ("Both Sides Now") today, I not only feel the music, I connect to the words having lived a life that I've often seen as having two sides. At this point, though, I no longer see my life — or much of anything — in such simple terms. I've learned that there are many, many sides to most things and to most people, myself included….I look at life from many sides now."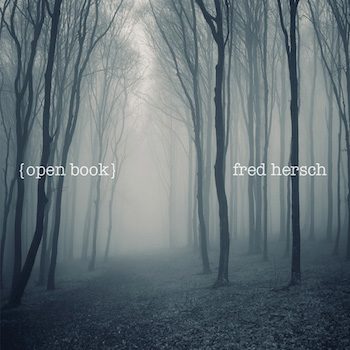 Hersch believes that his new solo album, the un-ironcially titled Open Book, is his most personal yet. It is certainly one of his most beautiful. The "book" begins with a musical interpretation of the sweetest dream he had when he was in a coma. (Others were horrific.) In  "The Orb" (taken from Hersch's autobiographical music/theater piece "My Coma Dreams"), he recalls that "Scott's face appears to me inside a glowing orb … He is smiling to me with his whole being and is glowing and radiant with love." The tune's piano improvisation begins vaguely, in an uncertain key; the notes don't seem to have a firm pulse. Then Hersch plays the yearning ballad melody, a homage to the power of love, he wrote to commemorate the near-death experience. Beginning with an intricate conversation between single lines, Hersch's interpretation of Benny Golson's "Whisper Not" generates impressively Bach-like resonances. The tune's whispering melody comes in later. Hersch's fine rendition of the Brazilian piece "Zingaro" sent me back to the Joao Gilberto version with new appreciation.
One of the miraculous accomplishments of Hersch's playing is his way with Thelonious Monk. It's easy when performing Monk to fall into exploiting the older pianist's eccentricities, hammering a minor second or slamming the piano keys in the musician's distinctive percussive manner. In contrast, Hersch insinuates himself into Monk compositions  ("Eronel" on this disc) stressing the playful rhythmic life of Monk's pieces. And the pianist has a keen eye for Monk's humor. The results are both respectful and liberating. "Through the Forest" is a nineteen minute improvisation, much of it, if I not mistaken, triggered by a little figure that Hersch plays around fourteen seconds into the piece. He isn't constrained by any single musical motif: by the eighth or ninth minute Hersch has moved on to other themes and variations. The album ends with a pop classic, Billy Joel's "And So It Goes." Like all of Hersch's best performances, this version tells an emotionally satisfying story. The heartfelt message is one of acceptance — trust in a world in which it turns out that good things do happen slowly.
---
Michael Ullman studied classical clarinet and was educated at Harvard, the University of Chicago, and the U. of Michigan, from which he received a PhD in English. The author or co-author of two books on jazz, he has written on jazz and classical music for The Atlantic Monthly, The New Republic, High Fidelity, Stereophile, The Boston Phoenix, The Boston Globe, and other venues. His articles on Dickens, Joyce, Kipling, and others have appeared in academic journals. For over 20 years, he has written a bi-monthly jazz column for Fanfare Magazine, for which he also reviews classical music. At Tufts University, he teaches mostly modernist writers in the English Department and jazz and blues history in the Music Department. He plays piano badly.