Israel Horovitz's latest play delivers some fine moments of comedy as well as some dark revelations about female neediness.
Out of the Mouths of Babes, written and directed by Israel Horovitz. Staged by Gloucester Stage Company, 267 East Main St., Gloucester, MA., through September 2.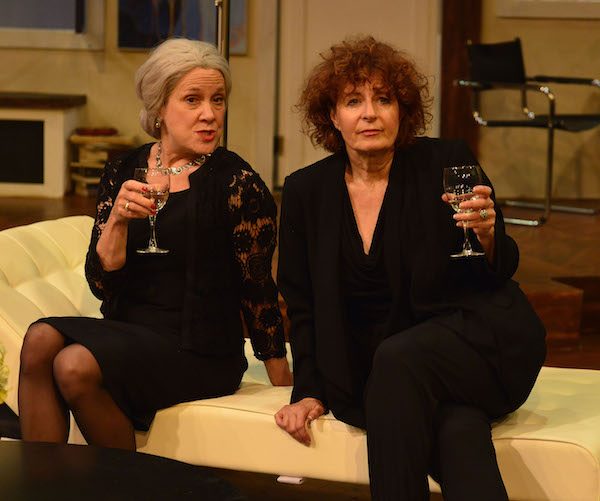 By Robert Israel
The late American poet Ted Berrigan observed that when someone dies they go from outside our lives to inside. At first, this shift in weight is heavy on our hearts but, over time, we learn to adjust to the strain.
But what if the recently deceased person was a feckless "collector of women," a French professor of literature at the Sorbonne, a roué who had a proclivity for preying upon younger women and ravishing them? Would the weight of his passing be deeply felt by his conquests? Or would it come as a relief?
Israel Horovitz's two-act play explores these questions through the memories of four ex-paramours who experience a range of emotions when they gather in the Paris apartment of the deceased, who died at the ripe age of 100. Various methods of ravishment are detailed as we learn about the emotional fallout generated by a succession of marriages and extra-marital affairs.
The first two women, Evvie (Paula Plum) and Evelyn (Debra Wise), meet in the deceased's apartment and learn, as they chat,  that Evvie (also known as "Snookie) broke up Evelyn's marriage. Just as their polite conversation becomes  strained, along comes Janice (Sarah Hickler), who received a plane ticket and an email from a mysterious woman so that she could arrive at the apartment in time for the funeral. The enigmatic female turns out to be the effervescent Marie-Belle (Obehi Janice), who bursts onto the scene with a spirit buoyed by her obvious age difference from the others (Marie-Belle was 17 when she hooked up with the late professor, who was 79 at the time). More stories are shared, peppered by some supernatural antics (at one point, the ghost of the deceased tickles Marie-Belle), until the final denouement, when we learn who among the women is ready to move on, and who isn't.
The Gloucester Stage production is the script's New England premiere; it follows closely on the heels of a New York run (with a different cast) at the Cherry Lane Theatre (that staging closed in July and is now headed for London's West End). Strangely, the play feels less polished than it should at this juncture of its development. Part of the problem might be credited to the playwright's awkward staging of the action: the Gloucester Stage space is vast. Horovitz doesn't seem to have taken this into account; in many scenes, the actors speak to one another across what feels like a chasm, accentuating distance rather than intimacy. Also, the cast is uneven. As Evvie, Paula Plum comes off as frumpy, acerbic, and downright clumsy. As Evelyn, Debra Wise is even less convincing in the role of an elderly woman who has an axe to grind. It doesn't help that several of her recollections are inaudibly delivered. Sarah Hickler, a comic actress of the first order, commands all of her scenes, as does Obehi Janice, whose sometime torturous French accent is made tolerable by the devilish light that gleams in her eyes as well as her exaggerated facial mannerisms.
Improving the Gloucester Stage outing would require retro-fitting Jenna McFarland Lord's set design by moving the wings closer to the center of the space. Instead of having the players interact from afar, it would be far more powerful to position them in a more compact universe. That intimacy would help make its characters often terse and tense (and, on occasion, hilarious) interactions more theatrically immediate.
Horovitz is a prolific playwright, with over 70 plays to his credit. Interestingly, this production is the first in memory — staged by GSC — that does not draw on the dramatist's adopted home of Gloucester/North Shore as a motif. According to Horovitz's program notes, he envisions the script as part of a trilogy set in France (where he maintains a home and has had a long history of theatrical successes). Given that the production is headed for London, now is the time for the playwright to tweak the script, to sharpen and trim some of its rambling recollections in order to strengthen its bite.
As it stands now, Out of the Mouths of Babes delivers some fine moments of comedy as well as some dark revelations about the neediness exhibited by women who, surviving the shockingly prurient behaviors of a man who once wooed them, use his death, and the freedom it brings, to discover how to live fuller and more satisfying lives.
---
Robert Israel writes about theater, travel, and the arts, and is a member of Independent Reviewers of New England (IRNE). He can be reached at risrael_97@yahoo.com.