Allegra Libonati has assembled a mostly excellent cast for what at first glance should be an evening of quality Bardic entertainment.
Romeo and Juliet by William Shakespeare. Directed by Allegra Libonati. Presented by Commonwealth Shakespeare Company on the Boston Common, Boston, MA., through August 6.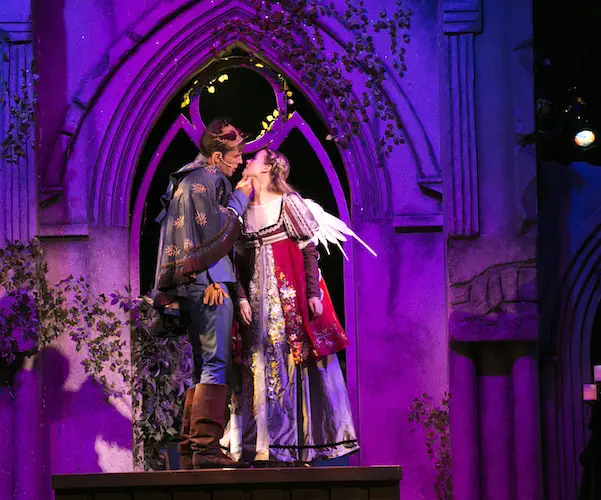 By Ian Thal
Over the decades, Commonwealth Shakespeare Company has offered a number of mix-and-match, time-skipping versions of the Bard. There's been a Two Gentlemen of Verona in Rat-Pack-infested Las Vegas and a Henry V during the London Blitz, a Taming of the Shrew in the 1950s North End, and an As You Like It set during the rise of European fascism. Director Allegra Libonati, in her first outing with CSC, chooses to stage a fairly straight-ahead Romeo and Juliet set in Verona during the late Middle Ages.
Scenic designer Julia Noulin-Mérat has constructed an evocatively broken gothic setting of semi-circular and equilateral arches, (seeming) centuries of ivy hanging on the stone walls. Neil Fortin has come up with an extensive wardrobe of gorgeous period costumes – ranging from the masked festive angels and devils and full-body puppets in the Capulet's ball to the mourning gowns of Juliet and Lady Capulet. The most obvious anachronisms here are provided by David Remedios' sound design and score, which lets guitarist Alex Deroo (who also plays Friar John) demonstrate his stylistic range, which moves from '90s alt-rock to classical.
Libonati has also assembled a mostly excellent cast for what at first glance should be an evening of quality (albeit fairly conventional) Bardic entertainment. However, the outdoor staging ends up struggling, and eventually failing, because of a key piece of miscasting. It is not my usual practice to judge actors harshly; after all, they are subject to the slings and arrows slung by the script as well as directorial whim. What's more, the director and producer pick the production's performers, so any fault lies with them rather than with the actors. Still, John Zdrojeski is so woefully out of tune in the role of Romeo that I am compelled to focus on his shortcomings.
While Zdrojeski's voice has a reasonably pleasant timbre, his expressiveness is limited. The predictable character arc for Romeo, a teenaged inamorato, initially sees him as melancholic over his unreciprocated desire for Rosalind, infatuated at his first sight of Juliet, angry and vengeful after the murder of his friend Mercutio, and deeply upset over his banishment. Unfortunately, Zdrojeski doesn't offer any sense of Romeo's rich emotional life. Instead of acting, he merely recites, often conveying precious little of the poetry's meaning. He not only seems disengaged from the rest of the cast – he drifts through Libonati's entire miss-en-scène. He interacts with the other actors as little as possible, facing the audience to show off the pretty symmetry of his face, broadly smiling as he shifts the weight of his slim frame from one foot to another.
Zdrojeski lack of technique drains the dramatic energy out of nearly every scene he is in. For a few seconds he shows a touch of feeling during his speech about being banished in Act III, scene 3 – but that's a quicksilver revelation — most of the time he is content to shout. Thus when the Franciscan Friar Laurence berates Romeo:
Fie, fie, thou sham'st thy shape, thy love, thy wit,
Which like a Usurer abound'st in all:
And usest none in that true use indeed,
Which should bedecke thy shape, thy love, thy wit:
Thy Noble shape, is but a forme of waxe,
Digressing from the Valour of a man,
It is as if the Bard himself was reviewing Zdrojeski's anemically tragic lover.
Gracyn Mix's Juliet has intelligence to spare, which is much needed given the dud with whom she elopes. Strikingly, even when she is forced to remain silent, Mix subtly communicates Juliet's feelings: it is how the actress crafts the way she looks at other characters as well as her physical postures. The dependably excellent Ramona Lisa Alexander draws on her clowning skills to create a wonderfully over-the-top (and possibly inebriated) nurse. Kario Marcel's Mercutio steals scenes as well; his rendition of the Queen Mab speech is a case study in savvy theatrical movement – and his flamboyance (along with his bouffant hair and purple outfit) pays zesty homage to the playful eroticism of the late singer/songwriter prince. (One almost expects Marcel to break into a  performance of "Let's Go Crazy.") Mosieri's gravitas as Friar Laurence (he also serves as the narrator) helps him maintain his dignity in the scenes he shares with Zdrojeski. He almost makes you forget just how hairbrained the central scheme (a secret elopement, exile to Mantua, letters, and faked death) is. Fred Sullivan Jr. treats us to a richly layered interpretation of Lord Capulet. He masterfully navigates the transitions between gracious host, mournful uncle, angry father, and wrecked parent.
Kaci Hamilton's brief appearances as Prince Escalus are commanding. There are also strong supporting performances from Kai Tshikosi (Tybalt), Celeste Oliva (Lady Capulet), and Brandon G. Green (Benvolio).
Angie Jepson's fight choreography shines in a memorable clash between Tybalt and Mercutio. Tshikosi's "Good King of Cats" is an adroit predator, single-mindedly positioning himself to strike a killing blow. Marcel's Mercutio, meanwhile, is undone by his desire to make the showiest of moves, unable to resist toying with his opponent and onlookers in Verona's public square. However, the fights involving the less developed characters, including Paris (Adam Ewer), and Zdrojeski's Romeo have far less impact. In fact, there are points when the action sequences appear to hit the brakes — and they don't seem to be meant to be examples of special, slo-mo choreography. But this enervation is a minor problem in a production of Shakespeare's Romeo and Juliet in which one of the "star-crossed lovers" is phoning it in.
---
Ian Thal is a playwright, performer, and theater educator specializing in mime, commedia dell'arte, and puppetry, and has been known to act on Boston area stages from time to time, sometimes with Teatro delle Maschere. He has performed his one-man show, Arlecchino Am Ravenous, in numerous venues in Massachusetts and Rhode Island. One of his as-of-yet unproduced full-length plays was picketed by a Hamas supporter during a staged reading. He is looking for a home for his latest play, The Conversos of Venice, which is a thematic deconstruction of Shakespeare's The Merchant of Venice. Formerly the community editor at The Jewish Advocate, he blogs irregularly at the unimaginatively entitled The Journals of Ian Thal, and writes the "Nothing But Trouble" column for The Clyde Fitch Report