Two stories about how a public process, because of politics, can make it very difficult, and costly, to connect two points.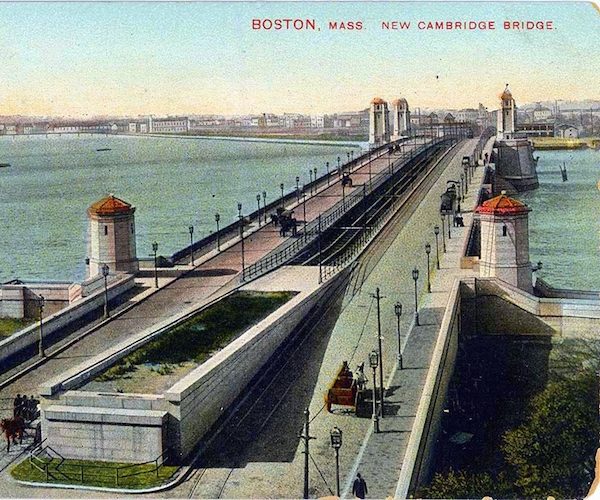 By Mark Favermann
One bridge is over 100 years old and still in operation. The other was a futuristic dream, splashy and pricey. This is a tale of Boston and London bridges falling down.
A bridge is a structure that spans physical obstacles without closing off the path underneath of a body of water, valley, or road. Bridges are built for the purpose of providing passage: their design is a function of the nature of the terrain where they are constructed and anchored, the material used to construct them, and the funding available. The more creative the bridge design, the better it reflects functional beauty.
I was under the impression that engineers were supposed to be, if not creative, at least efficient, even logical. But the saga of the troubled renovation of the Longfellow Bridge, which connects the cities of Cambridge and Boston, refutes this commonsense assumption. It has been about questionable engineering and cost-control decisions — principally made by the Massachusetts Department of Transportation — in the name of historically appropriate restoration.
The other story revolves around plans for a fanciful pedestrian garden/park bridge that was to cross the Thames River in Central London. Opposed by garden and bridge supporters alike, the debate focused on whether this was a frivolous project or a legacy to over-blown egos? Did it serve any useful function?
These are very different bridges, but both have been afflicted with the same thuggish — at times to the point of insensitive — political maneuvering. Here are two instances in which technology was stymied by heavy-handed back room maneuvering.
Construction to upgrade and strengthen the now 110-year-old multi-tasking rail, vehicular, and pedestrian Longfellow Bridge (aka the Salt-and-Pepper Bridge because its central towers look like salt and pepper shakers) began in 2013 and was slated to be finished in mid-2016. Plenty of inconvenience has been generated: detours, limited pedestrian and bicycle access, traffic jams. The annoyances covered the waterfront (so to speak), including the visual as well as the vehicular. The last announced finish date is now (supposedly) the end of December 2018. The truth is, a new bridge could have been built faster.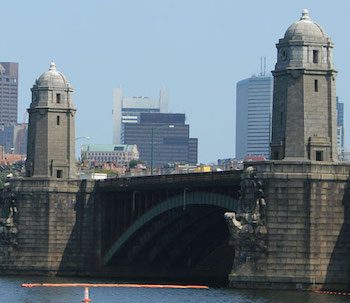 Why the two years of added time? The Massachusetts Department of Transportation (DOT) insists that the old bridge's visually hidden structural components and pieces must be restored in a way that is historically accurate. Instead of exploiting up-to-date methods — invisible welding techniques and/or high strength bolts — old fashioned rivets must be used. Apparently, preservationists have garnered hefty political and moralistic clout in the Commonwealth of Massachusetts.
According to Michael Verseckes, a DOT spokesman, the project must "preserve the venerable spans' original construction," so that "workers must use complex techniques that have fallen out of use." Translation: the project will be as slow as hell and demand costly rivets.
Charles Sullivan, the Director of the Cambridge Historical Commission since 1974, chimed in: "The bridge is an important landmark to Bostonians. We've got the State House on Beacon Hill. We've got the Bunker Hill Monument. We've got the Longfellow Bridge. So it's right up there as an iconic object." Yeah, and tourists just flock to Boston to see the bridge!
The Longfellow Bridge as well as the entire Charles River Basin were placed on the National Register of Historic Places in 1976. So federal preservation regulations require that every visible part of the bridge be restored drawing on the same technology and material used when the bridge was originally built. Apparently, these strictures require the not-so-very visible (antique?) rivets. This is utter nonsense.
When I raised this issue with various structural engineer acquaintances, they all agreed that the current process was wasteful of time and money. They suggested that the original bridge engineers would have wanted us to use the newest, most efficient construction methods.
The "visionary" London Garden Bridge was to be a legacy project of the previous London Mayor, Boris Johnson, who is now U.K. Foreign Secretary. Blond, large, bluntly outspoken, in-yer-face conservative, Johnson is sort of a quasi-Donald Trump, British version.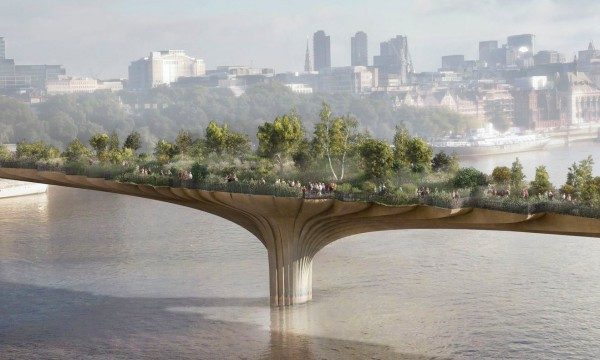 The Garden Bridge was started as a privately sponsored gift to the City of London. Actress/Comedian Joanna Lumley's "tiara for the Thames" quickly ate up £60m of public cash and would need an additional £3.5m/year for maintenance. Three years of volatile debate revealed that the bridge was to be more of a corporate event space than a pragmatic public crossing.  Evidence: it was to be built only about 200 or so yards away from an existing, functionally adequate bridge! The idea here was to create a space for the upper crust: the Garden Bridge would be a private structure where groups would have to be registered and individual visitors would be tracked through their cell phones.
This was a product of the Tory "chumocracy." Planning and construction disregarded all of the normal rules of governmental procurement. The Garden Bridge was originally presented to former Mayor Ken Livingstone: it was conceived as a memorial to Princess Diana; there were wonderful full color renderings. He said, "No." When Conservative Party stalwart Johnson took office, he just rammed it through.
Johnson's deputy mayor for Transport (Isabel Dedring) and Transport for London's director of planning (Richard de Cani) made sure that Lumley's preferred team — designer Thomas Heatherwick and engineering giant Arup — were chosen for the project. This team was allowed to revise its bid; their competitors were not. de Cani admitted that he alone judged the bids. Is it any surprise that both Dedring and de Cani are now employed in senior positions at Arup? After all, the latter was paid most of the £37.4m of public funding that was spent on the project. Multi-layered corruption anyone?
As Mayor, Johnson had a fondness for crazy (and expensive) infrastructure projects. Among these are an Emirates Air Line cable car, a fleet of overheating Heatherwick-designed red double-decker buses, and Anish Kapoor's dazzlingly awful ArcelorMittal Orbit sculpture in Olympic Park. Each of these boondoggles share a common theme — a promise of private sponsorship eventually turned into a means to drain the public treasury.
Over the past few months, current Mayor Sadiq Khan, a member of the opposing Labor Party, has wisely pulled the plug on the Garden Bridge. By refusing to guarantee any further public funding, he has made sure that the project is now quite dead.
Two bridges to nowhere; two stories about how a public process, because of politics, can make it very difficult, and costly, to connect two points.
---
An urban designer, Mark Favermann has been deeply involved in community branding, enhancing, and making more accessible parts of cities, sports venues, and key institutions. Also an award-winning public artist, he creates functional public art as civic design. Mark created the Looks of the 1996 Centennial Olympic Games in Atlanta, the 1999 Ryder Cup Matches in Brookline, MA, and the 2000 NCAA Final Four in Indianapolis. The designer of the renovated Coolidge Corner Theatre, he has been a design consultant to the Red Sox since 2002. Mark writes on architecture, design, and the fine arts.