By Noah Schaffer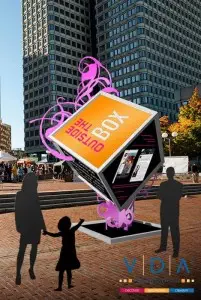 Boston will not have a large-scale free music and arts festival in 2017.
The Outside the Box festival is going on hiatus following the death of the event's founder and chief benefactor, Ted Cutler. Cutler, who was well-known for his support of numerous arts institutions, passed away in March at the age of 86.
The festival's executive director, Susan Darian, did not immediately respond to a request for comment, and to what, if any, extent Cutler endowed the event has not been announced. But, in an e-mail to an Arts Fuse reader, she explained that the festival would return in 2018 with "new partners" and a tribute to Cutler.
The festival previously took a hiatus in 2014. For much of this decade the city had two free July festivals, but WGBH and the Boston Globe stopped their Summer Arts Weekend after the 2015 edition.